Posted 22 APRIL 2009
EU Foreign Policy Chief, Javier Solana honoured by UCD
Together we are stronger, says Solana
Javier Solana, EU High Representative for the Common Foreign and Security Policy, Secretary-General of the Council of the European Union, has been awarded an Honorary Degree of Doctor of Laws by University College Dublin in recognition of his outstanding contribution to the academy and public sphere.
"I am especially pleased to receive an honorary doctorate in Law," said Dr Solana. "Most of my professional life I have worked to create and develop institutions, relations, based essentially on laws. It is my deep conviction that the rule of law is the only possible cornerstone of social life and international relations. Once again thank you to University College Dublin for this great honour."
Dr Solana assists the EU Council in foreign policy matters, through contributing to the formulation, preparation and implementation of European policy decisions. He acts on behalf of the Council in conducting political dialogue with third parties.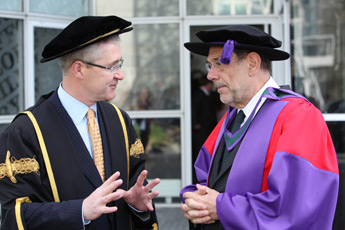 President of UCD, Dr Hugh Brady with EU Foreign Policy Chief, Dr Javier Solana at University College Dublin on Wednesday 22 April 2009
"In response to today's terrorist threats and environmental challenges, Dr Solana drafted an unprecedented European Security Strategy that sets out how the EU can be a force for a fairer, safer and more sustainable world," said Professor Daniel C Thomas, Associate Professor of European Governance and Society at University College Dublin, who read the citation at the award ceremony in Belfield on Wednesday 22 April 2009.
"When others were trying to isolate North Korea and Iran as an 'axis of evil,' Dr Solana reached out to Pyongyang and Teheran to see if global security and human rights could be promoted through constructive engagement. When conditions in the Middle East appeared bleak, Dr Solana co-authored the Road Map for Peace and he continues to represent Europe in the international Quartet promoting negotiations between Israel and the Palestinians."
After the formal award ceremony, Dr Solana delivered the 2009 Distinguished Lecture of the UCD Dublin European Institute entitled: 'Together we are stronger'.
"I have come to talk about Europe. About why we embarked on the journey of European integration. About what binds us together and what we have achieved. And why we need to continue this journey together. From building peace in Europe to promoting peace around the world," said Solana.
"The aim of EU foreign policy is to replace the law of force with the force of law," he said. "This comes naturally to us. The EU, after all, has always been a peace project founded on democratic values and respect for laws. The EU wants a world order based on the rule of law."
According to Solana, 'one important fact the Lisbon Treaty would not change is that the 27 governments are, and will remain, in charge of EU foreign policy. "That is why the EU foreign policy decision-making process is based on consensus. So EU foreign policy can only work if there is a convergence of 27 national interests. This means the decision-making process can be slow and difficult. But it also means the opinions of all 27 are taken into account before any decision is made."
Following the lecture, members of the audience were invited to take part in a questions and answers session with Dr Solana.