Posted 27 APRIL 2009
President Mary McAleese presents Centennial Awards to Irish business leaders to mark 100 years of UCD Business Schools
The President of Ireland, Mary McAleese, who was the guest of honour at UCD Business Schools Centennial Dinner on 24 April 2009, presented the UCD Ulysses Medal to Irish business leaders Dr Michael Smurfit and Lochlann Quinn. The Medal is the highest honour that the university can bestow.
At the event to mark 100 years of UCD Business Schools, President McAleese also presented outstanding UCD Business Alumnus Awards to Philip Berber and Professor Michael MacCormac, and UCD Business Student of the Year Awards to Andrew Flood, Bachelor of Commerce graduate and Claire Kennedy, Master of Accounting graduate.
"Tonight is a celebration of what UCD has been able to accomplish with the help of philanthropy, and a statement of intent about its determination to be a harbinger of the best business culture, the best business climate, the best business values, the best business graduates and the best Ireland in the century ahead," said the President of Ireland, Mary McAleese.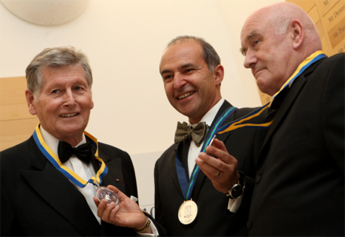 Pictured (l-r), Dr. Michael Smurfit, Mr Philip Berber, Mr Lochlann Quinn
UCD Michael Smurfit Graduate School Business School, the graduate arm of the UCD Business Schools, was established in 1991 as a result of a substantial contribution from Dr Michael Smurfit. It is located in the UCD campus at Blackrock, County Dublin. The new building of the UCD Quinn School of Business, the undergraduate arm of the UCD Business Schools, was opened in 2002, following a substantial contribution from Lochlann Quinn and his wife Brenda. Philip Berber was a major donor to the UCD Quinn School of Business, and the Berber Atrium is named in his honour. He also funded the Berber Family Chair of Entrepreneurship at UCD Business School.
Professor Michael MacCormac was Professor of Business Administration in UCD until 1986, and former Dean of UCD School of Business (Faculty of Commerce). He was responsible for the introduction of the first MBA in Europe to UCD in 1964. Presenting the UCD Ulysses Medal to Dr Michael Smurfit and Lochlann Quinn, the President of UCD, Dr Hugh Brady said:
"The business leaders we honour today have two attributes in common; they are men of integrity and of conviction. Through their work they have influenced generations of students who have embarked on business careers. They set demanding standards for themselves and were not shaken from their chosen paths and tasks."
"Here at UCD we have benefited from their energy and their generosity and with their support we will educate our students with a common sense of vision and of values."

Pictured (l-r): Mr Andrew Flood, President of Ireland Mary McAleese, Ms Claire Kennedy and Professor Tom Begley
Commenting on the student award winners Professor Tom Begley, Dean of the UCD Business Schools said: "A university is nothing if it is not about its students, and I am particularly proud to honour our two Students of the Year, Claire Kennedy, who secured top marks in the Master of Accounting programme and Andrew Flood, who achieved top marks in the Bachelor of Commerce programme, both of whom have given 100% in their studies to achieve this honour in our Centennial year."
The Centennial dinner was attended by over 250 Irish and Irish American business leaders including Robert Faucher, Charge D'Affaires, US Embassy, Denis O'Brien, Chairman, Communicorp, David Went, Chairman, The Irish Times, Joanne Richardson, CEO, American Chamber of Commerce, Gary McGann, CEO, Smurfit Kappa Group, Gina Quin, CEO, Dublin Chamber of Commerce, Dermot Desmond, Chairman, IIU, Dermot McCarthy, Secretary General, Department of An Taoiseach, Tom Roche, Chairman, NTR, Michael Smurfit Jnr and Mr. Jim Quinn, President, Tiffany & Co.
Centennial Celebrations – 100 years in business education
In 2009, UCD Business School is marking 100 years of business education at University College Dublin, one of the longest established business programmes in the world. UCD made history in 1964 when they launched the first MBA in Europe.
As part of UCD Smurfit School's international strategy, the school has benchmarked itself against the best schools globally over the last ten years. Since then the school has been consistently ranked by the Economist and the Financial Times amongst the top 100 schools in the world. UCD Smurfit School is one of only 25 schools in the world and the only Irish school to hold the 'triple crown' of accreditation from the three centres of business and academic excellence across Europe and North America – EQUIS, AMBA and AACSB.
UCD Business School has over 100 faculty and 3,000 students while the business school alumni network boasts more than 27,000 alumni in 50 countries around the world.