Posted 19 May 2009
The enrichment of education: UCD School of Education celebrates centenary
Pupils express what school means to them through art
Celebrating 100 years since its foundation at UCD, the School of Education centenary was officially launched on by NUI Chancellor Dr Maurice Manning and coincided with the first all-Ireland doctoral conference on education, hosted jointly by UCD and Queen's University Belfast.
According to Professor Sheelagh Drudy, the creation of the Chair of Education at UCD in 1909 was pivotal in terms of professionalising teacher education in Ireland. "The Chair of Education was one of the first eight chairs founded by the university in 1909, just a year after the Irish Universities Act established the National University of Ireland, University College Dublin.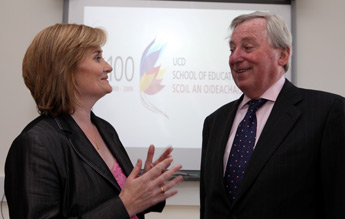 Dr Marie Clarke, Head of UCD School of Education and Dr Maurice Manning, Chancellor NUI.
The first holder of the Chair was Professor Timothy (Tadhg) Corcoran – a Jesuit priest. He was an influential figure in Irish education. He began the important work of professionalising teacher education in Ireland by first establishing a Diploma for primary teachers and in 1912 he set up the Higher Diploma in Education for secondary teachers. He established a Masters in Education in 1914 and also founded PhD studies in Education in UCD. He started an Education Society and founded a journal with publications in education. He thus developed education in UCD within a very short time as a full, genuine university discipline with a profile of programmes bearing a similarity to that in university schools of education today."
Dr Marie Clarke, head of the UCD School of Education, spoke of knowledge as a contingency on loan to teachers to pass on to the next generation of students. "The great secret we as educators and teachers possess is that knowledge is the only kind of debt that when you repay it, you end up richer than you were before you give it away. That is the beauty of teaching; you end up richer for every time you teach."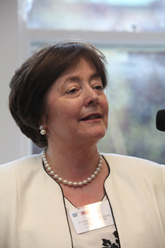 Professor Sheelagh Drudy, UCD School of Education.
"Back in 1909 there were ten students enrolled in the Higher Diploma in Education." Dr Clarke said. "Today we have over 400 graduate students taking a range of professional courses including education psychology and developing research and teaching in inclusive education, such as the education of ethnic minorities and pupils with special needs as well as continuing high-level research in the history of education and education ideas."
Speaking at the opening of the centenary, the Chancellor of NUI, Dr Maurice Manning expressed some concern that the role of university lecturers as teachers is being sidelined, not just in Ireland but internationally, by excessive emphasis on measurements. Dr Manning expressed a worry that lecturers are being seen as passive facilitators of learning. "A statement in the Standards and Guidelines for Quality Assurance in the European Higher Education Area (2009), refers to the interests of students as well as employers and the society more generally but makes no mention of the interests of professors or lecturers in providing good quality higher education. To me the omission is glaring.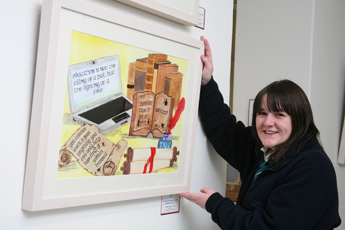 The role of the teacher as an expert in his or her field, with the capacity to encourage and inspire, to spread ideas, to stimulate interest in a subject, provoke critical responses and in general to foster intellectual debate and discovery is at the core of higher education and needs to be reaffirmed."
The Chancellor called on academics themselves to redress this balance by undertaking research on their own education system.
The school has a calendar of events throughout the centenary and Professor Sheelagh Drudy is editing a new book Education In Ireland: Challenge and Change which will be published by Gill and Macmillan in December 2009.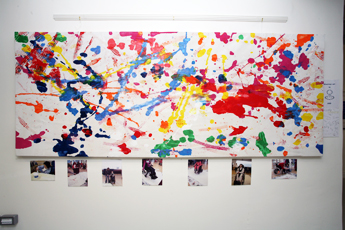 Young artists from Marino Special School in Bray, Co. Wicklow and St. Paul's Secondary School, Greenhills in Dublin, visited the UCD School of Education to view the exhibition of art which they created as part of the school's centenary celebrations.
The event, held at the school's new building on the Belfield campus, was organised by Dr Dympna Devine and Dr Gerry Mac Ruairc of the School of Education with support from the Head of School, Dr Marie Clarke. Carrying the theme of education, the exhibition "represents the voices and perspectives of young people in relation to education and schooling", explains Dr Devine.
A number of schools representing a wide range of areas and students were invited to submit pieces to the exhibition, which show "what school means to them, artistically", commented Dr Devine. "We are thrilled with the contribution the young people have made and are very proud to have a wonderful display of artwork and sculptures that reflect young people and children's perspectives and priorities."
Primary, secondary and special needs students from Holy Faith Primary School in Ballygall, Dublin; Scoil Cholmcille Sinsear from Knocklyon, Dublin; St Paul's Secondary School, Greenhills in Dublin; and Marino Special School, Bray in Co. Wicklow; along with their art teachers submitted their works of art to the exhibition and include wheelchair art, 3-D pieces, puppets and portraits, as well as the more formal forms of art.