Surviving History: Portraits from Vilna - Event Overview
Surviving History: Portraits from Vilna presents the life stories of ten individuals who survived the Holocaust in Lithuania where ninety-five percent of the 240,000-strong pre-war Jewish population was annihilated. Jews who survived did so because they joined the partisans or the army, or escaped
to Russia. Or because kind strangers hid them in basements and attics and on farms, because they slipped unnoticed through a hole in the ghetto gate or crawled out through a sewer, or somehow lasted in the camps until liberation. All of those presented lost family members to the Holocaust. In
some cases, they are the lone survivors among extended families of over one hundred people to have come through alive. Their stories are presented in a series of compelling photographs which capture them as individuals and illuminate the worlds they inhabit.
An accompanying thirty-minute documentary follows Shivaun Woolfson's research journey to Vilnius as she interacts with the narrators, visit the cemeteries and mass graves, the archives and synagogues and listens to people's stories and memories.
In addition to the photograph exhibition and film, the event will feature a series of talks by renowned Lithuanian historian Ruta Puisyte, Holocaust expert and UCD Professor of History,
Dr. Robert Gerwarth, Holocaust survivor, Tomi Reichental and more...
If you'd like to know more about the Surviving History project and the ten individuals, please visit:
www.livingimprint.org/survivinghistory/
Photo Exhibition
A selection of evocative and thoughtful photos will serve as an introduction to the narrators – in their homes, with their biographical objects, and in some instances, in the places they brought us to, such as former shtetls, the cemetery, or mass graves.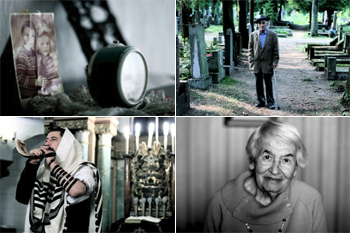 Above: Some examples of the photos that will be exhibited
The images will be displayed as mounted prints. These frameless prints will be split batten mounted onto a portable wall display system. In total, there are 3 panel systems, measuring approximately 2.1m wide x 2.4m high. Forty-five photos have been carefully selected to present a comprehensive and thought-provoking glimpse of the narrators' worlds. Captions and brief bios serve to introduce
the audience to the narrators.
Documentary screening
This short artistic documentary traces the journey of the researcher, Shivaun Woolfson, in her quest
to collect and collate the living imprints of the Jewish presence in Lithuania.
It begins with a poignant reflection on her findings at Ponar, the largest mass killing site in Lithuania.
The audience is then transported into the living rooms of seven narrators, introduced to their stories, their memories and their current worlds. They are then led on a journey to the cemeteries, to the last remaining synagogue on Pylimo Street, and to the memorial sites commemorating those
who perished in the Lithuanian Shoah. This documentary explores the complex and layered history of the Jewish experience in Lithuania including issues of local complicity and collaboration. This documentary will be distributed by Journeyman Pictures and screened at Festival de Cannes Short
Film Corner from 13-22 May 2009. For more details, please visit the film website at: http://www.survivinghistory.woolfcub.com
This short video presents contrasting perspectives of the Holocaust in Lithuania and raises contemporary issues of dealing with the past and racism.
Screenings of the documentary will also be supplemented by a 10-minute 'What Would You Do?' video. This short video is meant to stimulate discussion on the complexities of recognising and addressing racism. It will feature contemporary Lithuanian perspectives from multiple sources,
including government officials, academics and a journalist. Issues such as collaboration, as well as heroics on the part of Lithuanian rescuers who risked their own lives and those of their families, will be explored.