Posted 02 June 2009
Bergen-Belsen concentration camp survivor speaks at UCD
Tomi Reichental was captured by the Nazis in 1944 and sent to Bergen-Belsen concentration camp. He was 9 years old. By the time the Allied forces liberated the death camp in 1945, about 50,000 Jewish prisoners had perished there at the hands of the Nazis. Tomi Reichental survived.
Following an initial 60 year silence, to encourage people not to forget the holocaust, to commemorate the victims, and to help prevent against the re-occurrence of such human atrocities in the future, Tomi Reichental recounts his experiences of Bergen-Belsen to public audiences today.
Tomi Reichental, Bergen-Belsen concentration camp survivor speaking at UCD on 28 May 2009
He first broke his silence about his experiences to support the making of the documentary 'Till the Tenth Generation' by Oliver Donohoe and Gerry Gregg.
Tomi Reichental's public talk at University College Dublin was part of Surviving History: Portraits from Vilna, a special event organised by the UCD Humanities Institute for Ireland, the Holocaust Educational Trust of Ireland, and LivingIMPRINT.
Surviving History: Portraits from Vilna is a series of compelling photographs and a video documentary which presents the life stories of ten individuals who survived the Holocaust in Lithuania where ninety-five percent of the 240,000-strong pre-war Jewish population was annihilated. In some cases, they are the lone survivors among extended families of over one hundred people.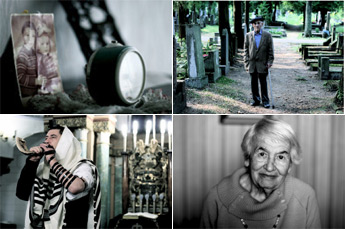 Above: sample photos from the exhibition
The video documentary produced by LivingIMPRINT follows Shivaun Woolfson's research journey to Vilnius as she interacts with the narrators, visit the cemeteries and mass graves, the archives and synagogues and listens to people's stories and memories.
The special event which took place at UCD from 27 - 30 May 2009 also featured talks by renowned Lithuanian historian and holocaust expert Ruta Puisyte, and UCD historian, Dr Robert Gerwarth from the UCD School of History and Archives.