Posted 16 June 2009
UCD honours Ireland's greatest living playwright, Brian Friel with Ulysses Medal

UCD confers honorary doctorates on six outstanding individuals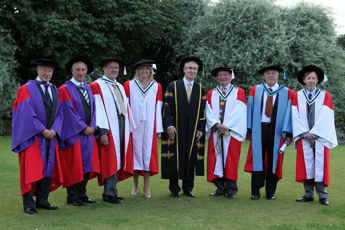 UCD Ulysses Medal for Playwright Brian Friel
Widely recognised as Ireland's greatest living playwright, Brian Friel, who turned 80 this year, has been writing plays for the past 40 years. The plays that helped him to achieve critical acclaim and worldwide success include: Philadelphia, Here I Come (1964), Aristocrats (1979), Translations (1980) and Dancing at Lughnasa (1990).
"In honouring Brian Friel, this Bloomsday, with the UCD Ulysses Medal, University College Dublin is honouring the achievements of a man who is not only Ireland's greatest living playwright but one of the greatest playwrights in the world," said Professor Anthony Roche who read the citation.
"Friel's mantelpiece must be groaning with the weight of Tony, Olivier and other awards for his plays, most recently the Evening Standard Best Play of 2005 for The Home Place. No other contemporary Irish playwright has had such international acclaim."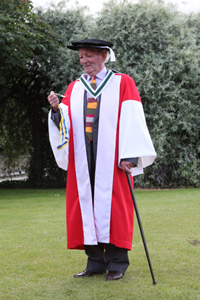 Brian Friel, playwright, with Ulysses Medal, UCD 16 June 2009
The UCD Ulysses Medal is the highest honour that the university can bestow. It was inaugurated in 2005, as part of the university's sesquicentennial celebrations, to highlight the 'creative brilliance' of UCD alumnus James Joyce. It is awarded to individuals whose work has made an outstanding global contribution.
Previous recipients of the UCD Ulysses Medal include: the poet, Thomas Kinsella; Nobel economist, Professor James J Heckman; Nobel laureate, Dr Phillip Sharp; and founder and executive chairman of the World Economic Forum, Professor Klaus Schwab.

Professor Anthony Roche from the UCD School of English, Drama and Film reads the citation for Playwright, Brian Friel who was awarded the UCD Ulysses Medal on 16 June, Bloomsday 2009 at a special ceremony at University College Dublin
On Bloomsday each year the University holds a special ceremony to confer the Ulysses Medal alongside a number of honorary doctorates to individuals who have, in the opinion of the university, achieved distinction in the field of academic scholarship, made significant impact on society and the University community, or achieved significant international accomplishment, as well as being a role model to students.
On 16 June 2009, UCD conferred honorary doctorates on Jack Kyle, sportsman and surgeon, Hilary M Weston, business woman, public servant and philanthropist, John Joseph Collins, scholar in near-eastern apocalyptic writings, Kieran McGowan, public servant and industrial development leader, Dennis O'Driscoll, poet and critic, Richard Lerner, scientific scholar and discovery researcher.
Jack Kyle, legendary fly-half who inspired generations of players: Honorary Degree of Doctor of Laws
Still widely regarded as Ireland's greatest ever rugby player, Jack Kyle was the inspirational genius behind Ireland's Grand Slam triumph in 1948.
"Following his remarkable performance the New Zealand Almanac named him among its six best players of the year, praising him as 'an excellent team man, faultless in his handling, able to send out lengthy and accurate passes, and adept at making play for his supports'. All these attributes were duly recognized in 1999 when Jack Kyle, who captained Ireland six times, was inducted into the International Rugby Hall of Fame." Said Professor Barry Bresnihan, who read the citation.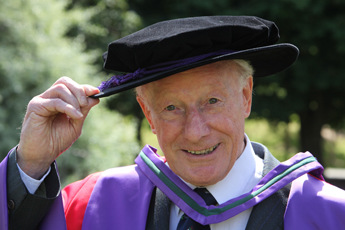 Jack Kyle, Hon Degree of Doctor of Laws, UCD
Off the field, Jack built a career as a skilled surgeon. He worked for many years as a consultant surgeon in Chingola, Zambia, and undertook humanitarian work also in Sumatra and Indonesia. In 2007 The Irish Journal of Medical Science, in conjunction with the Royal Academy of Medicine in Ireland, presented him with a Lifetime Achievement Award.
"A fine medical man whose surgical skills would have brought professional distinction anyway, Jack Kyle was voted Greatest Ever Irish Rugby Player in 2002,"
When he retired from international rugby in 1958, his total of 46 caps from 11 seasons, which yielded seven tries, was a world record. Jack Kyle remains the players' player and Ireland's legendary fly-half."
Hilary M Weston, a philanthropist whose dedication influences health research, cultural, community and peace projects: Honorary Degree of Doctor of Literature
Hilary Weston was born in Dublin in 1942, the eldest of five children. In 1966, she married Galen Weston and the family moved to Toronto, Canada in 1972.
Considered to be Ireland's wealthiest person, Hilary Weston's fortune has been estimated by The Sunday Times Rich List as approximately €7.5bn. She owns Brown Thomas, A-Wear, and BT2 in Ireland, and in the UK, she owns Selfridges in London. Today, the Weston's' have a multi-faceted business empire that includes Holt Renfrew, Loblaws and Weston Bakeries.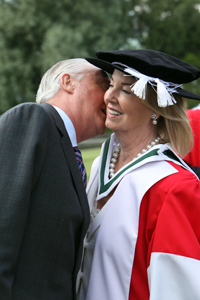 Hilary M Weston, congratulated by her husband Galen Weston as she receives an Hon Degree of Doctor of Literature, UCD
"In awarding this honorary degree on Bloomsday, we celebrate Hilary Weston's long and varied career as business woman, public servant, philanthropist and esteemed member of the Irish Diaspora," said Professor Brigid Laffan who wrote the citation.
In 1997, Hilary Weston was appointed as the 26th Lieutenant Governor of Ontario, only the second woman to hold that high office. Her goal was to alter the perception of the office of Lieutenant Governor by making it more accessible and relevant.
"She used the office to advocate on behalf of women and young people. Mrs Weston visited shelters for women and rallied government and voluntary organizations to address issues of poverty and violence. She drew public attention to people working with the homeless, in hospices and as mentors of at-risk young people," said Professor Laffan.
"Mrs. Weston has retained strong links with Ireland and Dublin. She founded the Ireland Fund of Canada in 1979 and continues as the Honorary Patron of this non-partisan, non-denominational organization which funds community projects in Ireland. She is a trustee of Angel's Quest in Dublin.
Since leaving public office in 2002, Mrs Weston chaired the Renaissance Royal Ontario Museum Campaign: the most successful funding raising campaign in Canadian cultural history.
The enormous range of Hilary Weston's public roles over the past three decades represent her immense contribution to society in so many spheres and at so many levels."

John Joseph Collins, the world renowned scholar in near-eastern apocalyptic writings: Honorary Degree of Doctor of Literature
JJ Collins has made an invaluable contribution to the study of the Dead Sea Scrolls. He is the leading expert in the scholarly field of near-eastern apocalyptic writings. He is an outstanding UCD graduate who has gone on to be a true world-leader.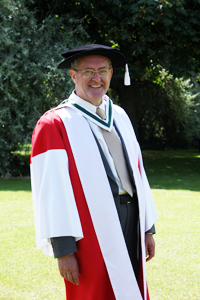 John Joseph Collins, Hon Degree of Doctor of Literature, UCD
"In honouring JJ Collins, UCD is sounding a note of hope, one which both affirms the intrinsic value of excellent scholarship and asserts the possibility of a future more characterised by that peace among nations which will be grounded on better mutual understanding of our origins," said Dr Padraic Conway who wrote the citation.
"Among the main contributions that John Collins has made as a biblical scholar and historian of religion has been to encourage us to see the biblical text as the product of a particular time and place, rooted in the history, archaeology and literature of the Ancient Near East. In his work on the relationship between biblical interpretation and theology, he advocates an approach of dialogue and cross-fertilisation between the two distinct disciplines. His overall approach has been characterised as combining a lucid and detailed exposition of primary texts – where fluency in five ancient and at least as many current languages is merely an entry ticket – with responsible interaction with the best of current scholarship.
He has worked a lifetime in a discipline where various shades of misinterpretation have given us the vulgarities of The Da Vinci Code or, much more seriously, the centuries of vilifying-the- other-to-define-the-self which has been all too prominent in the history of those religions emanating from the Ancient Near East."
"The Dead Sea Scrolls and Qumran in Current Scholarship" a special lecture by Professor John J Collins, Holmes Professor of Old Testament Criticism and Interpretation, Yale Divinity School, at the UCD International Centre for Newman Studies on 15 June 2009
Kieran McGowan, a visionary who guided industrial development in Ireland: Honorary Degree of Doctor of Laws
"Kieran McGowan was appointed Director of International Marketing for the IDA when the economic landscape of Ireland was relatively bleak in the 1980s. Working with the Chief Executive of the IDA at the time, Padraic White, McGowan helped generate major successes that are still clearly visible in today," said Professor Patrick Gibbons who wrote the citation.
"In particular, two iconic projects stand out: The IFSC, where Kieran played a key role as part of the high-level marketing group for the project; and Intel's commitment to establishing wafer fabrication facilities at Leixlip."
These achievements undoubtedly contributed to Kieran's appointment as the third Chief Executive of the IDA in 1990. Under his leadership, the emphasis on customer service, competitive attitude and ambition for the country's success was heightened and Ireland continued to attract not only vital new investment but also importantly, deepening investments from companies already established here.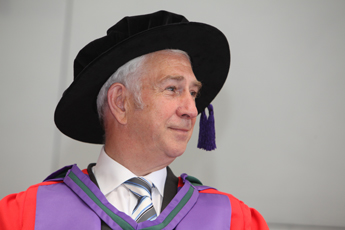 Kieran McGowan, Hon Degree of Doctor of Laws, UCD
As the then Taoiseach, Bertie Ahern T.D. remarked on Kieran's retirement from the IDA, in 1998: "The fact that during his eight years as Chief Executive the IDA has doubled the annual job creation of overseas companies, halved the cost of job support and trebled the impact of IDA supported companies on our economy, is fitting tribute to his energy, drive and vision."
After Kieran retired from the IDA, he continued to provide public service through Board membership of bodies such as Enterprise Ireland, Intertrade Ireland, World Special Olympics, The Irish Management Institute, the National Lottery Company and Cooperation Ireland. Kieran's commitment to education and in particular his perspective on the links between education quality, research success, industrial development and rising living standards motivated his commitment to Chairing the Board of the Dublin Molecular Medicine Centre, a collaboration between UCD and Trinity College and subsequently his appointment as the first independent Chair of the UCD Governing Authority.
Dennis O'Driscoll, a poet whose writings are a pulse of the modern life: Honorary Degree of Doctor of Literature
The Irish Poet, Dennis O'Driscoll is the author of eight collections of poetry and three chapbooks, as well as numerous essays and reviews, many of them collected in his Troubled Thoughts, Majestic Dreams. His most recent work is Stepping Stones, the acclaimed collection of autobiographical interviews with Seamus Heaney, a book which elevates the interview to an art form.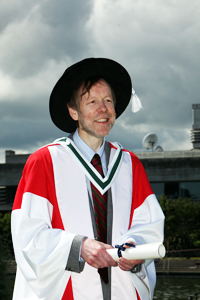 Dennis O'Driscoll, Hon Degree of Doctor of Literature, UCD
"Dennis O'Driscoll belongs to a very distinguished group among Irish poets – like Thomas Kinsella and Padraic Fallon, he has, for most of his life, been a full-time civil servant who, despite all the claims of a demanding day job, is a poet of international stature," said Professor Mary Clayton who wrote the citation for Dennis O'Driscoll.
"He is also an essayist, critic and editor whose work is published in the most prestigious periodicals and who has been instrumental in introducing international poetry to an Irish readership. His knowledge of poetry is prodigious; indeed, Seamus Heaney has said of him that 'no-one is more informed about poetry in the world than Dennis O'Driscoll'. As a critic, his independence and detachment have been salutary for the entire Irish poetry scene."
Dennis O'Driscoll response on behalf of honorary graduates, O'Reilly Hall, UCD, 16 June 2009
Richard A Lerner, a chemist whose groundbreaking work opened new doors to scientific discovery: Honorary Degree of Doctor of Science
As the world's leading immunochemist, Richard Lerner has been part of virtually every major advance in the field over the past twenty-five years and remarkably, was a pioneer in most of them. His discovery of combinatorial antibody libraries has revolutionised immunochemistry.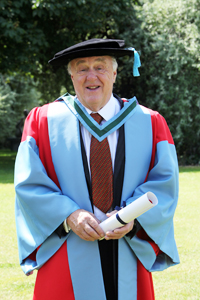 Richard A Lerner, Ulysses Lecture, UCD Conway Institute, 15 June 2009
"Richard Lerner carries the position previously afforded to the great figures in the immunochemistry field such as Porter and Kabat. In addition to his scientific efforts, Richard Lerner has a long record of excellence and discovery in research. He has had a remarkable impact on science – in particular at the interface of immunology and modern chemistry," said Professor Pauline Rudd who wrote the citation for Richard Lerner.
"Thanks to Lerner there are now catalytic antibodies in the clinic. Thus, what began simply as exploratory immunochemistry has become the basis of a powerful new therapeutic antibody platform. Richard Lerner's work has always been characterised by innovation, imagination and inspiration."
Richard A Lerner, Ulysses Lecture, UCD Conway Institute, 15 June 2009