Posted 03 July 2009
UCD Rowers in unique head-to-head at Henley
UCD A (Senior) and UCD B (Intermediate) Rowing VIIIs met last night in the last 16 of the Temple Cup at Henley Royal Regatta in what was a unique head-to-head for the saffron and blues. The Seniors had a comfortable win and now face event favourites, Princeton.
The Senior VIII suffered a setback earlier in the week when Sean O'Neill was knocked from his bike by a car after rowing and sustained a badly broken collar bone. Luckily, Colm Pierce who was in the 2008 Gannon-winning crew was able to fly from Spain to Henley today replace O'Neill. Their first round win over Eton by 2 ¼ lengths confirmed the quality of the crew and justified their seeding among the top 8 in the 32-crew competition.

UCD A VIII v UCD B line up at the start of the Henley Royal Regatta Temple Cup 2nd round race.
In an outstanding first round performance, the Intermediate VIII beat Shrewsbury by 1 length. Their original aim was to qualify for one of the 14 available places in the main draw and did so by being one of the top 6 fastest qualifiers among 39 crews.
The Senior VIII UCD A crew: Stroke, Anthony English, 7 Richard Skelly whose father Jim was in the 1974 UCDBC Ladies Plate winning VIII (UCD's only ever win at Henley), 6 Finbarr Manning, 5 Tom Doyle, 4 Dave Neale, 3 Dylan Finnerty, 2 Colm Pierse, Bow Daragh O'Reilly, Cox Naoise Grisewood.
The Intermediate VIII UCD B crew: Stroke Richard Murray, 7 Alan Murray 6 Emmet Feeley, son of Martin who was also in the 1974 UCD BC Ladies Plate winning VIII, 5 Simon Craven, 4 Travis Greene, 3 Peter Murphy, 2 Pat Courtis, Bow Philip Craven brother of Simon and Cox Jenny Lynch.

Coaches: John Holland, Colm Daly & Conor Walshe

Only 4 of the 16 students rowed pre-university.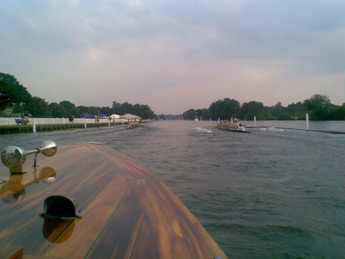 UCD A VIII pull away from UCD B VIII at quarter mile mark. Henley Royal Regatta Temple Cup 2nd Round 3.07.09

In the Prince of Wales Challenge Cup event two UCD alumni, Sean Jacob and Con Collis, representing Old Collegians BC along with two rowers from London Rowing Club compete against Sir William Borlase's & King's School, Ely in quadruple sculls. Seeded among the top four in the event, the OC/London crew is expected to perform well in the race that takes place at 18.40.
Considered the most prestigious rowing club regatta in the world, Henley attracts top crews from Europe, the US, New Zealand and Australia. The standard is always particularly high the year after an Olympics and this year is no exception. Unlike multi-lane international regattas, Henley still operates a knock-out draw with only two boats racing in each heat. This entails the organisation of up to 100 races on some of the five days of the regatta. The length of the course is 1 mile 550 yards, which is 112 metres longer than the standard international distance of 2,000 metres and takes approximately seven minutes to cover.