Posted 01 October 2009
Dame Edna Everage (aka Barry Humphries) honoured by L&H Society
Australian comedian, Barry Humphries the creator of Dame Edna Everage visited University College Dublin recently to accept the James Joyce Award from the UCD Literary & Historical Society. While Humphries freely states that Edna, dubbed Australia's First Lady, is a character he plays, Edna consistently denies being a fictional character or drag performer, and refers to Humphries as her "entrepreneur" or manager.
"The award is in recognition of Barry Humphries' amazing career as a comedian and entertainer. With her trademark lilac-coloured hair and over-the-top cat eye glasses, and cleverly wicked humour, Barry Humphries has made Dame Edna one of the world's most recognisable comedians," said Conor McAndrews, Auditor of the UCD Literary & Historical Society. "Comedy has the power to bring people together, to help us transcend the difficulties of our everyday lives, and leave our differences aside, if only for a short time."
Pictured at University College Dublin, Belfield was Dame Edna Everage (aka Barry Humphries) with UCD 3rd year commerce student Alexandra Tyrrell from Victoria, Canada.
After receiving the award, Humphries stopped to chat with a group of Australian students studying for a term in UCD. "His humour is our humour," said 21 year old Elise Cochrane, one of the students. "He's a legend. My family are obsessed with him."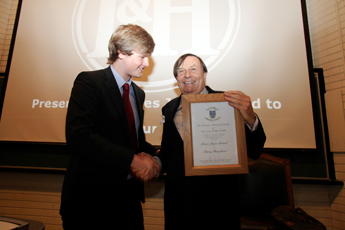 Conor McAndrews, Auditor of the UCD Literary and Historical Society presents the James Joyce Award to Barry Humphries

According to the Dame Edna website: "Dame Edna Everage is probably the most popular and gifted woman in the world today: housewife, investigative journalist, social anthropologist, talk show host, swami, children's book illustrator, spin doctor, Megastar, and Icon. With Olivia Newton-John, Kylie Minogue and Nicole Kidman, she is one of a remarkable succession of female stars to emerge from Australia."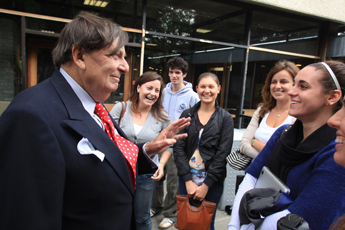 Barry Humphries (Dame Edna Everage) chats with a group of Australian students studying for a term at UCD
Previous recipients of the UCD Literary and Historical Society's James Joyce Award include: the Beatles producer and music arranger, Sir George Martin; Hollywood comedian, Will Ferrell; Harry Potter author, JK Rowling; author, Salman Rushdie; and author, Bill Bryson.
While Barry Humphries was in University College Dublin to receive the James Joyce Award, his biographer, Dr Anne Pender from the University of New England, was also on campus to deliver the Annual Keith Cameron Lecture at the UCD School of History and Archives.
The special lecture entitled: "The Last of the Queen's Men: Barry Humphries's Australian Theatre of Empire" was introduced by Professor Stuart Ward, Keith Cameron Professor of Australian History at UCD.
"The Last of the Queen's Men: Barry Humphries's Australian Theatre of Empire" by Dr Anne Pender from the University of New England