Posted 14 October 2009
Joint Abbey Theatre - UCD Launch of Contemporary Irish Drama
The second edition of Contemporary Irish Drama by UCD Professor Anthony Roche (Palgrave Macmillan) was officially launched by Patrick Mason at the Abbey Theatre last week. Patrick Mason was a singularly appropriate choice to launch the pioneering study which covers the extraordinary revival of Irish drama in the second half of the twentieth century.
According to Professor Anthony Roche, the landscape of Irish theatre is unimaginable without the contribution of Patrick Mason. He first joined the Abbey Theatre as a director in 1977, and he was Artistic Director of the Abbey from 1993 to 1999. He received a Tony Award for directing Brian Friel's Dancing at Lughnasa in 1992. He has directed more significant contemporary Irish plays than any other comparable Irish director, including many of the plays featured in Professor Roche's acknowledged masterpiece on contemporary Irish drama.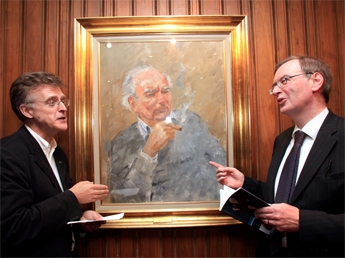 Patrick Mason (left) and Professor Anthony Roche pictured at the Abbey Theatre for the launch of Contemporary Irish Drama (Second Edition). In the centre is a portrait of the Irish playwright, Brian Friel by Basil Blackshaw
"Tony Roche's book is a most limpid, clear, clean, elegant, deep analysis and insight into contemporary Irish plays and playwrights," said Patrick Mason at the launch. "It is a necessary book, showing intimate knowledge of the Irish stage and drama scholarship. It is an act of love."
Equally appropriate was the choice of the Abbey Theatre as a venue for the official launch, given the pivotal role played by the National Theatre in the careers of the majority of the Irish playwrights covered in the book.
In the work itself, Professor Roche identifies Samuel Beckett as 'the presiding genius of contemporary Irish drama'. The subtleties of his influence on figures as diverse as Friel, Murphy and Kilroy are drawn in ghostly demarcations in three central chapters marked by close and contextualised readings of their key texts.
The mutual correlation of drama and its context is explored in successive chapters dealing with politics and violence in Northern Ireland and what, in a ringing encomium, Terence Brown of Trinity College Dublin calls 'the haunted plays' of a younger generation of playwrights which reveal 'the tragic flaws in Irish society that mere prosperity could not overcome'.
As interested in the major productions of the works studied as it is in the written texts, Professor Roche's study is ultimately a profoundly optimistic one; one which affirms the power of what he names a dramatic tradition of creative contradiction to subvert idées recues and to ensure the continuity and vitality of Irish drama well into the twenty-first century.
Invaluable to students and theatregoers alike, Contemporary Irish Drama: Second Edition by Professor Anthony Roche, UCD School of English Drama and Film, is published by Palgrave Macmillan 2009.
Patrick Mason is currently Adjunct Professor in Drama Studies at University College Dublin, where he teaches in the MA in Directing for Theatre and in the undergraduate programme.