Posted 19 October 2009
Cuts in childhood health would have detrimental effect on economy, says leading US health economist
UCD Ulysses Medal for US Health Economist
In spite of the current economic challenges in Ireland, it would be very shortsighted to shortchange investment in childhood health, according to leading US health economist, Professor James Smith.
"Some lessons are forever and our economic research findings show that in Ireland, Great Britain and the US, investments in the lives of children, and, in particular, their physical and mental health, have enormous economic returns that help determine a country's future," said Professor Smith from the RAND Corporation in the United States who was in Dublin to receive the UCD Ulysses Medal.
"Our research shows that poor childhood health adversely affects all key adult economic outcomes including: education, work, income and marriage. It is also clear that the psychological dimensions associated with poor childhood health appear more central than the physical health dimensions."
The award is in recognition of Professor James Smith's global contribution to the study and understanding of health economics. The medal is the highest honour that University College Dublin can bestow.
Professor James Smith, UCD Ulysses Medal Lecture, 15 October 2009 - Effects of Childhood Mental and Physical Health on Adult SES
"With a career spanning more than 30 years, Professor James Smith is one of the most cited and published health economists in the world," said Dr Hugh Brady, President of University College Dublin. "His research has had considerable impact on policymakers and influenced their decisions regarding planning for future generations."
Professor Smith holds the Chair in Labor Markets and Demographic Studies at the RAND Corporation and is a two time recipient of a MERIT award, the highest honor bestowed by the National Institute of Ageing in the United States. The RAND Corporation is a nonprofit institution that helps improve policy and decision making through research and analysis. For more than 60 years, the RAND Corporation has pursued its nonprofit mission by conducting research on important and complicated problems.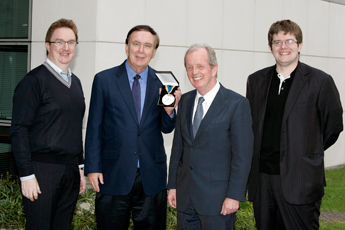 Prof Colm Harmon, Director of UCD Geary Institute; Prof James Smith, RAND Corporation, US; Prof Desmond Fitzgerald, Vice-President for Research, UCD; and Dr Liam Delaney, UCD Geary Institute
"It is a great honour to be among the very distinguished scientists and artists who have received the Ulysses Medal from University College Dublin," said Professor James Smith who received the award at University College Dublin on 15 October 2009. "An award from a leading Irish university means so much to me personally, particularly because both of my parents were born in Ireland – in Sligo and Mayo – but had to emigrate more than 80 years ago because of hard times."
UCD Ulysses Medal
The UCD Ulysses Medal is the highest honour that University College Dublin can bestow. It was inaugurated in 2005 to highlight the 'creative brilliance' of University College Dublin's best known graduate James Joyce who completed his Bachelor of Arts at the university in 1902. It is awarded to individuals whose work has made an outstanding global contribution.
Previous recipients of the UCD Ulysses Medal include: Irish playwright, Brian Friel; Irish poet, Thomas Kinsella; Nobel economist, Professor James J Heckman; Nobel laureate, Dr Phillip Sharp; founder and executive chairman of the World Economic Forum, Professor Klaus Schwab; Nobel laureate, Professor Richard Ernst; and Stanford University's 10th President, Professor John L Hennessy.