Posted 03 November 2009
GENIE-US investigations of diabetic kidney disease

UCD researchers led by Professor Catherine Godson and their collaborators at Queen's University Belfast (PI: Professor Peter Maxwell) and The Broad Institute, Harvard and MIT (PI: Dr Joel Hirschhorn) have been awarded €4 million through the US-Ireland R&D Partnership to identify the genetic factors involved in the development of diabetic kidney disease.
In a programme called GENIE (genetics of nephropathy, an international effort), teams of researchers including Professor Godson and co-investigators Professor Finian Martin and Dr Denise Sadlier (UCD); Dr Hirschhorn and co-investigator Dr Jose Flores (USA); and Professor Maxwell and co-investigator Dr David Savage (QUB) will use a genetic approach called genome-wide association studies. This powerful method will allow them to search for the factors that influence the development of diabetic kidney disease. Through the GENIE investigations, the group hope to define the impact of such genetic factors on kidney function.
Kidney disease is a common and devastating complication of diabetes, and represents a major public health problem worldwide. Diabetes is the leading cause of end stage renal disease with patients requiring dialysis and transplantation. At present, treatment options are limited and do not reverse the decline in renal function associated with diabetic kidney disease.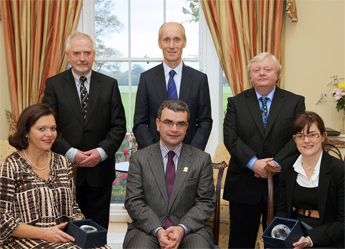 Pictured at the announcement of the US-Irealnd R&D partenrship awards,(L to R, standing) Prof Finian Martin (UCD), Prof Peter Maxwell (QUB), Dr David Savage (QUB) (L-R, seated) Prof Catherine Godson, Minister for Labour Affairs Dara Calleary, Dr Denise Sadlier.
Commenting on the project, Professor Catherine Godson said, "Inherited, genetic factors play a role in determining who will get diabetic kidney disease, and as long as these factors remain unknown, we are limited in our ability to develop improved treatments and preventive measures. We hope that these studies will identify novel biomarkers and targets for therapeutic intervention in this debilitating disease".
The US-Ireland R&D Partnership was established to increase the level of collaborative research and development among researchers across Ireland, Northern Ireland and the US in the areas of nanotechnology, sensor technology, diabetes and cystic fibrosis.
US Ambassador to Ireland Dan Rooney hosted the event at which four tri-partite US-Ireland R&D partnerships totalling €7 million were announced. He was joined by NI Minister for Employment and Learning Sir Reg Empey and Minister for Labour Affairs Dara Calleary.
Ambassador Rooney welcomed the partnerships, saying: "These successful projects have come through a US review process that is the international gold standard for research excellence. This clearly demonstrates the high quality of advanced research across the island of Ireland and adds greatly to its reputation as a centre of innovation that can compete on an international stage."
Minister for Labour Affairs, Dara Calleary said: "We see the US-Ireland R&D Partnership as an important mechanism for achieving high growth and helping bring about the economic regeneration of the island."
The Partnership was established to develop innovations leading to economic development and improvements in health promotion and disease prevention by bringing together expertise from academic institutes in the three jurisdictions. It is led by a steering group of senior representatives from each jurisdiction, with InterTradeIreland providing the secretariat for the group on the island of Ireland.