Posted 09 November 2009
Rugby hero, Brian O'Driscoll honoured with UCD Foundation Day Medal 2009

The 2009 outstanding alumnus to receive the UCD Foundation Day Medal is Irish rugby hero, Brian O'Driscoll, (Dip Sports Mgt 1998).
Captain of the most successful Irish rugby team in a generation, Brian O'Driscoll led an unbeaten season to claim the Triple Crown, the Six Nations Championship and Grand Slam for Ireland for the first time in 61 years in Cardiff's Millennium stadium on 21st March. Alongside O'Driscoll, this remarkable team included four other UCD players, graduate Paddy Wallace and students, Rob Kearney, Gordon D'Arcy and Jamie Heaslip. Brian O'Driscoll also played a central role for Leinster that brought European glory to the boys in blue.
Speaking at the presentation of the Medal on 06 November 2009, An Taoiseach, Brian Cowen, TD said, "Throughout its evolution, UCD has been actively engaged in shaping the development of our society and economy and has played an unparalleled role in the creation of the modern, dynamic, vibrant society that is 21st Century Ireland. The University has also made a significant contribution to sports."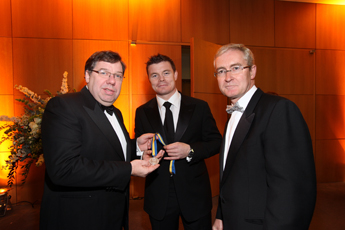 An Taoiseach, Brian Cowen TD, and Dr Hugh Brady, President of UCD, pictured with Brian O'Driscoll, recipient of the UCD Foundation Day Medal 2009
"Sporting achievement is a source of national pride and a source of inspiration. Brian O'Driscoll embodies this through his courage, commitment, creativity and determination on the field. He displays precisely the characteristics we want our young people to display whatever their field of endeavour and has stood out as one of the finest ambassadors not only for the game of rugby but for Irish sportsmanship generally."
Born in Dublin on 21 January 1979, Brian O'Driscoll played his first rugby match at 11 years of age for Willow Park where he finished his primary education, before moving on to Blackrock College where he developed a passionate interest in rugby. In 1996, he achieved international recognition when he gained 3 caps for Irish schools. He was awarded a sports scholarship to University College Dublin, where he completed a diploma in Sports Management. While at UCD he progressed from the university under 20's team to the senior team in his first year under the direction of John McClean.
Selected for the senior Irish squad in April 1999 against Italy, he remained on the bench. Then selected for the summer tour to Australia, he made his debut winning his first cap at the age of 20 on 12th June 1999 in Brisbane.
In his citation for the Medal, Fergus Slattery, (BComm 71) said, "Brian has had an outstanding career since exploding onto the scene on a spring day in Paris in 2000, when he helped himself to a hat-trick of tries. Europe was aware of a great star looming on the horizon and it did not take long for the world to see his greatness."
Receiving the Medal, Brian O'Driscoll responded, "I am greatly honoured to receive this prestigious award from my alma mater, UCD and to join such a distinguished group of previous recipients. It is fantastic to be back on campus without the burden of study, enjoying this evening, meeting people from all walks of life and catching up with old friends."
The UCD Foundation Day Medal was inaugurated in 2004 to coincide with the 150th anniversary of the opening of UCD's antecedent, the Catholic University of Ireland. Each year the medal is awarded to a graduate who demonstrates great achievement and plays a significant leadership role.
Previous recipients include: Peter Sutherland, Patrick Hillery, Maeve Binchy, Mícheál Ó Muircheartaigh and Pearse Lyons.
Speaking at the Foundation Day ceremony, the President of UCD, Dr Hugh Brady said that this has been one of the most challenging years for Ireland and the Irish universities in recent history. "We are fully aware of the key role that higher education and research must play in weathering this storm and in seeding the next wave of economic growth." He paid tribute to the entire university sector for "delivering more for less."
In the past year, UCD has responded to the challenge by increasing the volume and calibre of its undergraduate and graduate student intake alongside its research income, outputs and innovation commercialisation.
Commenting on the UCD-TCD Innovation Alliance established earlier this year, Dr Brady said, "This initiative builds on a number of large collaborative projects established by the two universities over the past seven years and represents a joint response to the challenge set out by the Taoiseach in the Government's Smart Economy Framework.
We have a unique opportunity to support the drive for critical mass in technology-intensive disciplines and to impact on Ireland's recovery process given that between the two universities, UCD and TCD accounts for 50% of Ireland's science and engineering undergraduates, 50% of Ireland's PhDs, 50% of Ireland's competitive research funding and 50% of Ireland's technology transfer activity.
We are committed to playing our part in supporting the national effort to restore and advance the economy of this great country." He added.
Sport at UCD 2009:
Although Brian O'Driscoll is the absolute national sporting hero for this year, there were a number of other UCD men on the Grand Slam Irish rugby team. Among the current students are Rob Kearney, who has just completed his BA and is now studying for a Masters in Economics, Gordon D'Arcy, studying for his BA in Geography and Jamie Heaslip, Masters in Management at the UCD School of Business. The 5th UCD man among the triumphant squad that won the rugby Grand Slam and brought home the 6 Nations trophy for the first time in 61 years is Paddy Wallace.
Outside rugby, UCD has enormous success in a wide range of sports at intervarsity, national and international level. Some of the highlights over the past year include:
Men's Soccer – winners of FAI first division league
Women's Hockey – winners of Irish Senior Cup
Rowing – winners of Men's and Women's colours
Women's Volleyball – winners of 7 in a row Intervarsity championships
Ladies' Golf – winners of Intervarsity title
Men's Golf – winner of Irish Universities Golf Championship
Women's Handball – Gold at World Collegiate Handball Championship in US
Boxing – winners of Junior Intervarsity Championship
Equestrian Tetrathlon (running, shooting, swimming & show jumping) – winners of National Intervarsity Championship
Women's Tennis – winner of National Intervarsity Championship
Men's Basketball – winners of under-20s National Championships.