Posted 10 February 2010
Charles Institute moves ahead on research into skin disease at UCD
Minister for Health unveils foundation stone
Minister for Health, Ms Mary Harney TD has unveiled the foundation stone for the Charles Institute, the first national institute devoted to dermatology in Ireland. Funded by the City of Dublin Skin and Cancer Hospital Trust from the sale of the Hume Street premises and by University College Dublin, the Charles institute will undertake research into common skin diseases such as psoriasis, eczema, skin cancer as well as rare genetic skin diseases and training for undergraduate and qualified health professionals.
"Our objective is to harness the frontier technology that we have here at UCD to cure skin disease. The important goal is to help patients through research and through the training of health professionals," said Professor Des Fitzgerald,
Vice-President for Research at UCD.
Pictured far right: Prof William Gallagher, UCD Cancer Researcher and Minister for Health, Ms Mary Harney TD viewing scientific samples
Skin disease is a serious and common problem – particularly here in Ireland. Skin conditions are the fourth most common reason for GP visits in Ireland and skin cancer is the commonest form of cancer in Ireland. Each year, 15% of all GP visits are because of a skin complaint. The prevalence of skin diseases such as skin cancer, leg ulcers, and atopic eczema has increased steadily over the past 20 years. Today, between 25% and 33% of the Irish population suffers from a dermatological condition at any one time.
The incidence of malignant melanoma, a potentially fatal skin cancer is rising in Ireland – with approximately 650 people being diagnosed with melanoma of skin every year. A further 6,500 people are diagnosed with non-melanoma skin cancer each year.
"In planning the Charles Institute, we have set it between the UCD Conway Institute, where we conduct basic research, and the UCD Health Sciences Centre, where we educate doctors, nurses and other health professionals," Professor Fitzgerald explained. The Institute is also directly linked to the teaching hospitals in the Dublin Academic Health Centre, St Vincent's University Hospital and Mater Misericordiae University Hospital and the Board of governors of the City of Dublin Skin and Cancer Hospital Charity as well as extending to patient groups and charities in the community.

The Minister said that she was very pleased that the huge experience and history of Hume Street hospital would be continued UCD and paid tribute to the Chairman, Mr Peter O'Flanagan and the Board of Trustees.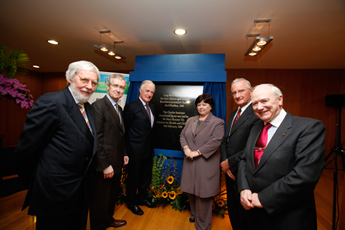 Pictured left to right are: Prof Eoin O'Brien, City of Dublin Skin & Cancer Hospital Charity; Dr Hugh Brady, UCD President; Mr Peter Flanagan, Chairman, City of Dublin Skin & Cancer Hospital Charity; Ms Mary Harney, TD, Minister for Health and Children; Prof Noel Whelan, Chair, St Vincent's Healthcare Group; Mr John Morgan, Chair, Mater Misericordiae University Hospital.
"I was honoured to announce the original concept and plans for the Charles Institute 18 months ago, and I am particularly pleased to return here today to celebrate the setting of the foundation stone for the Institute," said the Minister.

"The Charles Institute at UCD will recruit upwards of 50 scientists, graduate students and medical practitioners, devoted to dermatology research and training. The outcomes of this work will help to tackle and treat skin conditions and give us the opportunity to develop an international centre for research excellence in this area. And, the calibre of the international advisory panel brings an added layer of expertise to the Institute."

"The Institute is named in honour of Andrew Charles FRCSI, the founder of the City of Dublin Skin and Cancer Hospital and his son Havelock Charles who worked as a consultant dermatologist in the hospital for fifty-seven years," said Mr Peter O'Flanagan. "We believe that the work of the Charles Institute here at UCD is a fitting tribute to the vision and commitment of the founding fathers and all of the dedicated staff who worked in the hospital from its foundation in 1911 to its closure in 2006."

"What we discover in researching skin disease will have important benefits to translational medicine for other conditions." Professor Fitzgerald added. "The skin provides an accessible organ for novel cell gene and protein therapies and we have learned that understanding of the mechanisms of skin disease provides insights in other unrelated diseases such as asthma, inflammatory bowel disease and systemic cancer."
The application of frontier biotechnologies will provide exciting opportunities to develop worthwhile new therapies for the ultimate benefit of the patient. These will include micro-therapeutics to generate new drugs for clinical research; stem cell therapy which focuses on regenerative medicine, tissue repair and wound healing; tissue engineering which involves the creation of artificial skin; and nanobiology for the development of nanomaterials for drug and gene delivery.
In his public lecture marking the laying of the Charles Institute foundation stone, Dr David Fisher, Chief of the Department of Dermatology at Massachusetts General Hospital, Harvard Medical School, addressed the science and risks of UV radiation and the skin.
"The sun is one of nature's most attractive symbols of happiness and healthfulness. Yet despite its important roles in sustaining life, certain of its electromagnetic radiation output also poses significant risk to humans.
Ultraviolet radiation was required during human evolution for the body's ability to synthesize vitamin D. However, this radiation carried a risk of causing skin cancer - a risk which is absent from the use of simple dietary supplements to maintain healthy vitamin D levels.
A great deal has been learned about the mechanisms through which UV radiation triggers both desired effects (such as sun-tanning or "good-feelings") as well as its dangerous consequences (cancer and accelerated aging of the skin).
Looking at the science as well as the risks of ultraviolet radiation exposure, in relation to sunlight as well as indoor tanning salons helps give us an understanding of these issues may provide opportunities to optimize a healthy lifestyle, and also represents one of the most striking opportunities for cancer prevention in current times."
International Advisory Board
The International Advisory provides independent advice to The Charles Institute Board of Directors. The Advisory board consists of four international experts in dermatology; two from Europe and two from the USA.
Prof James G. Krueger: D. Martin Carter Professor in Clinical Investigation, Laboratory of Investigative Dermatology, The Rockefeller University, New York
Dr Stephen Katz: Director, National Institute of Arthritis and Musculoskeletal and Skin Diseases, National Institutes of Health, USA.
Prof Jean-Hilaire Saurat: Dept of Dermatology, Hospital Cantonal, Geneva, Switzerland
Professor Rod Hay: Chairman of The International Foundation for Dermatology, (and based in St John's Institute of Dermatology in King's College London)
(Produced by UCD University Relations)