Posted 09 March 2010
Timor-Leste's Ramos-Horta receives honorary doctorate from UCD
The President of The Democratic Republic of Timor-Leste, Dr José Ramos-Horta has been awarded an Honorary Doctor of Laws by University College Dublin. He received the award in recognition of his commitment to human rights and his dedication to the establishment of the independence of Timor-Leste after a long history of foreign occupation.
"President Ramos-Horta is a moral giant, who from a young age has acted as a voice of his people to assist them towards independence from oppression," said Dr Niamh Hardiman, UCD School of Politics and International Relations, who gave the citation at the honorary conferral ceremony.
"His advocacy has shown that the best way to respect the rights of the oppressed, and to achieve freedom and justice, is through peace building."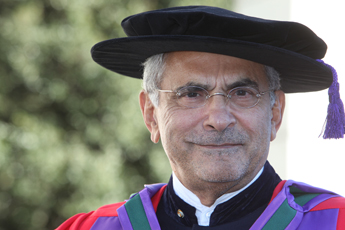 President of The Democratic Republic of Timor-Leste, Dr José Ramos-Horta after receiving his honorary award at University College Dublin on 08 March 2010
"He played a vital role in healing divisions within his own country, building bridges with its nearest neighbour, and keeping faith with the principles of freedom, justice, peace and reconciliation that have informed his whole life's work."
After receiving the award, President Ramos-Horta gave a talk entitled: Timor-Leste and opportunities for Asia in the 21st century. In his paper he described how a small country like Timor-Leste struggles to integrate itself strategically, economically, diplomatically following peace and independence.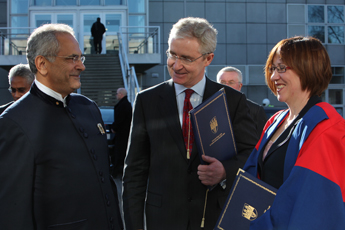 On his arrival to University College Dublin, Dr José Ramos-Horta, President of The Democratic Republic of Timor-Leste, Dr Hugh Brady, President of UCD (centre) and Dr Niamh Hardiman, UCD School of Politics & International Relations

In 1970, at 21 years of age, after working as a journalist in his homeland (then a Portugese colony), José Ramos-Horta was exiled for one year to Mozambique (another Portuguese colony) where he began efforts to secure independence for Timor-Leste.
5 years later, Portugal withdrew from the country. But by the end of the same year (1975), following the proclamation of the Democratic Republic of Timor-Leste, Indonesian forces invaded the country.
Ramos-Horta fled overseas just days before the Indonesian invasion. But four of his brothers and sisters were killed during the invasion. He spent the next 24 years leading a campaign to mobilise global opinion against Indonesia's integration of the country.
Working from Australia and the USA, he lobbied governments to cut ties with the Indonesian President Suharto's regime and promoted a peace plan to end the violence in his homeland.
After 24 years of occupation and armed conflict, in May 2002 Timor-Leste achieved its independence from Indonesia. But the violence that followed the separation led to the destruction of the country's social fabric.
With international support, Timor-Leste has made considerable progress in putting government structures in place since independence. However, in April 2006, when 600 military staff were dismissed from service, the country experienced a political and security crisis, as violence spread across the capital, Dili. This resulted in more than 150,000 people (from a total population of 1.1 million) becoming internally displaced and living in camps around the capital. In November 2009, the camps were closed, with almost all families returning to their homes.
José Manuel Ramos-Horta formally took office as President on 20 May 2007 following a landslide victory in the first national elections since the restoration of independence. In February 2008, he was the victim of an assassination attempt which he survived following multiple operations in Australia.
Timor-Leste remains a fragile state, with a fragile security situation and a stagnant economy. It also remains one of the world's poorest countries. According to data from the WHO, in Timor-Leste 14% of children younger than 5 years of age suffer from acute malnutrition; and 56% are chronically malnourished.
Timor-Leste is situated in South East Asia at the eastern end of the Indonesian archipelago. It is the world's youngest nation, having attained formal independence in May 2002 following over 400 years as a Portuguese colony, 24 years of Indonesian occupation and two years of UN administration.
José Ramos-Horta was jointly awarded the Nobel Peace Prize with Carlos Filipe Ximenes Belo in 1996 for 'their work towards a just and peaceful solution to the conflict in East Timor.'
Irish Aid and Timor-Leste
Irish Aid's engagement with Timor-Leste arose from the active role played by Ireland in the lead-up to its independence. It has progressed from the provision of emergency and humanitarian assistance in the aftermath of Indonesian withdrawal to long-term development assistance.
Timor-Leste was designated an Irish Aid priority country in 2003. The focus of Ireland's assistance - which exceeded €30 million between 2003 and 2009 - has been on reducing poverty by improving social services; strengthening governance and human rights and building the capacity of the public service.
Concern and Trócaire have been active in Timor-Leste for several years. Since 2006, Irish Aid has provided approximately €2.5 million to support their long-term development programmes in the country and has provided additional funding for emergency and humanitarian assistance.
Minister of State for Overseas Development, Peter Power TD, said:
"Irish Aid's programme in Timor-Leste is strongly focused on reducing poverty and strengthening the capacity of the country's young institutions. This year, Ireland is committing €5 million to the long-term development of Timor-Leste. Our support is focused on a number of key areas: employment and infrastructure, supporting human rights, justice, conflict resolution and gender equality and strengthening local government. I am looking forward to discussing Timor-Leste's progress and the challenges still facing the country with President Horta during his State visit."

(Produced by UCD University Relations)