Posted 25 March 2010
Leading philosopher and theologian honoured by UCD
In recognition of his academic accomplishments in the field of theology, Professor Denys Turner, Yale University, has been awarded an Honorary Doctorate of Letters by University College Dublin.
"Denys Turner is a remarkable UCD graduate who has gone on to be an exceptional academic while remaining a person of generous and effective social involvement," said Former UCD President, Dr Patrick Masterson who delivered the citation at the conferring ceremony on 11 March 2010.
"In honouring him we are affirming the intrinsic value of the scholarship he exemplifies and the belief that UCD graduates, including those present here today, can go on to excel and inspire both professionally and personally in their lives."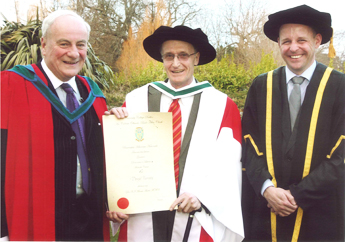 Dr Patrick Masterson, Former President of UCD (left), and Dr Philip Nolan, UCD Registrar (right) pictured with Professor Denys Turner, Yale University receiving his honorary award from UCD
Denys Turner taught moral and political philosophy at University College Dublin for ten years while completing his D.Phil at Oxford University. He then spent twenty years as Senior Lecturer and Head of Department at the University of Bristol. For the next 14 years he was Professor of Theology at Birmingham. He then moved to Cambridge University where he was Norris-Hulse Professor of Divinity and Fellow of Peterhouse for six years. In 2005, he took up the position of Horace Tracy Pitkin Professor of Historical Theology at Yale University.


He has served as a member of the Executive Committee of the Catholic Institute for International Relations, the Committee for the World of Work of the Roman Catholic Conference of Bishops of England and Wales, the Laity Commission of the Roman Catholic Conference of Bishops of England and Wales, and the Anglican Roman Catholic Commission for England.
"In his early career, his main area of research and publication was in the relations between Christianity and political and social theory, particularly between Marxism and Christianity," said Dr Masterson. "More recently, he has engaged in significant research on the traditions of Western Christian mysticism particularly on problems of religious language and selfhood."
"His work has crystallised in a trilogy of important theological works of lasting significance. These are: Eros and Allegory (published in1995), The Darkness of God (also published in 1995) and the masterly Faith Reason and the Existence of God, an intellectual tour de force, published by Cambridge University Press in 2004."
Denys Turner is a co-author of the forthcoming Cambridge Companion to the Summa Theologiae of Thomas Aquinas.
When in Ireland to receive an Honorary Doctorate of Letters from University College Dublin, Professor Turner also delivered a very well received public lecture at the UCD International Centre for Newman Studies entitled: "Christians, Muslims and the name of God: Who owns it, and how would we know?
(Produced by UCD University Relations)