Posted 16 April 2010
Minister officially opens new extension to childcare facilities at UCD
The Minister for Children and Youth Affairs, Mr Barry Andrews TD officially opened the new extension to the childcare facilities at University College Dublin on 13 April 2010. With the new purpose built facility, Oakmount Crèche can offer services for up to 110 children. Childcare places at Oakmount Crèche are available to students and staff of the university, and the local community.

Designed by ABA Architects, the extended high-quality child care facility offers ambiance, layout, acoustics, lighting, equipment and furnishings designed to have positive impact on children's learning and behaviour.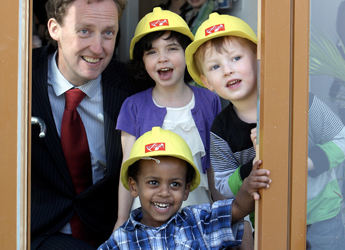 The Minister for Children and Youth Affairs, Mr. Barry Andrews TD pictured at opening at UCD with Sasha Best, age 3 with Roisin McKenzie, age 3 and Euan Casey, age 4

The new building uses passive and active solar energy. There is a high degree of glazing throughout to allow as much light as possible into the building.

Additional facilities for baby, toddler, playgroup, Montessori and after school activity include a "Magic Room" – a double storey room with an assortment of windows at low level so the children can observe the surrounding environment. Oakmount Crèche is located in the old arboretum of Oakmount Estate House in a natural woodland setting.

Funding for the project was partially provided through the National Development Plan 2007-2013 under the National Childcare Investment Programme 2006-2010.
Oakmount Crèche UCD implements the Siolta and Aistear early childhood educational framework in its curriculum for children. Minister Andrews was one of the pioneers behind the launch of this educational framework.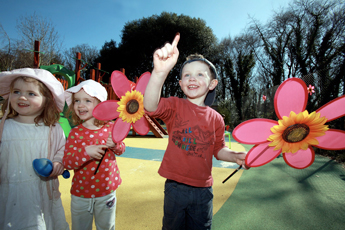 Pictured: Sasha Best age 3 with Roisin McKenzie age 3 and Euan Casey age 4
The introduction of the pre-School Year in Early Childhood Care and Education is regarded as a significant move forward in the quality improvement of early childhood education in Ireland.
Aistear supports children's early learning and development by:
identifying what and how children should learn, and describing the types of experiences that can support this


making connections in children's learning throughout the early childhood years and as they move from one setting to another


supporting parents as their children's primary educators during early childhood, and promoting effective partnerships between parents and practictioners


complementing and extending existing curriculums and materials


informing practice across a range of settings, disciplines, and professions, and encouraging interdisciplinary work


(Produced by UCD University Relations)