Posted 21 April 2010
Forming Global Minds: UCD launches strategic plan to 2014
The President of UCD, Dr Hugh Brady, launched the University's new strategic plan Forming Global Minds in the presence of UCD staff, students and alumni along with members of the business community and government agencies.
Set against a challenging economic climate, the plan will see the next phase of development of UCD's ground-breaking UCD Horizons undergraduate curriculum, significant expansion of UCD's 4th level portfolio and international programmes, and the mainstreaming of innovation as the third pillar of activity alongside teaching and research in the context of the UCD-TCD Innovation Alliance. "Over its 155 year history UCD has played an important role in the development of modern Ireland." Dr Brady said. "Now, in a time of national and global difficulty, UCD is once again committing its intellectual resources to the rebirth of economic prosperity in Ireland.

UCD students pictured at the launch of Forming Global Minds - UCD Strategic Plan to 2014 (l-r): Rachael McKenna (Arts), Mark Langtry (Physics), Cong Xu (pre-master accounting), Simon Makuvaza (World Heritage Management), Christine Lewis (Science), and Sihan Feng (Commerce)

Institutional Profile
While maintaining its undergraduate population at its current size, UCD will increase graduate student numbers from 26% to 33% of the student body by 2014. The university will widen the participation of non-traditional students on undergraduate programmes from 17% to 25% by extending the number of students from socio-economically disadvantaged backgrounds, mature and part-time students as well as students with disabilities. The percentage of international students will increase from 17% to 25%.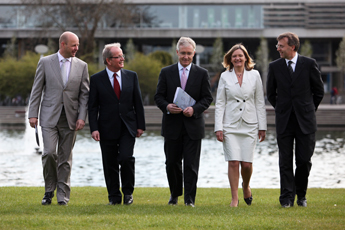 Pictured at the launch of Forming Global Minds - UCD Strategic Plan to 2014 (l-r): Dr Philip Nolan, UCD Registrar; Prof Des Fitzgerald, Vice-President for Research, UCD; Dr Hugh Brady, UCD President; Prof Brigid Laffan, Principal, UCD College of Human Sciences; and Mr Gerry O'Brien, UCD Bursar

Education
The next phase of development of the UCD Horizons undergraduate curriculum will expand the international opportunities for UCD students and further internationalise UCD's student body, preparing graduates for life and work across international borders. There will be a focus on stimulating creativity, innovation, entrepreneurship and active citizenship among students.

The university will establish the UCD Ad Astra Academy for highly talented students. The Academy will create individualised programmes for the top students, offer them early access to advanced modules and accelerated entry to Masters programmes. The Academy will also nurture the development of top class students in sport and the performing arts.
The new UCD Institute for Learning Innovation will bring the latest developments research on university teaching and learning to bear on enhancing education at UCD as well as making the wider world aware of the major changes in UCD's approach to teaching and their possible impact on students.
UCD will mainstream the assessment and enhancement of teaching quality utilising student evaluation of modules and programmes, student satisfaction and experience surveys and feedback on the wider student experience.

Research
The past five years have seen extraordinary growth in research activity at UCD which now ranks 89th in the world and 33rd amongst universities in Europe .
In the area of research and PhD training, UCD has prioritised four major themes:
Earth Sciences, Energy and the Environment
Health and Healthcare Delivery
Information, Computation and Communications
Global Ireland
which build on the University's established or emerging strengths, dovetail with national research policy objectives and contribute to Ireland's cultural heritage and the development of solutions for current global challenges.
As Ireland's largest producer of advanced science, engineering and technology graduates, UCD believes it has a major role to play in the national recovery process with particular emphasis on key areas such as biopharmaceutics, ICT, renewable energy and agrifood, all of which link to priority UCD research themes.
It will further develop its research institute model to promote interdisciplinary thematic research and PhD training. Specifically, the university is developing three new interdisciplinary institutes: UCD Earth Sciences Institute, UCD Complex Adaptive Systems Laboratory and UCD Charles Institute (for dermatology) using the approach that successfully established the Conway Institute (biomedical research) and Geary Institute (microeconomics and social change) over the past decade.
Emphasising the humanities and social sciences, Dr Brady said: "It is equally important in these challenging times that Ireland does not lose sight of its cultural heritage and tradition, continues to explore its identity and values, engages its diaspora and develops a compelling social and cultural framework for national renewal."
While these thematic research areas will receive particular attention, UCD academics will continue to work across the entire range of disciplines in the humanities and the sciences and the university will continue to invest in core disciplines as the bedrock of individual scholarship and postgraduate education.
Innovation
Outlined in the plan is the University's ambition to link education, research and innovation more effectively.
In March 2009 UCD and TCD launched their Innovation Alliance. Significant progress has already been made towards the establishment of a joint 4th level Innovation Academy in September 2010 which will strive to transform the training of advanced science, engineering and technology students with a view to producing a new breed of business aware and entrepreneurial graduates who will drive the Smart Economy.
In addition, Ireland's two leading universities are adopting a joint approach to technology transfer and enterprise development and were participants in the Government's Innovation Taskforce.
Capital Development
UCD will use the new Gateway Campus Masterplan to guide the development of Belfield as a living, green and sustainable campus which is a laboratory for and an exemplar of energy-efficient building design and landscaping.
The University will complete its recently launched €300m capital development programme that includes:
Redevelopment of UCD Science Centre
UCD Sutherland School of Law
UCD Charles Institute for Dermatology Research and Training
New Student learning, Leisure and Sports Centre
Development of a new support facility for UCD's international and graduate students
Refurbishment and expansion of student residences
National Institute for Bioprocessing Research and Training (in partnership with the IDA).
Importantly this programme employs a leveraged model whereby less than 50% of funding comes from the exchequer. In total the programme will provide over 2000 construction-related jobs while providing key infrastructure to support Ireland's knowledge economy.
UCD will also complete a masterplan for the UCD Newman/Library Humanities Complex and UCD Smurfit School.
Highlights of the past 5 years
Placing the strategic plan in context, the president highlighted a number of major reforms and achievements of the university over the past 5 years.
The introduction of UCD Horizons, a modular, semesterised and credit-based curriculum for undergraduates, has broadened the appeal of UCD degrees to Irish and international students.
New academic structures created five colleges and 34 schools to replace eleven faculties and ninety departments and were designed to help promote interdisciplinary research and teaching. The creation of graduate schools facilitated structured PhD programmes to support 4th level training. UCD has 31% of all full-time PhD students in Ireland.
The research strategy placed specific focus on the development of large thematic multidisciplinary research programmes with consequent increases in funding awarded, national and international collaborations, publications and research outputs. Over the period, the university developed five research institutes, two SFI Centres for Science Engineering and Technology (CSETs), seven SFI strategic research clusters and three major industry partnerships as well as some of the largest national investments in research, including the IDA-backed NIBRT. UCD climbed to 33rd in Europe in the QS World University Rankings in 2009.
The internationalisation strategy led the university to join Universitas 21, a network of global research universities. Closer collaborations at home were formalised through the signing of MOUs with TCD and Queens University Belfast. The formation of the Innovation Alliance with TCD marked a unique partnership between the two leading universities.
An overhaul of academic recruitment, development and promotions systems gave younger academic staff greater opportunity to advance their careers based on merit. Alongside, the university introduced a Performance Management Development System (PMDS).
Notes on UCD
Annual turnover is approximately €380m including almost €100m in research income
Approx 24,500 students
Over 2,500 staff
c 350,000 sq metres of teaching, research and ccommodation space
c 1,000 acres across 3 campuses (Belfield, Blackrock and Lyons Estate Farm).

(Produced by UCD University Relations)