Posted 27 April 2010
Graduation day for Irish international rugby player
Irish international and Leinster rugby player, Rob Kearney joined his fellow UCD students for a conferring ceremony on 26 April 2010 where he was awarded a Bachelor of Arts degree.
Last year, during an interview for UCD Today, the university magazine, Kearney said that without the support he received from staff and union officials, progressing with his Economics degree would have been near impossible. In 2009, Kearney was presented with a UCD President's Award for Excellence in Student Activities.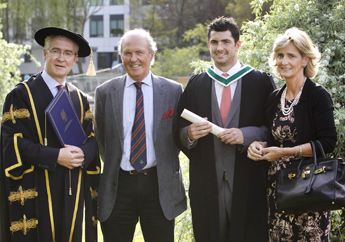 Irish international rugby player, Rob Kearney pictured receiving his BA degree with his parents David (second from left) and Siobhan (right), and UCD President, Dr Hugh Brady (left)
Having made an impression when he played for Clongowes, Kearney made his debut for Leinster in 2005. Though he was a member of the Six Nations Irish squad in 2007, he did not get his first cap until the national side's tour to Argentina later that year. He made his Six Nations debut against Italy in February 2008. He went on to win caps in the following games in the competition for the national side.
After an amazing start with Leinster in 2009, which saw the full back energize the team, he was again picked for the national side's Six Nations games and went on to finish with the team with its historic Grand Slam victory.
There were a number of other UCD students and graduates on the Grand Slam Irish rugby team including: Brian O'Driscoll (UCD graduate), Gordon D'Arcy (studying for his BA in Geography), Jamie Heaslip (studying for his Masters in Management), and Paddy Wallace (UCD graduate).
Later this week, Kearney, who is recovering from an ankle injury, hopes to be selected to line up with Leinster for their match against Toulouse. The match gives Leinster the chance to become the second club to achieve back-to-back Heineken Cup titles.
At the same graduation ceremony on 26 April 2010, over 150 students from the UCD College of Arts and Celtic Studies; and the UCD College of Human Sciences; were awarded Bachelors, Masters and PhD degrees.
Professor Aidan Moran, Professor of Cognitive Psychology at the UCD School of Psychology, gives the conferring address to graduating students
Earlier in the day, 250 students from the UCD College of Business and Law; the UCD College of Engineering, Mathematical and Physical Sciences; and the UCD College of Life Sciences; were awarded Bachelors, Masters and PhD degrees.

(Produced by UCD University Relations)