Posted 31 April 2010
UCD scholars perform with EU Chamber Orchestra
UCD Choral Scholars have just returned from the UK where they joined the European Union Chamber Orchestra at the Queen's Theatre, Barnstaple, Devonshire, for a performance of a Mozart Symphony, Mozart's famous motet Ave Verum Corpus, and a performance of Haydn's St. Nicholas Mass setting. Soloists at the performance included Irish mezzo-soprano Sharon Carty.
The European Union Chamber Orchestra was formed in 1981 and now gives up to 70 concerts annually worldwide. Promoting European music with its support and training of young musicians, it plays repertoire from the 17th to 21st centuries, commissioning new works each year from young composers.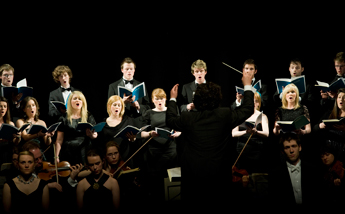 Picture taken at the performance in the Queen's Theatre, Barnstaple,
Devonshire, UK
By bringing together individual European musicians from different EU member states, EUCO has become a popular international cultural ambassador for the European Union, a harmonious symbol of European co-operation. The Orchestra has performed in 67 countries in major concert halls and in festivals, towns and cities both large and small. Depending on repertoire, it numbers between 16 and 24 musicians.
"This was a great opportunity for UCD Choral Scholars to perform alongside the European Union Chamber Orchestra, we are looking forward to hosting the EU Chamber Orchestra in Dublin next April (2011) for a joint performance of Georg Friderck Handel's great work Messiah," said Desmond Earley, Artistic Director of UCD Choral Scholars.
According to the EU Chamber Orchestra team, "a performance of Messiah in Dublin is a most appropriate step in developing further relations with University College Dublin's Performing Arts groups and the UCD School of Music".
(Produced by UCD University Relations)