Posted 05 May 2010
Stanford President first International Advisor to TCD-UCD Innovation Alliance
TCD-UCD Innovation Alliance Announces First International Advisor
The Innovation Alliance between Trinity College Dublin and University College Dublin has been further advanced through confirmation that Stanford President Dr John L. Hennessy is to take on the role of the Alliance's first international advisor. Dr Hennessy's acceptance builds on a joint visit by the Alliance partners to Stanford University earlier this year.
Visiting the Stanford School of Engineering and its internationally renowned 'D-School' programme, as part of an official trade mission to California, TCD Provost Dr John Hegarty and UCD President Dr Hugh Brady met with Dr Hennessy to update him on the progress of their partnership to mainstream innovation in both Irish institutions. During the visit, all three university leaders met with An Taoiseach Brian Cowen, where Dr Hennessy's role as an international advisor to the Innovation Alliance was discussed.
Speaking together to announce the development, Provost Dr John Hegarty and President Dr Hugh Brady said: "Stanford's programmes in innovation and entrepreneurship are world class – the university has a track record in this domain which is second to none. Having someone of the calibre of John Hennessy agree to act as an advisor to our Alliance is a hugely positive development and will be of great benefit – not only to students in our Innovation Academy, but also to our current and future start-up companies as we progress our joint vision for business creation and scaling in our institutions."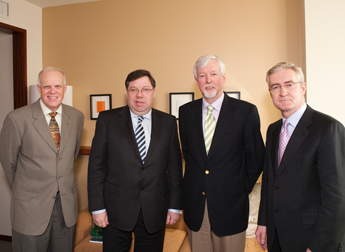 Pictured (l-r): Dr John L. Hennessy, President of Stanford University; An Taoiseach, Mr Brian Cowan T.D.; Dr John Hegarty, TCD Provost; and Dr Hugh Brady, President of UCD
Welcoming the announcement Taoiseach Brian Cowen stated: "I very much welcome the further development of the Innovation Alliance between Trinity College and UCD which I launched just over a year ago. As well as endorsing the Government's vision for Ireland as an International Innovation Hub, the recent Report of the Innovation Taskforce expressed strong support for the TCD/UCD Alliance. Strategic Alliances between Higher Education Institutions at both national and international level are vital to developing the research and knowledge transfer ecosystem which must be at the heart of a smart economy."
The Taoiseach added: "The announcement of Stanford President John L. Hennessy as the first International Advisor to the Alliance is an extremely welcome development which will be of great benefit to all who are involved with the programme. I was delighted to meet with President Hennessy, Trinity Provost John Hegarty and UCD President Hugh Brady to discuss these developments during my recent visit to San Jose where I made key connections for Ireland's development as an Innovation economy. I look forward to the continued success of the Innovation Alliance."
President Hennessy is the first international advisor to be announced for the Innovation Alliance. This development augments and complements the established relationship with the Silicon Valley-based Irish Technology Leadership Group. President Hennessy will lend his expertise as a leading academic, the leader of one of the top universities in the world and share his experiences of building companies through successful entrepreneurship.
Provost Dr Hegarty and President Dr Brady concluded: "The Taoiseach's Innovation Taskforce report has highlighted the importance of higher education for Ireland's economic growth and has endorsed our Alliance as a major component to underpin that growth. It is our pleasure and honour to have President Hennessy agree to this role. His advice is highly valued internationally and through his participation we look forward to further growing the strengths of the Innovation Alliance for Ireland's future prosperity."
About the Innovation Alliance
Announced by An Taoiseach on 11th March 2009, The Innovation Alliance between Trinity College Dublin and University College Dublin is intended to contribute positively to a vibrant innovation ecosystem for Ireland of complementary interactions between enterprise, higher education and government, working in concert on specific initiatives to realise Ireland's innovation potential. Major initiatives of the Innovation Alliance include:
The Innovation Academy, which builds on the respective strengths of the universities to create a robust and mutually beneficial continuum between teaching, research and innovation. The overarching goal of The Innovation Academy is to produce a new breed of graduate, expert in their disciplines, but imbued with the creativity, entrepreneurship, mentoring and supports to rapidly convert knowledge, ideas and inventions into commercial use and societal benefit.
A Joint Venture in Enterprise Development, satisfying a key objective of the Innovation Alliance to enhance the commercialisation of ideas, discoveries and inventions generated within the institutions – arising from specific university-based research of our staff, or from the innate creativity of our students or our research partners.
A Joint research strategy, through which the Innovation Alliance will advance research programmes of scale which are linked to clear national needs, to the maintenance of established foreign direct investment (FDI), the attraction of additional FDI, the inclusion of indigenous enterprise, the provision for expansion of indigenous BERD expenditure, the training of graduates and the engagement of partners through an open innovation framework.
About John L. Hennessy
John L. Hennessy joined Stanford's faculty in 1977 as an assistant professor of electrical engineering. He rose through the academic ranks to full professorship in 1986 and was the inaugural Willard R. and Inez Kerr Bell Professor of Electrical Engineering and Computer Science from 1987 to 2004.
From 1983 to 1993, Dr. Hennessy was director of the Computer Systems Laboratory, a research and teaching center operated by the Departments of Electrical Engineering and Computer Science that fosters research in computer systems design. He served as chair of computer science from 1994 to 1996 and, in 1996, was named dean of the School of Engineering. As dean, he launched a five-year plan that laid the groundwork for new activities in bioengineering and biomedical engineering. In 1999, he was named provost, the university's chief academic and financial officer. As provost, he continued his efforts to foster interdisciplinary activities in the biosciences and bioengineering and oversaw improvements in faculty and staff compensation. In October 2000, he was inaugurated as Stanford University's 10th president. In 2005, he became the inaugural holder of the Bing Presidential Professorship.
A pioneer in computer architecture, in 1981 Dr. Hennessy drew together researchers to focus on a computer architecture known as RISC (Reduced Instruction Set Computer), a technology that has revolutionized the computer industry by increasing performance while reducing costs. In addition to his role in the basic research, Dr. Hennessy helped transfer this technology to industry. In 1984, he cofounded MIPS Computer Systems, now MIPS Technologies, which designs microprocessors. In recent years, his research has focused on the architecture of high-performance computers.
Dr. Hennessy is a recipient of the 2000 IEEE John von Neumann Medal, the 2000 ASEE Benjamin Garver Lamme Award, the 2001 ACM Eckert-Mauchly Award, the 2001 Seymour Cray Computer Engineering Award, a 2004 NEC C&C Prize for lifetime achievement in computer science and engineering and a 2005 Founders Award from the American Academy of Arts and Sciences. He is a member of the National Academy of Engineering and the National Academy of Sciences, and he is a fellow of the American Academy of Arts and Sciences, the Association for Computing Machinery, and the Institute of Electrical and Electronics Engineers.
He has lectured and published widely and is the co-author of two internationally used undergraduate and graduate textbooks on computer architecture design. Dr. Hennessy earned his bachelor's degree in electrical engineering from Villanova University and his master's and doctoral degrees in computer science from the State University of New York at Stony Brook.

(Produced by UCD University Relations)