Posted 20 May 2010
Shared history important in commemorations in Northern Ireland and the Republic, says Taoiseach
In a speech delivered at the UCD Institute for British-Irish Studies, University College Dublin, which coincided with the visit of the new UK Prime Minister, David Cameron to Northern Ireland, An Taoiseach, Brian Cowen TD, stressed the need for all to recognise our shared history in the coming decade that will see commemorations of centenaries like the Ulster Covenant, the Battle of the Somme, the Easter Rising, the War of Independence, the Government of Ireland Act and the Treaty.
"Recent weeks have seen historic developments in Britain, with the formation of a new Conservative-Liberal Democrat coalition government led by David Cameron," began An Taoiseach, Brian Cowen, in the opening of his speech.
"I had the opportunity to speak with the Prime Minister on his first full day in office and we reaffirmed our joint commitment to the peace process and to the agreements that have helped us make so much progress in Northern Ireland and in British-Irish relations."
"I know that he is very committed to continuing the work of his predecessors. His visit to Northern Ireland today is a clear testament to that commitment and I look forward to working with him in that shared endeavour," he continued.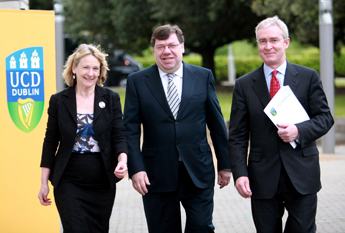 Pictured at the event: Prof Jennifer Todd, Institute for British-Irish Studies, UCD, An Taoiseach, Brian Cowen TD and UCD President, Dr Hugh Brady
"I would also like to recognise, in this context, the enormous contribution of the former Prime Minister, Gordon Brown, in helping to bring about a truly historic agreement on the devolution of policing and justice earlier this year."
"That issue was often described as the last piece of the jigsaw - a term sometimes criticised as a cliché."
"I believe it truly was of historic significance."
"I also believe that the election result in Northern Ireland shows that we have indeed crossed an important threshold in terms of where public opinion is in relation to the Agreement we have reached," he said.
"All of those elected, and indeed the vast majority of those who stood, are firmly committed to the Agreement and the democratic institutions."
"The democratic will of the people is clear."
"It is that strong and solid platform on which we stand, as we look to the decade ahead."
During the course of his speech, An Taoiseach, Brian Cowen stressed the need to be conscious of Ireland's shared history in the coming decade of commemorations in Northern Ireland and in the Republic.
"For most of the last century when we looked across the border, we saw and were wary of the 'other'," he said. "We forced each other into making choices, into defining ourselves in exclusive terms. We failed to recognise that, even though we have different traditions and perspectives, what we share is much more important than what separates us."
"We collectively failed to capture the complexity of identities on the island."
"For too long, we concentrated on our differences."
"For too long, those differences were magnified."
"And for too long, the similarities and commonality of our interests were forgotten or ignored."
"We created separate histories - British and Irish, orange and green, republican, nationalist, unionist, loyalist - deep wells from which we thought we could draw succour," said An Taoiseach.
"In homes and in schools across this island, we grew up knowing and hearing only one set of stories, singing only one set of songs."
"Gradually, in recent years, a recognition has emerged that regardless of whether we consider ourselves to be Irish, or British, or both, our history is - inescapably - a shared one."
"Our island story cannot be accurately viewed or properly understood through a single prism."
"The events of that formative decade a century ago do not belong exclusively to one tradition or another."
"They are threads in the tapestry of all our histories."
To read An Taoiseach, Brian Cowen's full speech go to Department of the Taoiseach.
(Produced by UCD University Relations)