Posted 01 June 2010
€500,000 donation provides Masters opportunities at UCD Smurfit School
An anonymous private donor is offering €500,000 for graduates in Ireland, to undertake a Masters at UCD Michael Smurfit Graduate Business School. The Aspire scholarships will provide an opportunity for up to 60 graduates, who would otherwise be unable to afford fourth level education, to attend Ireland's premier business school. This fund was set up by the donor to support the Irish economy.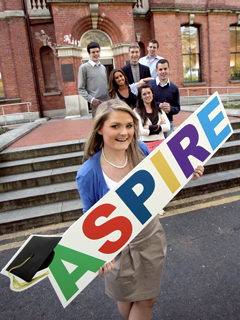 Students help launch ASPIRE at UCD Smurfit Graduate School of Business
"Many talented minds are unable to consider doing a Masters due to a lack of finance. The Aspire scholarship will facilitate top-quality candidates who find themselves in this position to undertake a further step in their education," said Professor Tom Begley, Dean of UCD Smurfit School, at the launch of Aspire 2010.
"Not only is this a very generous donation, it is very positive for the recovery of the Irish economy," Professor Begley added. "We will be looking for bright, astute, enthusiastic entrants who best represent tomorrow's business leaders."
This year, three MBA and nine specialist Masters scholarships are on offer to sharp, ambitious graduates. The selection of candidates will be based primarily on financial need and the Aspire scholarship fund will initially run over a five-year period.
"UCD Smurfit Business School is consistently ranked by the Economist and the Financial Times amongst the top 100 schools in the world," said Professor Begley. "The School's alumni network boasts more than 27,000 alumni in 50 countries, many of whom are industry leaders. By 2015, 60 Aspire scholars will have graduated from our School and will have access to this prestigious global network as a result of this gift."
The Aspire scholarship will comprise of 50% of tuition fees for each of the successful scholars and applications will be reviewed by a high powered selection board chaired by Cormac McCarthy, CEO, Ulster Bank. The recipients of the scholarship will also have loan facilities available for the remaining 50% of their fees if required.
Applications must be submitted through the website www.smurfitschool.ie/aspire2010 and closing date for entries is Monday, 28th June 2010
For more information about the scholarship and to apply, please go to:
(Produced by UCD University Relations)