Posted 17 June 2010
UCD awards Ulysses Medal and Honorary Degrees on Bloomsday
Bloomsday (16 June), synonymous with James Joyce and his novel Ulysses, is the most important honours day at University College Dublin (UCD), the alma mater of this great 20th century author.
This Bloomsday, UCD awarded its Ulysses Medal to Professor Jürgen Habermas, probably the single most influential philosopher and social theorist in the world today.
"Jürgen Habermas is famous for his intellectual and personal modesty, which sometimes makes him reluctant to accept the honours that are due to him. It is a great tribute to Joyce and University College Dublin that he has come to Dublin to accept the UCD Ulysses Medal, the highest honour that the University can bestow," said Professor Maeve Cooke, UCD School of Philosophy, who delivered the citation at the award ceremony.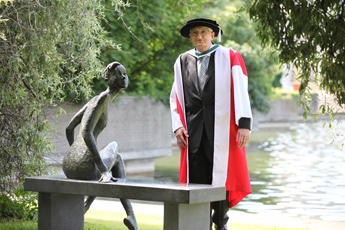 Jürgen Habermas after receiving the UCD Ulysses Medal
"As a public intellectual... his contributions are read by politicians and journalists in many countries throughout the world. We in Ireland can take particular pleasure in his admiration for James Joyce and his praise for Ulysses as one of the outstanding works of literature of the twentieth century."
Habermas's extensive work spans a wide range of disciplines, engaging with questions of central concern to philosophers, social and political theorists, legal theorists, psychologist, educationalist and historians. He is a prominent public intellectual, contributing regularly to newspapers such as Die Zeit and Le Monde.
The UCD Ulysses Medal was inaugurated in 2005, as part of the university's sesquicentennial celebrations, to highlight the 'creative brilliance' of UCD alumnus James Joyce. It is awarded to individuals whose work has made an outstanding global contribution.
Previous recipients of the UCD Ulysses Medal include: Irish playwright, Brian Friel; Irish poet, Thomas Kinsella; Nobel economist, Professor James J Heckman; Nobel laureate, Dr Phillip Sharp; and founder and executive chairman of the World Economic Forum, Professor Klaus Schwab.
UCD Degree Honours for authors, scientists and philosophers
"It is in the spirit of John Henry Newman that we recognise those whose thirst for knowledge and expertise has extended beyond academia and has made a difference to mankind; intellectually, socially, culturally, as well as in the realms of humanitarian and scientific improvements," said Dr Hugh Brady, President of UCD, at the honorary degree award ceremony at University College Dublin on Bloomsday 2010.
Broadcaster and historian, John Bowman receives Honorary Degree of Doctor of Literature from UCD
John Bowman, broadcaster, historian and political scientist, has a distinguished record as a presenter and commentator on Irish politics and contemporary events.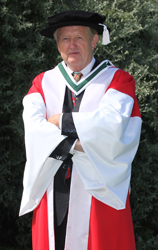 John Bowman at University College Dublin
He is best known as the presenter of RTE's 'Questions and Answers', a position he held from 1988 until the programme ended in 2009. He has also presented other high-impact current affairs programmes on radio and television, including the coverage of Irish elections on radio and, latterly television, since 1969.
"John Bowman has been a leading figure in Irish broadcasting for almost fifty years. His professional career spans the entire history of Irish television, and the remarkable transformation in the coverage and commentary of current affairs in Ireland and globally. An authoritative voice on radio and television for countless elections and referendums, he has interviewed every Irish Taoiseach from Sean Lemass to Brian Cowan," said Professor Mary E Daly, Principal of the UCD College of Arts and Celtic Studies, who delivered the citation at the award ceremony.
"John Bowman's present assignment is to commemorate the 50th anniversary of Irish television in 2011/2, through a series of documentaries and a published volume," continued Professor Daly.
"The book could justifiably be titled 'Present at the Creation' – since he has been involved with Irish television almost from its inception; unfortunately US statesman Dean Acheson has already used this title for his memoir. This being Bloomsday let me end with a Joycean reference. James Joyce once said that 'if Dublin were destroyed it could be reconstructed from my book'. If all records of twentieth-century Ireland vanished, but John Bowman's radio and television programmes survived, future scholars would be in a position to recapture much of the flavour and complexity of twentieth century Ireland."
Internationally acclaimed author, Colm Tóibín receives Honorary Degree of Doctor of Literature from UCD
Colm Tóibín has achieved major international recognition by his shortlisting for the Booker Prize, the award of the IMPAC prize and appointments as visiting professor in leading US universities: Stanford, University of Texas Austin and Princeton.
Since 1985, Tóibín has published over 20 books and received eight literary awards – most recently the Costa prize for 'Brooklyn' over the favourite, Hilary Mantel's 'Wolf Hall'. Originally a journalist, Tóibín wrote for In Dublin and Hibernia, and later The Sunday Tribune and Magill where he was editor from 1982 to 1985.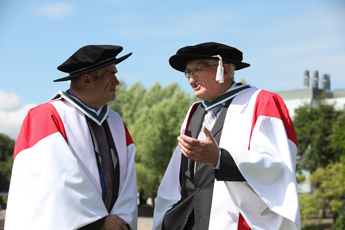 Colm Tóibín pictured with Jürgen Habermas at University College Dublin
"The scale of Colm Tóibín's writing is immense. And it is still continuing to grow. His is an art constantly striving to redefine itself, restless, driven, discerning, intelligent," said Professor Frank McGuinness, UCD School of English, Drama and Film, who delivered the citation at the award ceremony.
"He stands now, and will remain, one of Ireland's most cultivated, most bold and most brilliant authors."
"A great sympathy motivates Colm Tóibín's writing. The root of its power is its sense of grief. He articulates the shifts and stresses of minds and souls in mourning for that which is lost and gone."
"His fiction patiently, passionately conveys its grasp of time passing, ranking him among the finest of historical novelists, an archaeologist who can detect the faintest, deepest wounds that suffering inflicts on human consciousness, shaping it, and ultimately, triumphantly, sustaining it, so that the dominant image radiating from his art is of a strength and substance comparable to the writings of Graham Greene and J.G. Farrell.
NGO anti-hunger campaigner, Tom Arnold receives Honorary Degree of Doctor of Science from UCD
Tom Arnold has been Chief Executive of Concern Worldwide since 2001. Concern is Ireland's largest NGO working in the field of relief and development and operates in some 30 countries.
At European level, he is chairman of the European Food Security Group, a network of 40 European NGOs engaged in food and hunger work and is Vice-chair of the Trans Atlantic Food Aid Dialogue – an alliance of American, European and Canadian NGOs working on the reform of international food aid.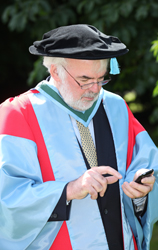 Chief Executive of Concern Worldwide, Tom Arnold after receiving his honorary degree from UCD
In 2003, Arnold was appointed to the UN Hunger Task Force, which was tasked with devising strategies to meet the Millennium Development Goals agreed by the world leaders in 2000.
"Whether it is at the negotiating table in the Council Rooms of the United Nations in New York, the OECD offices in Paris, or in the company of project workers in a rural village in Africa, Tom Arnold's respect for people and his genuine care and ability to empathise with the less well off shines through," said Professor Jim Phelan, UCD School of Agriculture, Food Science and Veterinary Medicine, University College Dublin who delivered the citation at the award ceremony.
"His commitment, energy and enthusiasm in leading the fight against hunger and malnutrition across the world, through his work with Concern Worldwide and through his contribution to all the major agencies working in humanitarian interventions make him a global Irishman, one of whom we are immensely proud. Today UCD recognises the major contribution that Tom Arnold has made, he is truly a worthy recipient of the degree which he is about to receive."
Journalist and agriculture expert, Matt Dempsey receives Honorary Degree of Doctor of Science from UCD
Editor and Chief Executive of the Irish Farmers' Journal, Matt Dempsey has played a leadership role in his sector for over two decades. Seeing himself primarily as an educator, Dempsey's influence in Government policy and agricultural practice has been considerable.
"Matt Dempsey is one of the foremost authorities on national and international agricultural policy and industry trends; his knowledge, critique and assessment of Government and EU policy is highly valued by the agri-food sector," said Professor Maurice Boland, Principal of the UCD College of Life Sciences, University College Dublin who delivered the citation at the award ceremony.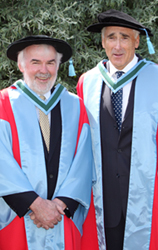 Tom Arnold (left) pictured with Matt Dempsey after receiving their honorary degrees from UCD
"Most people will remember the campaign which successfully highlighted the deficiencies in Brazilian beef production resulting in the imposition of a ban on imports to the EU."
"He is a clinical thinker and is highly sought after to Chair meetings because of his clarity of thought, his analytical skills and his ability to sum up and communicate complex issues in a simple fashion. Successive Irish Ministers for Agriculture, Food and Fisheries have paid serious attention to Irish Farmers Journal editorials which are powerfully written and capture the mood of the sector very successfully," continued Professor Boland.
Medical researcher and physician, Martin Carey receives Honorary Degree of Doctor of Science from UCD
Carey has contributed to the discovery of folic acid as a preventative in neurological birth defects. His world renowned research on defining the physical-chemical state of bile lipids, as well as the discovery of the 23 Lith gene, has impacted greatly on the understanding of gallstones.
"Professor Carey is one of only two Full Professors of Irish origin at Harvard University (the other being Nobel Laureate Seamas Heany)," said Professor Cormac Taylor, UCD School of Medicine and Medical Science who delivered the citation at the award ceremony.

Prof Cormac Taylor, UCD School of Medicine and Medical Science, pictured with medical researcher and physician, Prof Martin Carey, who received an honorary degree from UCD

"His scientific work includes 146 original research articles (Science, JCI, NEJM), 134 reviews and innumerable invited seminars and prestigious visiting professorships around the globe, editorships of multiple prestigious journals and prizes including honorary degrees from NUI, Harvard and the Royal Irish Academy."
"To date, Martin has mentored 61 Scientists and Physician Scientists. Of these, 19 are now full professors in internationally renowned institutes and universities. This is a true reflection of Martin's contribution to medicine and medical research. The diaspora of the ex-Carey lab fellows is found in locations across the globe including Barcelona, Soeul, Osaka, New York, Quebec, Rome, Tel Aviv, New Deli, and Mexico City," continued Professor Taylor.
Though Molecular Medicine Ireland (MMI), Martin Carey has been an active advisor and supporter of research in Ireland and in particular, of the work conducted at UCD Conway Institute for biomolecular and biomedical research.
Chemist, Tadhg Begley receives Honorary Degree of Doctor of Science from UCD
Regarded as a top chemist who specialises in the field of chemical biology and natural products synthesis, Tadhg Begley, Derek Barton Professor of Chemistry at Texas A&M University, is renowned for his research on the mechanistic enzymology of complex organic transformations, particularly those found on the vitamin biosynthetic pathways.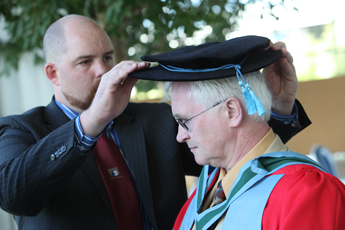 Chemist, Prof Tadhg Begley preparing for the honorary degree ceremony at UCD

His research has made substantial progress in understanding the complex thiamin pyrophosphate biosynthetic pathway over the past decade: he has cloned and characterized 12 of the 15 required proteins and successfully reconstituted the entire 11 step biosynthetic pathway using purified enzymes. His research involves a combination of molecular biology, protein biochemistry, organic synthesis and structural studies and provides a strong training for students interested in understanding the organic chemistry of living systems and in pursuing careers in biotechnology, drug design or academia.
"Tadgh is one of the most respected and best known of the Irish 'science' diaspora," said Professor Patrick Guiry, Director of the Centre for Synthesis and Chemical Biology at UCD who delivered the citation at the award ceremony.
"He is one of the leading scientists in the $100 million Interdisciplinary Life Sciences Building-one of the largest single construction projects in the history of Texas A&M University opened last September - and Tadhg was chosen to lead the Chemical Biology discipline as part of an interdisciplinary effort to search for solutions to complex biological systems."
"His standing in the research community is evidenced by his role as a member of the editorial boards for a series of leading research journals, such as: Molecular Biosystems; Vitamins and Hormones; Biorganic Chemistry; Chemical Biology and Drug Design; Biochimica et Biophysica Acta and Comprehensive Natural Products Chemistry."
Prof Begley has been a strong supporter of the CSCB (Centre for Synthesis and Chemical Biology) at UCD – which is the largest single chemistry research centre in Ireland, and was crucial to the efforts to convince Government and private donors to fund this important centre. Since its establishment in December 2002, CSCB researchers have published over 300 scientific publications and raised over €17m in external grant funding. In addition, there have been 100 PhD graduates and over 50 postdoctoral fellows working in labs supervised by CSCB investigators. These scientists will play a pivotal role in the existing pharmaceutical and emerging biopharmaceutical industry in Ireland.
French novelist, playwright and feminist theorist, Hélène Cixous receives Honorary Degree of Doctor of Literature from UCD
It is always appropriate to include a Joycean scholar in the Bloomsday conferrings and Héléne Cixous' association with the author goes back to her doctoral thesis, L'Exil de James Joyce ou l'Art du remplacement (The Exile of James Joyce, or the Art of Displacement) which was written in 1968 and translated into English in 1972.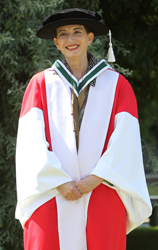 French novelist, playwright and feminist theorist, Hélène Cixous after receiving an honorary degree of Doctor of Literature from UCD

"Cixous' doctorate at the Sorbonne in 1968 was one of the first PhD dissertations on Joyce in France, subsequently published as L'exile de James Joyce, ou l'art de remplacement in 1969 and as The Exile of James Joyce in 1972. It is a sustained and brilliant meditation on the theme of exile in Joyce as 'a rhythm of outgoing and return' throughout the work and life," said Professor Tony Roche, UCD School of English, Drama and Film, who delivered the citation at the award ceremony.
"She was drawn to the Irish writer not only by a shared passion for language and its transformative possibilities but by certain cultural affiliations: her Jewishness enabled her understanding of Leopold Bloom in Ulysses and her Algerian background made her prescient on the postcolonial dimensions of the novel. Joyce formed a profound link in her connections with other emerging French theorists of the 1960s like Jacques Derrida and Jacques Lacan."
Cixous' work reaches far beyond Joyce and as a literary critic, philosopher, playwright, and feminist, she has produced well over 40 books and more than 100 articles. Born in 1937 in Algeria to an Austro-German mother and French Jewish father, her cultural background made her particularly sensitive to issues of multiculturalism and the experience of difference and political exclusion.
She has written about a broad range of European philosophers and authors including Joyce, Jacques Derrida, Maurice Blanchot, Franz Kafta, Heinrich von Kleist, Michel de Montaigne, Ingeborg Bachmann, Marina Tsvetaeva and Clarice Lispector. She is considered one of the founders of post-structuralist feminist theory.
A Professor at the European Graduate School in Saas-Fee, Switzerland, Hélène Cixous is known for her experimental writing style, which crosses the traditional limits of academic discourse into poetic language. Her practice crosses many discourses, and she is admired for her role as an influential theorist, as well as a novelist and playwright. Hélène Cixous is also noted for her role in initiating and developing new models of education.
French medical scientist, Laurent Perret receives Honorary Degree of Doctor of Science from UCD
Laurent Perret is President of the Scientific Committee, Servier Research Group, Paris. He has made a life-time contribution to the co-ordination of a multidisciplinary approach to pharmacological development, bringing together various branches of science and discovery with industry and funders. His work has focused on advancing pharmacological science – particularly in the adaptation of drugs for specific diseases.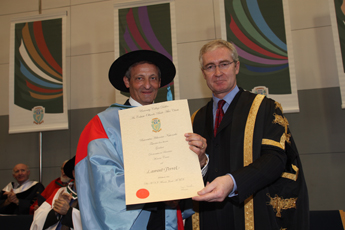 Laurent Perret, President of the Scientific Committee, Servier Research Group, Paris, receives his honorary degree from Dr Hugh Brady, President, UCD
Servier is the leading French independent pharmaceutical company with a workforce of 17,500 and 2,500 in research. Perret was instrumental in guiding company founder, Dr Jacques Servier, to invest in two production plants in Ireland, in Arklow and Waterford as well as influencing academic investment in UCD.
"Laurent studied medicine in Paris where he indulged his love of literature, opera and rugby without allowing these to detract from his ambition to achieve in medicine. None the less literature did influence the young doctor and it was the death of a child in Albert Camus' powerful novel The Plague that moved him to specialise in paediatrics," said Professor Eoin O'Brien, UCD Conway Institute, who delivered the citation at the award ceremony.
Perret has been a driving force in structuring the Biopharmaceutical Sciences Programme and the Servier Centre for Translational Medicine at UCD. He is also a member of the board of the UCD Charles Institute, which concentrates on research into dermatological science.
He established the UCD Chair in Molecular Pharmacology as well as the Chronic Cardiovascular Disease Unit at St Michael's and St Vincent's hospitals to study the associations between hypertension and heart failure.
Pioneering scientist, Raymond Dwek receives Honorary Degree of Doctor of Science from UCD
Raymond Dwek founded the field of glycobiology and through this has made major contributions to understanding concepts in protein folding, immunology and virology. He is Director of the Glycobiology Institute, Exeter College, Oxford University.
"From its inception, Raymond recruited scientists from very different backgrounds to address pressing medical problems. As a member of the UK HIV/AIDS steering committee, he made the Institute the HQ for collaborations between botanists from Kew Gardens, chemists at Oxford, virologists, immunologists, experts in molecular structure and clinicians from Cambridge. The outcome was a clinical trial, which formed the basis of a second generation of drugs for HIV and other viruses," said Professor Pauline Rudd, UCD Conway Institute, who delivered the citation at the award ceremony.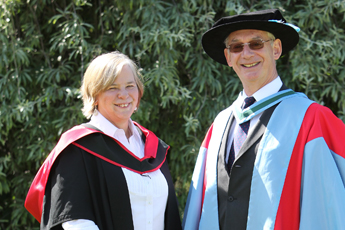 Pioneering scientist, Raymond Dwek, pictured with Prof
Pauline Rudd, UCD


His research enables glycobiology to be used for antiviral therapeutics and vaccines. Viruses are a major public health concern associated with considerable morbidity and mortality worldwide. Dwek focuses on iminosugar drugs that disrupt the folding of these glycoproteins. For example, he discovered the drug for Gaucher disease, a genetic disease in which a fatty substance (lipid) accumulates in cells and certain organs, especially spleen, liver, kidney and brain. The drug Zavesca has been on the market for 7 years now.
In 1998 Raymond Dwek became founding scientist and Chairman of the Scientific Board and Director of Synergy, which was established in the USA to develop antiviral agents for the treatment of chronic Hepatitis B and C infections. This work was taken over by United Therapeutics, USA and Professor Dwek became a Director of this company. The company sponsors the antiviral laboratory at the Glycobiology Institute and the Annual Virology Lecture in the department.
In 2006, Professor Dwek facilitated the transfer of the Glycan Sequencing Group from the Glycobiology Institute at Oxford to UCD (NIBRT, the National Institute for Bioprocessing Research and Training) and continues to support NIBRT on the Scientific Advisory Board.
Philosopher, Thomas McCarthy receives Honorary Degree of Doctor of Literature from UCD
Currently emeritus John Shaffer Professor in the Humanities, Northwestern University, Thomas McCarthy has had a distinguished career in social and political philosophy especially recognised for his collaborative scholarship with German social theorists including Jürgen Habermas, Axel Honneth and others.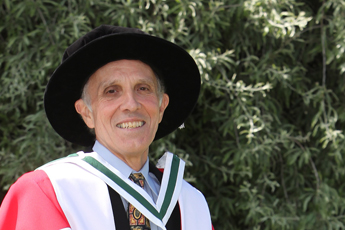 Philosopher, Thomas McCarthy after receiving his honorary degree from UCD
As General Editor of the Studies in Contemporary German Social Thought series for MIT Press, he has been responsible for the publication of over 100 volumes. His is recognised internationally for his work on critical theory and issues relating to post-colonialism and racism.
"McCarthy has played a hugely important role in promoting contemporary German philosophy as editor of the book series Studies in Contemporary German Social Thought for MIT Press where he oversaw the publication of more than 100 titles," said Professor Dermot Moran, UCD School of Philosophy, who delivered the citation at the award ceremony.
"When he lived in Germany in the late sixties McCarthy had begun to realize that roughly a half-century of German philosophical work had become inaccessible to non-German readers, owing to the Nazi disruptions of the 1930s and 40s and the state of Germany after the war. Older works by authors such as Adorno, Horkheimer, Marcuse, Bloch, Schmitt, had never been translated, and the same was true of much of the best post-war material by philosophers such as Apel, Habermas, Wellmer, Blumenberg, Kosselleck, Theunissen, and others. Tom's series for MIT helped to make good that deficit and re-establish that line of cross-cultural conversation, which has continued to be enormously fruitful."
According to Professor Moran, Tom McCarthy himself became a renowned translator of and commentator on the work of Jürgen Habermas. Among the Habermas volumes that he has translated are: Legitimation Crisis (1975), Communication and the Evolution of Society, (1979), and the two-volume The Theory of Communicative Action (1984 and 1987).
"McCarthy is an important critical voice in contemporary political philosophy, with his extensive knowledge of German social and political thought, phenomenology and American philosophy. His thought has shaped a generation in American social and political thought," said professor Moran.
Thomas McCarthy is currently visiting professor to the UCD School of Philosophy and has, for several years, acted as extern examiner at the school.

(Produced by UCD University Relations)