Posted 05 July 2010
UCD rowers claim Prince Albert Cup at Henley Royal Regatta

University College Dublin rowers claimed the Prince Albert Challenge Cup at Henley Royal Regatta on Sunday 04 July 2010 with an impressive two lengths win over the University of Bristol.
The victorious UCD Men's Student Coxed Fours crew included Tom Doyle, Finbarr Manning, Colm Pierce, Dave Neale, and cox: Jennie Lynch. The coach was Pat McDonagh.
This is UCD's second win at Henley Royal Regatta - 36 years since the Plate win in 1974.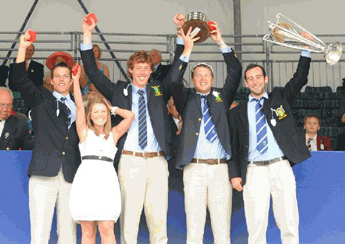 The Prince Albert Challenge is contested by Men's Student Crews in Coxed Fours. It has been held since 2004. Every year, the challenge is oversubscribed and qualifying races have been held. In 2010, international competitors included the USA and Holland.

The trophy, designed and created by Hector Miller, is named after Prince Albert who became the first Royal Patron of the Regatta in 1851. The names of the winning crew are inscribed on the trophy.
Since 2004, the Britannia Challenge Cup event, originally introduced at Henley Royal Regatta in 1969, has been restricted to club crews only and a new event has been offered for the student crews. This event, first known as the Men's Student Coxed Fours, became The Prince Albert Challenge Cup in 2006.
About Henley Royal Regatta
Henley Regatta was first held in 1839 and has been held annually ever since, except during the two World Wars. Originally staged by the Mayor and people of Henley as a public attraction with a fair and other amusements, the emphasis rapidly changed so that competitive amateur rowing became its main purpose.
The 1839 Regatta took place on a single afternoon but proved so popular with oarsmen that the racing lasted for two days from 1840. In 1886 the Regatta was extended to three days and to four in 1906. Since 1928 its increased popularity meant entries exceeded the permitted numbers in several events, and so Qualifying Races are now held in the week before the Regatta to reduce the number of entries to the permitted maximum. In 1986 the Regatta was extended to five days, with an increase in the maximum entry for certain events.
In 2010, a total entry of 505 crews (468 in 2009) including 116 overseas crews (93 in 2009) from 20 different nations competed at the Henley Royal Regatta.

(Produced by UCD University Relations)