Posted 08 November 2010
Dr Eddie O'Connor, CEO, Mainstream Renewable Power, awarded UCD Foundation Day Medal
Renewable energy entrepreneur, Eddie O'Connor and CEO of Mainstream Renewable Power was honoured with the 2010 UCD Foundation Medal at an awards ceremony held during the annual Foundation Day Dinner in the O'Reilly Hall, UCD. Dr O'Connor was recognised for his outstanding contribution to engineering.
Eddie O'Connor holds a Bachelor of Chemical Engineering (1970) and a Masters in Industrial Engineering (1976), from UCD. In June 2008 he was also conferred with an Honorary Doctorate of Science by UCD.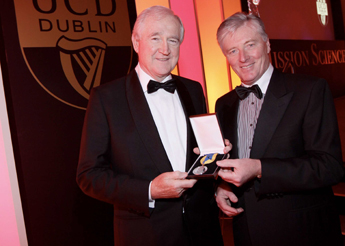 Dr Eddie O'Connor who received the UCD Foundation Day Medal pictured with RTÉ presenter Pat Kenny, who delivered the citation at the award ceremony
After completing his bachelor degree, Eddie O'Connor joined the Electricity Supply Board of Ireland, where he held several managerial positions, until he left in 1987 to become Chief Executive Officer at Bord na Móna. He then became founder and Chief Executive of Airtricity, the Irish wind farm development company from 1997 until January 2008, when, Airtricity was sold to E.ON and Scottish & Southern Energy in 2008 for approximately $1.4 billion. After this, O'Connor left to set up Mainstream Renewable Power. Mainstream Renewable Power's core business is to develop, build and operate renewable energy plants in collaboration with strategic partners. The company employs over 90 highly experienced staff and has offices in Berlin, Cape Town, Chicago, Dublin, London, Santiago and Toronto.
Delivering the citations for Dr O'Connor was Broadcaster, Pat Kenny who said that "Eddie O'Connor has created a remarkable footprint in driving the global renewable energy agenda. His contribution to the issue which, more than any other, determines our future is outstanding."
Dr Hugh Brady, President of UCD spoke about the crucial importance of the eentrepreneurial mindset in these times "Eddie O'Connor embodies many of the qualities we encourage among our students and our staff: a top class student, an extremely dedicated worker, a clear and creative thinker and, a spirited entrepreneur. He has remained a good friend to this university; giving generously of his time to students who hope to be among the next wave of Irish entrepreneurs."
The theme for the 2010 Foundation Day Medal was "Mission Science" to support the University's fundraising campaign to complete the development of UCD's Science District. Speaking about the campaign, Dr Hugh Brady said "The new Science Centre is intended to be a transformational resource for Irish Science and a cornerstone in Ireland's economic revival. This proposed centre for excellence will reinforce UCD's ability to help shape the Irish agenda. The centre will provide facilities, which will both attract and generate the highest level students, graduates, staff and critical business spin-offs in the fields of Science and Engineering."
One of UCD's core research themes encompasses the growing area of green energy. The Sustainable Electrical Energy Systems team, led by Professor Mark O'Malley, works on developing an environmentally clean an efficient future electricity system – focusing particularly on wind power. The team includes engineers, mathematicians, economists and geologists, working closely with major Irish and international companies in the energy sector. Their aim is to help reduce the use of fossil fuels and to cut CO2 emissions by advancing the realisation of clean electric cars at affordable energy prices.
Previous recipients of the UCD Foundation Day Medal include: Brian O'Driscoll, Dr Pearse Lyons, Mícheál Ó Muircheartaigh, Maeve Binchy, Dr Paddy Hillery, and Sir Peter Sutherland, who received the Inaugural UCD Foundation Day Medal in 2004.
(Produced by UCD University Relations)