Posted 12 November 2010
'Russian doll' layering of Irish State agencies affects performance assessment
A database tracing the development of Irish state institutions and agencies since the founding of the Free Irish State has been developed by researchers at University College Dublin.
The data shows the continuity and change in the structures, budgets and personnel of these institutions. It provides comprehensive data for considering how departments and public bodies might work together more effectively.
The Irish State Administration Database (ISAD) was officially launched by the Minister of State for Public Service Transformation, Dara Calleary TD on Thursday 11 Nov 2010.

Pictured at the offficial launch of the Irish State Administration Database (ISAD) (l-r): Prof Colin Scott, UCD School of Law, Dr Hugh Brady, President, UCD, Minister of State for Public Service Transformation, Dara Calleary TD, Dr Muiris MacCarthaigh, IPA and UCD, and Dr Niamh Hardiman, UCD School of Politics & International Relations.

The Minister congratulated the team on the development of the database and expressed the view that it will contribute to useful and informative research. The Minister said the database will be one of the aids to the Government in working with the Public Service to drive the implementation of the Croke Park Agreement and the very ambitious TPS agenda announced by the Government at the end of 2008.
Key findings of Irish State Administration Database (ISAD):
Bodies with a "policy delivery" function have seen the largest growth over time. There are currently 145 such bodies including: cultural activities such as the Arts Council and the Abbey Theatre; bodies that support economic activity such as An Bord Bia and Teagasc; health service bodies such as the National Haemophilia Council and the National Blood Transfusion Service; as well as stand-alone institutions such as national universities
There has been a rapid growth in the number of "regulatory" agencies; many of which have developed in response to new EU-mandated responsibilities, and overseeing private as well as public activities. Examples include: the establishment or re-organization of regulatory bodies to oversee environment, communications, aviation, and taxis
A marked rise is also recorded in the number of bodies with an "advisory" function. Informal taskforces and committees are not included, but advisory bodies of more than five years' standing are, even if they do not have a statutory basis.
The Irish State Administration Database (ISAD) shows a significant acceleration in the number of new agencies established to carry out functions of Government over the past 20 years. In 2007, 23 new bodies were created, 4 in 2008, 2 in 2009. The total number peaked in 2008 at 363 bodies, including departments and constitutional offices as well as non-departmental agencies; since then there has since been some decline in the total numbers of agencies, and the number of units stood at 350 in November 2010.
Figure from ISAD: The number of new agencies created in each decade: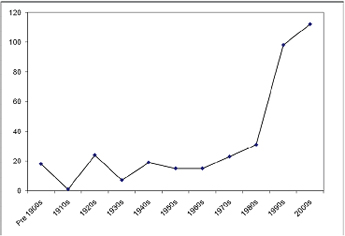 "There is no easy way to categorise and definitively distinguish between the different forms of departmental and non-departmental body in Ireland," says Dr Niamh Hardiman from the UCD School of Politics and International Relations, University College Dublin, who headed the project. "And this has implications in terms of governance structures, accountability arrangements and performance assessments."
"In many respects, the Irish experience of agencies can be conceptualised as a form of institutional layering, similar to the 'Russian doll' character of British governing structures, ranging from Ministerial and non-Ministerial departments at the core to independent inspectorates and self-regulatory bodies at the outer layer."
Figure from ISAD: The principal policy domains of agencies from 1958-2008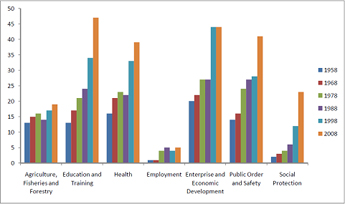 According to Dr Hardiman, there were a variety of factors involved in the proliferation of agencies during the period of Irish economic prosperity.
"The pressures which fed the rapid expansion in the numbers of state institutions and agencies included: the need for compliance with EU directives; demands for greater stakeholder engagement in the policy process emanating in part from social partnership processes; the need to perform new tasks requiring new skills; and requirements of administrative efficiency," she explains.
A programme of agency reduction began in 2009, and some overall reduction in agency numbers was seen by 2010. However, "as with the expansion in agency numbers, the contraction is equally ad hoc, with no clear rationale as to which agencies should be terminated, merged and absorbed into parent departments respectively," says Dr Hardiman.
National administrative systems are very diverse, and there is no optimal form of institutional design. This makes it all the more important to be able to analyse the specificities of the Irish situation. But the structured design of this database makes it possible to code other countries' institutional system on an analogous basis. The aim is to have a good Europe-wide set of data for comparative analysis.
Active support for the ISAD was provided by leading current figures in Irish state institutions including: Dermot McCarthy (Secretary General to the Government and Secretary General of the Department of the Taoiseach), Eddie Sullivan (former Secretary General for Public Service Management and Development, Department of Finance), and prominent former senior public servants including Kevin Murphy (former Ombudsman) and the late Dermot Nally.
The three year 'Mapping the Irish State' project was funded by the Irish Research Council for the Humanities and Social Sciences.
The launch of the ISAD was part of the 2010 Innovation Dublin which aims to raise public awareness of innovation and creativity. Hundreds of events including seminars, workshops, discussions, exhibitions, performances, showcases and competitions on all kinds of topics are being organised with the aim of pursuing new ideas and fresh initiatives for Dublin.
The Irish State Administration Database (ISAD) contains entries for a total of around 700 public organisations that have existed between 1922 and the present, including a number that precede the formation of the state.
The ISAD currently (Nov 2010) identifies 350 national-level units, a total figure that includes government departments, constitutional offices, state commercial bodies, universities and other kinds of organisations.
There are also about 13 constitutional and government offices at any one time, such as the Comptroller and Auditor General's Office, the Ombudsman offices, and major bodies such as An Gárda Síochána.
The Irish State Administration Database (ISAD) includes government departments, state agencies, state companies, Tribunals and Commissions. As it only includes national-level bodies, it excludes agencies for which local authorities are responsible (such as City and County Development Boards), and bodies that have a local remit (such as VECs).
This total number of bodies counted compares with 211 listed in McGauran et al (IPA, 2005) and 482 in TASC (New Island, 2006).
The differences arise over criteria for inclusion and exclusion. The ISAD contributes to clarifying the terms of the debate.
Since there is no official definition of a "public service" agency, numbers will vary depending on whether one counts only organizations that have a statutory basis, or agencies with other legal forms. ISAD uses multiple criteria to decide what to include in its comprehensive catalogue of bodies through which public functions are exercised.
The database codes all bodies according to a number of criteria, including:
Legal status (there are 12 different options);
The policy field in which they operate (there are 16 different options);
Their primary and secondary functions (there are 10 different possibilities);
Their parent Department where relevant;
The oversight mechanisms to which they are accountable (Ombudsman, FOI, etc.).
ISAD not only codes the organisations that have existed over the course of the state's development, but also documents how they emerged, when and how they changed, including all cases of agencies that once existed but were closed down or otherwise ended. It identifies key periods of change and reform in the state administration's development.
Agency terminations
Consistent with popular perception, the database documents an increase in the rate of creation of new bodies since 1990 – a time of rapid social and economic change in Irish life. But perhaps more surprisingly, the database also shows that there have been far more agency terminations than might have been anticipated – and recent years have been a particularly active time for reducing the total number of public bodies. The database distinguishes between multiple ways in which agencies might be terminated: not just straightforward cessation of all activity, but also mergers, re-absorption into Departments, re-establishment with a new legal form, etc.
(Produced by UCD University Relations)