Posted 22 November 2010
The Innovation Academy officially opens its doors
The educational centre piece of the TCD-UCD Innovation Alliance, the Innovation Academy has been officially opened. The Academy's mission is to transform the PhD experience by imbuing graduate research and education with creative thinking and innovation. The Academy will develop a new breed of graduate, where a disciplinary and technical expertise is fused with an ambition to create new enterprises, enhance public service and further harness Ireland's cultural heritage.
Its first intake of 33 PhD students from UCD and TCD are drawn from diverse disciplines. The students are taking ECTS-accredited modules towards the joint Certificate in Innovation and Entrepreneurship. It is expected that two additional cohorts of students will commence the programme this year.
Pictured far right: Dr Hugh Brady, President of UCD and Dr John Hegarty, Provost of TCD, with Innovation Academy students (L) Julieann Galloway, UCD and (R) Aisling Miller, TCD
According to the President of UCD, Dr Hugh Brady, and the Provost of TCD, Dr John Hegarty, the Innovation Academy is a practical demonstration of the progressive cooperation between Ireland's leading universities.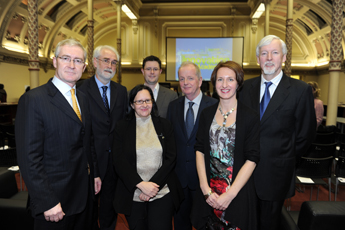 Pictured at the launch of the Innovation Academy (L-R): Dr Hugh Brady, President of UCD; Prof Paul Coughlan, Course Co-Director, Innovation Academy & TCD; Dr David Lloyd, Dean of Research, TCD; Prof Desmond Fitzgerald, Vice-President for Research, UCD; Dr John Hegarty, Provost of TCD
Front row (L-R): Prof Suzi Jarvis, Course Co-Director, Innovation Academy & UCD; and Prof Veronica Campbell, Dean of Graduate Studies, TCD
"With the Innovation Alliance, we laid out our vision for a meaningful partnership which was built upon the strengths of our institutions. In reaching this important milestone, it is very clear that we are competitors not against one another but in the world arena. Together, through the realisation of the Innovation Academy, we have demonstrated the capacity and drive to deliver this new approach to graduate education in Ireland. The Academy is about people. In partnership with industry expertise, it is a powerful model for equipping the future thought leaders of this country with the capacity to combine cutting edge research with the entrepreneurial and innovative abilities so needed for Ireland's sustainability and revival," they said.
The Academy is a departure from existing programmes at the two universities, which account for 50% of PhD training in Ireland. Professor Suzi Jarvis (UCD) and Professor Paul Coughlan (TCD), Course Co-Directors are leading the development of the Innovation Academy.
Professor Coughlan explained: "We are educating our PhD students to recognise the innovation potential of their research and to exploit their new ideas in multidisciplinary teams in a competitive world. We see innovation in its broadest sense, encompassing the creative arts, social entrepreneurship, science, engineering, technology, humanities and business."
Professor Jarvis concluded: "I have no doubt that this is the right time to bring this new dimension into our educational programmes. Ireland has created first class research programmes over the past 10 years and built a PhD education that attracts students from all over the world. We are ideally placed in this country to engender innovation in our graduates, given our strong history of invention, culture and entrepreneurship. Just look at the achievements of our diaspora. Let's bring that ambition home!"

The Innovation Alliance was formed by University College Dublin and Trinity College Dublin as part of the national drive to realise Ireland's ambition to create a Smart Economy. It is a partnership working with the education sector, the State and its agencies, alongside the business and venture capital communities to develop a world-class ecosystem for innovation that will drive enterprise development in Ireland.
The TCD-UCD Innovation Alliance encompasses 50% of Ireland's PhDs in science, engineering and technology.
About the Graduate Certificate in Innovation and Entrepreneurship
The new joint TCD-UCD Graduate Certificate in Innovation and Entrepreneurship is the first programme to be offered by the Innovation Academy and is available both as an integral part of the doctoral degree and as a stand-alone programme.
In the Academic Year 2010-2011, the Innovation Academy is offering the core modules of the Graduate Certificate in Innovation and Entrepreneurship for the first time. The core modules focus on Creative Thinking and Innovation (10 ECTS) and Opportunity Generation and Recognition (5 ECTS).
The Creative Thinking and Innovation module runs from November. Igniting creative thinking, the emphasis is on the foundations of innovation in and through multidisciplinary teams.
The first module is followed closely by Opportunity Generation and Recognition, running from December. This module provides the student with the opportunity to translate the insights gained during the preceding module into implications for his/her PhD thesis research. Students will be encouraged to address such questions as: what potential for innovation might there be in my PhD thesis? How might this potential be exploited? Will I be able to work with others? What kinds of value can be created?
The questions addressed in the second module can facilitate students in self-assessing how well their capabilities equip them to exploit the opportunities latent in their thesis research. In response, students who have completed satisfactorily the earlier core modules may select from the next set of modules focused on Capitalising on Innovation.
These modules deal with such challenges as launch and early stage development, feasibility analysis and business planning, financing new projects. Students may complete these modules over the remaining years of their doctoral degree programme.
To be eligible for the award of the Certificate, students are required to reach a total complement of 30 ECTS.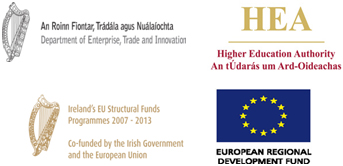 (Produced by UCD University Relations)