Posted 25 November 2010
RIA Gold Medal for UCD Professor
In recognition of his outstanding contribution to the humanities, UCD economic historian, Professor Cormac Ó Gráda has been awarded the Royal Irish Academy Gold Medal in the Humanities by the President of Ireland, Mary McAleese.
Widely regarded as one of Ireland's most distinguished intellectuals, Professor Ó Gráda, UCD School of Economics, is internationally accepted as the premier economic historian in his field.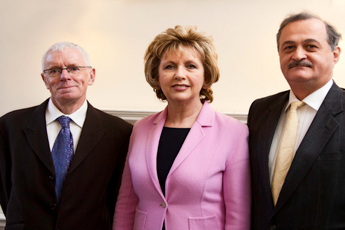 Pictured at the ceremony (l-r): Professor Cormac Ó Gráda, President of Ireland, Mary McAleese, and Professor Samson Shatashvili
His published works (including his seminal book: Ireland - A New Economic History) have fundamentally changed the way we view major topics such as the Irish Famine; Irish economic history; and the history of Ireland's Jewish community.
At the same ceremony, Professor Samson Shatashvili of Trinity College Dublin was awarded the RIA Gold Medal in the Physical and Mathematical Sciences.
'This year's Gold Medals go to exemplary individuals from the Humanities and Physical and Mathematical sciences, one a leading economic historian and the other a ground-breaking theoretical physicist," said the President of Ireland, Mary McAleese who presented the awards.
"They are the kind of people who remind us at this torrid economic juncture, with its heartbreaking litany of bad news, that away from the depressing headlines we have exceptional people whose work is putting Ireland on the international map for all the right reasons. Their cutting-edge, truly exciting research is part of the massive reservoir of talent which we have in our universities and institutes of technology. Let that be a source of hope and reassurance as we start the climb up the ladder to prosperity after such a rapid slide down the snake of recession."
The
Royal Irish Academy
Gold Medals acclaim Ireland's foremost contributors to the world of learning and science. The Gold Medals are awarded to two outstanding academics each year and are recognised as a truly national expression of celebration for scholarly achievement. The medals are sponsored by The Higher Education Authority and The Irish Independent.
(Produced by UCD University Relations)