Posted 30 November 2010
Tánaiste launches new academic alliance between NCAD and UCD
The Tánaiste and Minister for Education and Skills, Mary Coughlan TD formally launched a new academic alliance between the National College of Art and Design and University College Dublin.
Director of NCAD, Professor Declan McGonagle and President of UCD, Dr Hugh Brady today signed the Memorandum of Understanding in the presence of the Tánaiste, the Chairman of the Board of NCAD, Dr Joe Mulholland and the Chair of the UCD Governing Authority, Mr Dermot Gallagher.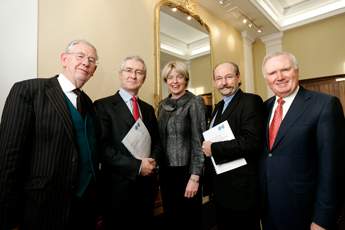 Pictured at the launch (l-r): Joe Mulholland, Chairman NCAD; Dr Hugh Brady, President of UCD; Tánaiste Mary Coughlan TD, and Minister for Education and Skills; Professor Declan McGonagle, Director of NCAD; Dermot Gallagher, Chair of UCD Governing Authority
Pictured far right (l-r): Dr Hugh Brady, President of UCD; Tánaiste Mary Coughlan TD, and Minister for Education and Skills; Professor Declan McGonagle, Director of NCAD
The academic alliance will facilitate immediate collaborations in teaching and research across both institutions, across existing areas, such as Art History and Cultural Policy in UCD and Visual Culture in NCAD as well as in the development of new joint courses and research projects across Architecture, Engineering and Education in UCD and Design, Fine Art and Education in NCAD. The alliance will also create opportunities for the further development of graduate and common research activity in both institutions.
UCD has made available Newman House on St Stephen's Green as a base for joint activities of the Alliance.
NCAD will be able to leverage the scale resources of UCD in the areas such as international student recruitment, particularly in the North American Junior Year Abroad and graduate studies markets. Other scale services that may be of benefit to NCAD are electronic library, e-learning and IT resources.
NCAD will retain institutional autonomy and will continue to operate from its present location in Thomas Street. From September 2011 NCAD will transition from being a recognised college of NUI to become a recognised college of UCD and NCAD degrees will be validated by UCD.
Commenting on the new alliance, the Tánaiste said "this is a very welcome initiative on the part of UCD and NCAD. As well as immediate practical benefits, the alliance offers significant opportunity for students, researchers and academics in exploring the full creative potential of collaboration across academic fields."
Declan Mc Gonagle, Director of NCAD welcomed the Alliance "as a key opportunity, in changing circumstances for education and for Ireland, to enhance the offer, of both institutions, to undergraduate and postgraduate students and researchers from Ireland and, also to attract high quality applications and partnerships from outside Ireland. The Alliance will position teaching and learning and research, in shared disciplines, to make an enhanced contribution to the economy and the society as well as the culture in Ireland and to related fields of learning."
Dr Hugh Brady, President of UCD said "there are enormous benefits for both insitutions and for the island of Ireland in this new alliance. We in the university have much to learn from the creative perspective of colleagues in Art and Design, but equally, the breadth and depth of academics in the university have much to contribute to the interdisciplinary space that is modern art, design and visual culture."
UCD
With almost 25,000 full-time and part-time students, UCD is the largest university in Ireland and offers the widest range of degree and research programmes. Almost 20% of students come from outside Ireland and the university has the largest number of PhD students (1,800) in the country.
In 2005 UCD introduced a new curriculum, UCD Horizons, which offers students the opportunity to take subjects outside their core area and to tailor their degrees to include subjects of personal and/or academic interest. Consequently, many UCD students already take subjects in complementary areas such as architecture and archaeology or literature and history of art.
UCD is currently ranked 94 in the Times Higher Education World Universities Ranking (2010).

NCAD

The National College of Art and Design, with close to 1,000 full time and 1,200 part time students, is the premier art and design institution in Ireland, offering certificate, undergraduate and masters degrees and PhDs.
The College is currently setting out a new degree structure based on three year undergraduate and two year post graduate degrees and is also expanding research activity. NCAD is a partner institution with IADT, DIT and University of Ulster [Belfast] in Gradcam - the only Graduate School in Ireland for Creative Arts and Media.
(Produced by UCD University Relations)