Posted 14 December 2010
UCD honorary degrees for Maureen Toal and Brendan Halligan
Brendan Halligan - Honorary Degree of Doctor of Literature
Having trained initially as a scientist, Brendan Halligan graduated with a Masters in Economics from UCD. This combination set him up for a long and varied career as public servant, politician and political activist, educator and businessman.
His early career with the Sugar Company brought him to London to market Erin Foods but in 1967 he shifted career when he began Political Director and subsequently General Secretary of the Labour Party. He was central to the changes in the Labour Party which attracted individuals such as Conor Cruise O'Brien, Justin Keating and David Thornley to stand for election in the 1969 and 1973 polls.
According to Professor Brigid Laffan, Principal, UCD College of Human Sciences who gave the citation for his honorary Doctor of Literature, Brendan Halligan transformed the Labour Party from introspection to internationalism – bringing it into the Socialist International and the EEC/EU Social Democratic movement.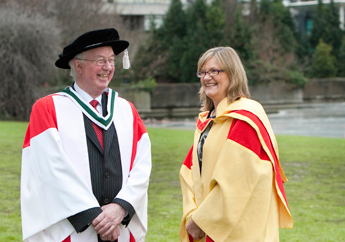 Pictured at the conferring: Brendan Halligan and Prof Brigid Laffan
Prior to the outbreak of the Troubles in 1969, together with Michael O'Leary, he opened up contacts with both communities in Northern Ireland playing a most important role in the creation of the SDLP. As General Secretary of the Labour Party, he dissolved Labour Party branches in Northern Ireland in 1970 in order to assist with the formation of the SDLP.
He began his own career in active politics following appointment to the Senate by Taoiseach Liam Cosgrave in 1973. He won a by-election in 1976 and served in Dáil Eireann until the 1977 General Election. Defeat in that election brought him back to the Labour Party as General Secretary until 1980. In 1983 he became an MEP.
The experience of the Single European Act referendum in 1987 persuaded him that Ireland needed a 'Think Tank' on European Affairs and he established the Institute for International and European Affairs (IIEA). His commitment to maintaining Ireland's position within the EU led him to act as Campaign Coordinator for Ireland for Europe in 2009.
During this time, he continued to serve as Chairman of the Sustainable Energy Authority of Ireland and he also serves as a board member of Mainstream Renewal Power, the company run by Eddie O'Connor.



Maureen Toal - Honorary Degree of Doctor of Literature
One of Ireland's most respected and most loved performers, Maureen Toal was awarded an honorary degree of Doctor of Literature by UCD.
Maureen Toal appeared many times on film and television, winning particular fame as Teasey McDaid in the long running series Glenroe on RTÉ. But she has had a long and distinguished career theatre, dating back to 1946 when she first joined the Abbey Company.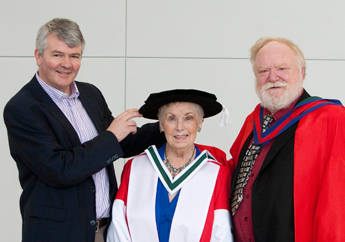 Maureen Toal pictured with her son Colm (left) and Frank McGuinness, Professor of Creative Writing at UCD
From her early performances of Dalton, Synge and O'Casey, Maureen Toal moved – under the direction of Tomas MacAnna and Ray McAnally, to the challenging demands of leading American playwrights, Albee, Miller and Williams. Her Maggie in After the Fall shouldered the sorrow and loneliness of Marilyn Munroe – on whom Miller based his play.
She served these dramatists brilliantly, as she did a later generation of Irish authors including Brian Friel and John B Keane.
In delivering the citation, playwright Frank McGuinness, UCD Professor of Creative Writing, UCD School of English, Drama & Film, spoke of her superlative performances – particularly in her lead roles in his own play, The Factory Girls and in the monologue, Baglady, where she told the toughest of stories with devastating honesty. "Hers is the look out of which were fashioned the masks of comedy and tragedy. She is our greatest actress." Concluded McGuinness.
(Produced by UCD University Relations)