Posted 17 January 2011
Hot search start-up, HeyStaks opens to the public
HeyStaks Technologies, a University College Dublin web start-up, has opened its services to the public. HeyStaks helps to make mainstream search engines like Google and Bing more social. It allows searchers to collaborate with friends and colleagues as they search for information online, and according to the company, it improves the productivity of the average searcher by up to 50%.
HeyStaks, which recently secured €1 million in venture funding from The Ulster Bank Diageo Venture Fund managed by NCB Ventures, has opened a Dublin office, in NovaUCD, the Innovation and Technology Transfer Centre at University College Dublin, and an office in San Francisco. It is currently recruiting engineers for its Dublin office and plans to grow to 14 people within the coming months, with plans for 40 jobs by 2013.
"It's been a hectic few months since we raised our funding. We've been hiring engineers in Dublin, set-up our office in San Francisco, and put the final touches on HeyStaks," says Dr Maurice Coyle, HeyStaks co-founder and Vice-President, Product Development.
Dr Coyle explains how HeyStaks works: Say Heystaks users are planning a skiing holiday with friends. They can create their own 'skiing search stak' as a type of folder for their searches. They can do this through Google or Bing or Yahoo! and when they search for ski related information HeyStaks stores the pages they like in this stak.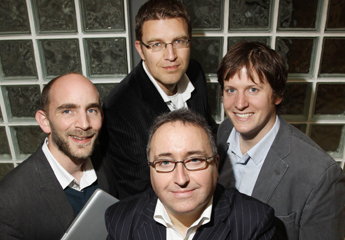 Pictured at NovaUCD (l-r): Dr Peter Briggs, Professor Barry Smyth and Dr Maurice Coyle, co-founders, HeyStaks Technologies with Leo Hamill, NCB Partners (foreground)
If they share this stak with friends then their ski-related searches are also remembered by HeyStaks. As the search stak grows, when they search on Google or Bing or Yahoo! they will start to receive recommendations from HeyStaks of the ski-related pages that their friends have recently found during their searches.
According to Dr Peter Briggs, HeyStaks co-founder and Vice-President, Engineering, "we can all do with a little more help when we search, and we are making search more efficient by allowing people to share their search experiences with others."
"Our beta-users tell us that these recommendations are often much more relevant than the default results from Google, Bing or Yahoo! because they come from people you know and trust. And best of all, HeyStaks works with your favourite search engine so you don't have to change your search habits to benefit," he adds.
"This is a very exciting time for HeyStaks. We are launching HeyStaks apps for Firefox, iPhone, iPod Touch and iPad but this is just the beginning and we are very excited about how we can change the world of web search by making it more social and more collaborative," says Jonathan Dillon, HeyStaks' San Francisco-based CEO, who was previously a VP in Yahoo!.
HeyStaks is based on technology developed from a research group led by UCD Professor Barry Smyth and the CLARITY Centre for Sensor Web Technologies, a Science Foundation Ireland funded research centre between University College Dublin, Dublin City University, and the Tyndall National Institute.
"This launch is a big step for us," says HeyStacks co-founder, UCD Professor Barry Smyth who has a strong track record in successfully commercialising technology. Professor Smyth co-founded ChangingWorlds Ltd and helped to grow the company to approximately 150 employees before it was acquired by Amdocs Inc for $60m in 2008.
"We are calling on people to try out the service and let us know what they think. It's free, it's easy to use, and it's incredibly useful."
To try HeyStaks go to www.heystaks.com.
HeyStaks is a unique technology that allows searchers to harness their social graphs as they search on their favourite search engines (Google, Yahoo!, Bing, etc), effectively bringing together the content sharing world of the social networks and the query-based search world of mainstream search engines. HeyStaks delivers community-enhanced search results that are more personalised and relevant than conventional search engine results, and is fully integrated with the leading search engines. HeyStaks was founded by Professor Barry Smyth, Dr Maurice Coyle and Dr Peter Briggs. www.heystaks.com

CLARITY, the Centre for Sensor Web Technologies is a Science Foundation Ireland funded Centre for Science and Engineering Technology and is a joint initiative between University College Dublin, Dublin City University, and The Tyndall National Institute. www.clarity-centre.org
NCB Ventures, the venture capital arm of NCB Group, manages the €75 million Ulster Bank Diageo Venture Fund established in 2008 under the Enterprise Ireland Seed and Venture Capital Programme 2007-2012. The Ulster Bank Diageo Venture Fund invests €1-€5 million in Irish companies across a range of sectors and all stages of development and, to date, has invested in five companies AMCS, Terminal Four Solutions, Xtra-vision, Zamano and HeyStaks. NCB Ventures has €94 million under management and has invested in 31 Irish businesses taking them from early stages of development through to trade sale and IPO. NCB Group is one of Ireland's largest independent investment firms focusing on institutional equities, wealth management, corporate finance and venture capital. www.ncb-ventures.com
NovaUCD, the Innovation and Technology Transfer Centre, is the hub of knowledge transfer activities at University College Dublin. NovaUCD is responsible for the commercialisation of intellectual property arising from UCD research and for the development of co-operation with industry and business. NovaUCD as a purpose-built centre also nurtures new technology and knowledge-intensive enterprises such as HeyStaks Technologies. NovaUCD has been funded through a unique public-private partnership that includes AIB Bank, Arthur Cox, Deloitte, Enterprise Ireland, Ericsson, Goodbody Stockbrokers, UCD and Xilinx. www.ucd.ie/nova
(Produced by UCD University Relations)