Posted 31 January 2011
UCD Marian snatch historic victory in Men's SuperLeague National Cup
Competing in the final for the first time ever, UCD Marian snatched a historic victory against the favourites 11890 Killester in the Men's SuperLeague National Cup yesterday.
11890 Killester had hoped that their experience would pay off against UCD Marian as they entered their fourth successive National Cup Final. But when the final whistle sounded, the spirit and determination of UCD Marian had proven too much for the league and cup holders.
The final score: UCD Marian 60 / 11890 Killester 57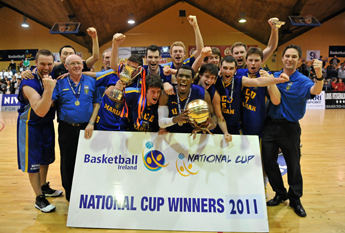 UCD Marian Head Coach Fran Ryan knew that 11890 Killester were sitting favourites entering the game, but he always believed that his team had the right mix to upset the reigning champions and claim their first Cup title.
In the end, his team delivered one of the most memorable upsets of recent years in front of a packed audience at the National Basketball Arena.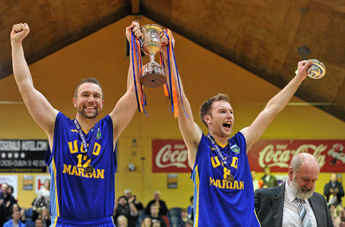 Barry Glover (Vice Captain) and Kevin Meany (Captain) with the Cup.

Scorers:
11890 Killester 57 (35) (J Turner 12, P Kelly 10, P Madsen 9)
UCD Marian 60 (28) (J Crowder 17, C Meany 12, N Baynes 10)
MVP; James Crowder (UCD Marian)
UCD Marian Team: James Crowder, Cathal Finn, Michael Higgins, Conor James, Daniel James, Matthew Kelly, Patrick Young, Niall Meany, Neil Baynes, Barry Glover and Conor Meany. Coach: Fran Ryan.
UCD-Marian Basketball Club is based in University College Dublin, and serves the south county Dublin area. Training and playing venues are located in Belfield, Marian College, St Andrews College and other facilities in South Dublin.
(Produced by UCD University Relations)