Posted 07 March 2011
National award for UCD community education initiative
In recognition of outstanding collaborative work undertaken in the community, the Partnership Education Initiative in Drug Prevention Education and Research Capacity, co-ordinated by the UCD School of Applied Social Science, has won the National Category Award at the 2011 AONTAS Star Awards.
The Initiative was established in response to specific needs identified by drugs projects engaged in adult and community education. It offers two specific diploma programmes designed to provide access to university-level courses and to give practical expression to the strong community focus that professional practice and service delivery in this field requires.
Working with its partners: An Cosán, Tallaght; Urrús, Ballymun and Merchants Quay Ireland (MQI), the UCD School of Applied Social Sciencehas supported over 300 students to complete diplomas from these courses since 2002.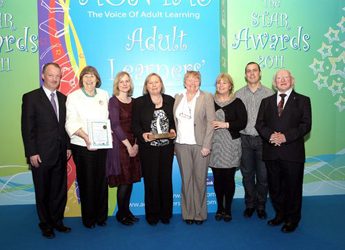 Pictured at the awards: L to R: Sean Haughey, Minister for Lifelong Learning; Dr. Mary Ellen McCann, (School of Applied Social Science); Edel Quinn, (MQI); Dr. Hilda Loughran, (School of Applied Social Science); Catherine Mary Doyle, (Social Science student, UCD); Olga Howlett, (An Cosán); Karl O'Brien, (Urrús); Michael D. Higgins, T.D.
"I would not have ever had the confidence to take on studies at this level without accessing education through the community first," said Catherine Doyle, a social science student who came through the community programmes.
"It has given me the confidence to participate in education on a level I could only ever dream of."
"Enhancing adult learning, resourcing it, and structuring it in such a way as to meet the needs of people of all ages, is above all else, a citizenship issue," said President of the Labour Party, Michael D Higgins who spoke at the AONTAS award ceremony which took place at the end of February 2011.
"This award recognises the very clear learning progression, from engagement in community education courses, to undergraduate level, and hopefully in the future to post graduate level," said Dr Mary Ellen McCann, UCD School of Applied Social Science, Director of the Initiative.
"The partnership provides the opportunity for traditional university courses to liaise with community education structures and methods. The courses are an example of a community of learners, working together to understand more about a very serious social problem."
"This initiative is an example of how The UCD School of Applied Social Science is to the fore in innovative provision for mature learners and students from lower socio-economic groups," said Professor Brian Nolan, Head of the UCD School of Applied Social Science.
The Department of Community, Equality and Gaeltacht Affairs has provided funding for the courses. It recognises the courses as an important initiative in the National Drug Strategy.
There were 84 nominations for the 2011 AONTAS Star Awards from across adult learning organisations, community and voluntary groups, the business sector, government agencies, statutory bodies and NGOs. A total of nine awards were presented, one of these was the National Star Award.
The UCD School of Social Justice was involved in two initiatives which were presented with category awards.
The 'Once Off Initiatives' category award was presented to 'Bridging the Gap', a partnership between Co Wexford VEC, the School of Social Justice, Campus Engage (NUIG), Waterford Institute of Technology, the Literacy Development Centre, WIT, and City of Galway VEC.
Bridging the Gap has developed two DVDs for the sake of bringing the thinking of third level educators to a wider audience. Drawing on a series of informal interviews, the DVDs are designed to raise awareness, stimulate debate and foster collective action on a wide range of contemporary social issues. The DVDs can be used in tutor/teacher training, in the classroom with adult learners and with community groups. They are designed to reach a wide audience and can be used in all areas and levels of adult learning.
The 'Leinster' category award was presented to Longford Women's Link, a local, not-for-profit women's resource centre, established in 1995 to provide new opportunities for women and to challenge gender inequality. Longford Women's Link is a partner with the UCD School of Social Justice in offering the University Certificate in Women's Studies.
AONTAS - the National Adult Learning Organisation exists to promote the development of a learning society through the provision of a quality and comprehensive system of adult learning and education which is accessible to and inclusive to all.
(Produced by UCD University Relations)