Posted 18 March 2011
UCD retains Gannon Cup for fourth year as College secures clean sweep in rowing colours - Rowing colours go green
The men's senior VIII rowing crew recorded an impressive four length lead to beat Trinity in the 64th Gannon Cup race on St Patrick's Day. The women's senior VIII fought off a strong challenge from Trinity to win the Corcoran Cup giving UCD a clean sweep of colours as both novice boats also won.
-- The video which displays here may not be supported by your browser --
Run over a 2.2 km course, the races set off from O'Connell Bridge on the River Liffey and finished at St James Gate. This year the rowing colours were incorporated into the St Patrick's Festival. Wearing their traditional St Patrick's blue and saffron on the national feast day, the UCD crews proved unstoppable as they beat each of the Trinity crews before the usual population of students and supporters on bikes and open-topped buses and a growing crowd of tourists in Dublin for the parade. The trophies were presented at the GPO by the President of UCD, Dr Hugh Brady.
Results
The Gannon Memorial Cup – Senior Men - winner: UCD, retaining the cup for the fourth year. The tally now stands at UCD 28, Trinity 34 with a dead heat recorded in 1950.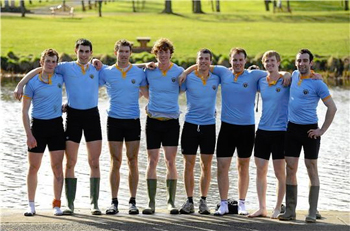 UCD crew
Cox: Jenny Lynch (3rd Gannon)
Stroke: Peter Grogan (2nd Gannon)
7: Gearóid Duane (1st Gannon)
6: Sean Jacob (5th Gannon)
5: Finbar Manning (3rd Gannon)
4: David Neal (4th Gannon)
3: Sean O'Neil (3rd Gannon)
2: Richie Murray (2nd Gannon)
Bow: Colm Pierce (Captain) (3rd Gannon)
Coach: Pat McDonagh
The Corcoran Cup – Senior Women - winner: UCD by ¾ length to record a 19th win over Trinity since the Cup was first presented in 1980.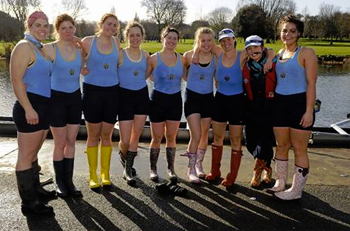 UCD crew:
Cox: Ciara McGowan
Stroke: Bronwyn Lait
7: Laura Reid (Captain)
6: Aoife Gilligan
5: Siofra Bennet
4: Amy Bulman
3: Claire Ni Reachtagáin
2: Karen Joy
Bow: Clodagh Tanner
Coach: Pat Gannon
The Dan Quinn Perpetual Shield – Novice Men - winner: UCD to tie the series at 4-all
UCD crew:
Cox: Kirsten Joyce
Stroke: Cathal McGowan
7: John St Ledger
6: Sam Baxter
5: Oisin Tracey
4: Eamonn Lannoye
3: Rory Vignoles
2: Brian Reilly
Bow: Niall Murphy
Coaches: Alan Curran, Joe Murphy
The Moorhead Trophy – Novice Women - winner: UCD retains the trophy and clocks up 5 to 2 wins over TCD
UCD crew:
Cox: Aoife Ledwidge O'Brien
Stroke: Eimear Nolan
7: Aoife Coughlan
6: Greta Hughes
5: Aoife O'Riordan
4: Tierna Brazil
3: Norma O'Mahony
2: Helen McGarry
Bow: Caoimhe O'Riordan
Coaches: Eoin Craven, Myrtle Duin

(Produced by UCD University Relations)