Posted 25 May 2011
Leinster Rugby forges 'High Performance Partnership' with University College Dublin
Less than a week after securing their second Heineken Cup in dramatic fashion Leinster Rugby are already looking for that extra edge over their competition.
The chief executive of Leinster Rugby, Michael Dawson and the president of UCD, Dr Hugh Brady, have announced details of a new high performance partnership which will see Leinster moving their training, conditioning and administration to UCD's Belfield campus and the development of a number of educational, research and commercial initiatives.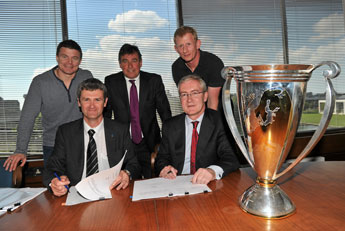 Signing the partnership agreement (back row): Brian O'Driscoll, Ireland captain & Leinster; Michael Dawson, Chief Executive of Leinster Rugby; Leo Cullen, Leinster captain; (front row): John Coman, UCD Corporate Secretary; Dr Hugh Brady, President of UCD
Under this partnership, Leinster will establish a new high performance training unit on UCD's Belfield campus adjacent to UCD's state-of-the-art Institute of Sport and Health (ISH). In addition, Leinster will avail of UCD's extensive suite of top class synthetic and grass pitches.
Players will have access to UCD's expanding suite of physiological and biochemical testing platforms and sports medicine facilities.
Research collaborations will be developed in areas such as high performance science, sensor technology, bioengineering and sports physiology.
Educational collaboration will see an increasing number of Leinster players enrolling in UCD courses, using the flexible modular UCD Horizons curriculum to prepare for a career after rugby.
The partnership builds on existing strong links between UCD and Leinster Rugby. Jonathan Sexton, Gordon D'Arcy and Devin Toner are current UCD students and four of the victorious Heineken Cup winning team are former UCD players (Brian O'Driscoll, Sean O'Brien, Kevin McLaughlin and Fergus McFadden).
UCD RFC is one of the world's most successful university rugby clubs and celebrated its centenary this season. The UCD RFC 'Team of the Century' included numerous British and Irish Lions and no less than seven Irish captains including such players as Brian O'Driscoll, Denis Hickie, Tom Grace, Fergus Slattery, Mick Doyle, Ray McLoughlin and Bill Mulcahy.
(Produced by UCD University Relations)