Posted 30 May 2011
Greater North-South economic collaboration to accelerate recovery
Taoiseach Enda Kenny has said that the "full impact" of the State visit of Queen Elizabeth to Ireland and the "sense of reconciliation" will continue to "surprise us" and "be appreciated" for many years to come.
During his keynote address at the UCD Institute for British-Irish Studies Annual Conference on 26 May 2011, An Taoiseach reflected on an "extraordinary week in the history of Ireland's bilateral relationship with Britain".
-- The video which displays here may not be supported by your browser --
He acknowledged the "momentous occasion" that was the visit of President Obama, "so soon after the Queen's visit".

"In his speech, and in our discussions, the President reflected on the enormous achievement - globally recognised - that is the peace process in Ireland," he said.

According to An Taoiseach, "the implementation of the Good Friday Agreement has been seminal in transforming life on the island of Ireland".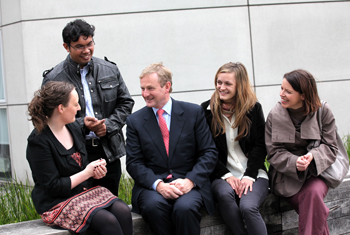 Taoiseach Enda Kenny meets with politics students from University College Dublin before his keynote address at the UCD Institute for British-Irish Studies 2011
"The transfer of policing and justice powers to the Assembly in April 2010 marked a milestone in the devolution process mapped out in the Agreement," he said.

"The risks taken for peace have paid off."

"At the ballot box on May 5th, the people of Northern Ireland gave their overwhelming endorsement to the parties committed to making the institutions of the Good Friday Agreement work."

"Once more the people repudiated the destructive agenda peddled by a few violent nihilists masquerading as Irish nationalists," he said.

Taoiseach Kenny said his Government is committed to protecting all of the gains that have flowed from the Good Friday Agreement, and to "bringing the relationship between the traditions on this island to a new and higher level".

The main forum for advancing North South economic cooperation remains the North South Ministerial Council, which was established under Strand 2 of the Good Friday Agreement.

"By working with our Northern colleagues", he said, his Government aims to "develop greater economic collaboration to accelerate the process of economic recovery and job creation on this island".
To view the full speech by An Taoiseach Enda Kenny, visit the
Department of An Taoiseach
website.
(Produced by UCD University Relations)