Posted 03 June 2011
Minister for Justice: UCD centre to spearhead EU cybercrime fighting network
The Minister for Justice, Alan Shatter TD has announced Ireland's involvement in a €4 million EU initiative aimed at tackling cybercrime across Europe.
The "2Centre" project, part of the European Commission's strategy to safeguard governments, businesses, and citizens from cybercrime, sees the establishment of a centre of excellence in Ireland (University College Dublin) and one in France (Universities of Troyes and Montpellier).
University College Dublin will lead the "2Centre" network for training, research and education. Experts based at the UCD Centre for Cybercrime Investigation will conduct research into key cybercrime topics, develop free software and hardware tools for law enforcement cybercrime investigators, and develop and deliver training programmes for law enforcement officers.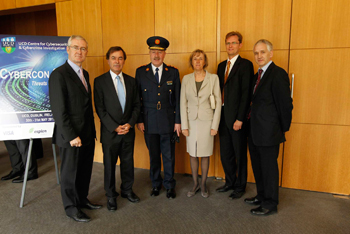 Pictured at the announcement: Dr Hugh Brady, President of UCD; Minister for Justice, Equality and Defence, Mr Alan Shatter TD; Garda Commissioner, Martin Callinan; Madame Emmanuelle d'Achon, French Ambassador to Ireland; Mr Radomír Janksý, European Commission, DG Home Affairs; Prof Joe Carthy, Director of UCD Centre for Cybercrime Investigation
In launching the 2Centre Project, the Minister for Justice, Equality and Defence acknowledged the huge collaborative effort by Irish and French industries, police forces and academia who have worked hard to bring about this next step in achieving a shared vision for the future in cyber-crime investigation and education across the European Union.
The Minister commented that "For more than 10 years, An Garda Síochána has been initiating and managing EU funded training projects. To date over 1,000 police officers from cybercrime units throughout the globe have received training via projects initially conceived by An Garda Síochána. The UCD Centre has supported these initiatives, especially in the delivery of training programmes to high tech crime investigators and by providing technical and educational expertise when required."
The Minister highlighted the work that has been undertaken by An Garda Síochána, in association with UCD, over the last number of years to achieve greater skills and expertise in tackling cybercrime. In 2006 UCD introduced an MSc in Forensic Computing and Cybercrime Investigation, in collaboration with the Garda Bureau of Fraud Investigation and the Garda Computer Crime Unit, which has been made available to investigating officers across the European Union.
In referring to selection of UCD to lead and manage the "2Centre" project, the Minister said "It will be of little surprise to those who have witnessed UCD's commitment and support for law enforcement cybercrime investigation."
"The UCD Centre for Cybercrime Investigation's reputation in the field of applied research in cybercrime issues, and a flexible approach in supporting the development of law enforcement education training programmes, has meant that UCD has established a unique and special relationship with key organisations within Europe and further afield."
"The "2Centre" project will create a network of centres of excellence across Europe to tackle current and emerging cyber threats," said Professor Joe Carthy, Director of the UCD Centre for Cybercrime Investigation, University College Dublin.
"What was once the task of specialist national police squads, cybercrime investigation has become part of the workload of regional police forces and even individual districts," he said.
"To effectively investigate cybercrimes, the investigator needs a set of special skills, such as methods of classic computer forensics, live computer forensics, and specific tactics of cybercrime investigation."
"This announcement acknowledges the academic, scientific and law enforcement expertise available in Ireland in the area of cybercrime investigation."
For the next two years, the "2Centre" project partners across Europe will work on a range of initiatives to support law enforcement officers engaged in cybercrime prevention, detection, and investigation.
According to Professor Carthy, "the need for European wide action on cybercrime prevention and detection was further highlighted in March 2011 when a cyber attack was committed on the computer systems of the EU Commission and Parliament."
Experts based at the centres will develop solutions and support systems for European police forces in their fight against these borderless crimes.
Partners such as Microsoft, Thales and the Irish Banking Federation will provide specialist technical expertise.
The universities Universitié de Technologie de Troyes and Université de Montpellier will work with the Gendarmerie and Police Nationale on the French initiatives.
The "2Centre" project is primarily funded by the European Commission.
(Produced by UCD University Relations)