Posted 20 June 2011
UCD honours Ireland Chairs of Poetry among Bloomsday conferrings and awards Ulysses Medal to Seamus Heaney
New Robert Ballagh portrait of James Joyce goes on view for the first time
The Bloomsday conferrings at UCD have become a literary affair as this year the university honoured the five holders of the Ireland Chair of Poetry: John Montague (1998-2001), Nuala Ni Dhomhnaill (2001-2004), Paul Durcan (2004-2007), Michael Longley (2007-2010) and Harry Clifton (2010-2013).
-- The video which displays here may not be supported by your browser --
Also receiving honorary doctorates were poet Ciaran Carson, professor of poetry at the Seamus Heaney Centre for Poetry at Queens University Belfast, and Pulitzer prize-winning American cartoonist and creator of Doonesbury, Garry Trudeau.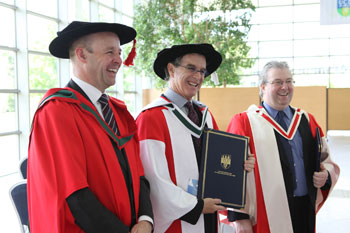 Pictured at the ceremony (l-r): Dr Philip Nolan, Registrar of UCD, Garry Trudeau, Dr Pádraic Conway, UCD Vice-President for University Relations
Pictured far right: Seamus Heaney with the Ulysses Medal
The university's highest award, the Ulysses Medal, was presented to poet Seamus Heaney.
"While elsewhere the role of the public intellectual is the preserve of the philosopher, in Ireland it is the poet who stakes that claim; challenging us through his and her interpretation of what is commonplace in our lives, stretching our imaginations, questioning our values and presenting us – through their words – with a view of the world that shakes us out of our complacency." The president of UCD, Dr Hugh Brady said. "Those receiving honorary doctorates and the Ulysses Medal today follow the tradition set by Joyce. While much of their writing draws from their Irishness, their messages transcend the geographical boundary of the island and strike a note of resonance that has a truly global reach."
The Ireland Chair of Poetry Trust was set up in 1998 and is jointly held between University College Dublin, Queen's University Belfast, Trinity College Dublin, the Arts Council of Northern Ireland and the Arts Council/An Chomhairle Ealaíon.
Every three years a poet of honour and distinction is chosen to represent the Chair as Ireland's Professor of Poetry. During their tenure the holder spends a year attached to each of the three universities. While in residence, the poet gives informal workshops or readings, spends time working with students and performing outreach work and presents a formal lecture to the university.
Professor Mary Clayton explained the connection between Joyce and the poets. "James Joyce's first published book was his collection of early poems, Chamber Music, and he continued to write poetry throughout his life. So, it is entirely fitting that Joyce's alma mater should honour these poets on Bloomsday. The role of Ireland Chair of Poetry is, as Seamus Heaney has said 'to manifest the value of poetry within our cultural and intellectual life, north and south' and 'to stand as a representative of the art within the Irish university system.'
In the last section of Seamus Heaney's Station Island, a figure who is unnamed but who is clearly James Joyce, says to the poet:
'The main thing is to write
for the joy of it.'
New Robert Ballagh portrait of James Joyce goes on view for the first time
A portrait of UCD's most famous graduate (BA 1902), James Joyce, was put on view for the first time as the university celebrated its Bloomsday conferrings and the awarding of the Ulysses Medal.
For Robert Ballagh, Joyce is "the eminent cerebral cartographer of our city". Having grown up close to Sandymount strand and roamed the same paths, he feels he was influenced by Joyce, even before he read his work. "Joyce has been like a travelling companion to me all of my life." Ballagh said.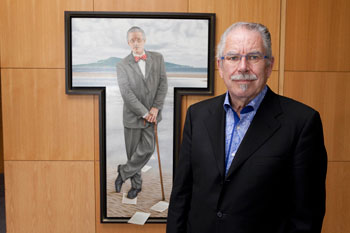 Artist Robert Ballagh pictured with his portrait of James Joyce
Ballagh was an obvious choice of artist for the Joyce portrait. The painting that now hangs in the UCD O'Reilly Hall was funded through the generosity of the UCD Foundation.
The painting is in a T-shape, measuring six feet in height by four feet across the top. In it, Joyce strikes a familiarly dapper pose, leaning on his cane with his left leg crossing his right. He stands on Sandymount strand against the backdrop of Howth Head. The subtle colours of the sand, the low tide water, the cloudy sky, the greens of the hill and the well-tailored suit of Joyce himself are set-off by the red polka-dot bowtie he is wearing and the red South Wall lighthouse in the distance. Ballagh spent considerable time on Joyce's face and conscious of his poor eyesight and strong glasses, was determined to be faithful by slightly magnifying his left eye. As the rings on Joyce's left hand are sourced from black and white photos, the artist had to choose the stone colours. Strewn across the sand are sheets from Joyce's novels, with one extending beyond the frame in typical asymmetric Ballagh style.
The Poets
Seamus Heaney
"If poetry really is news that stays news, then the events of our lives, both great and small, seem incomplete without Seamus Heaney's exploration of them." Professor Declan Kiberd said during his citation for the poet. "Sardonic yet lyrical, his work offers one of the fullest records of what it has been like to live through the past seven decades.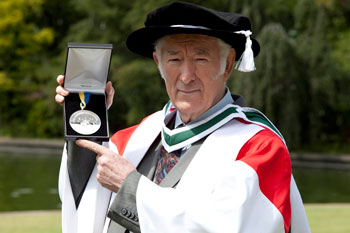 Like Homer and Joyce, he is now celebrated as a writer of global significance because he has so faithfully rendered the odysseys of ordinary people."
John Montague
In his citation for John Montague, Brian Donnelly, UCD School of English, Drama & Film said that the poet had achieved a status of one of the major poets writing in the English language. "His journey has followed a creative map that has taken in points of contact and influence from his very early years in Brooklyn, his childhood and youth in rural Co Tyrone, his formal education in St Patrick's in Armagh and his undergraduate studies in UCD.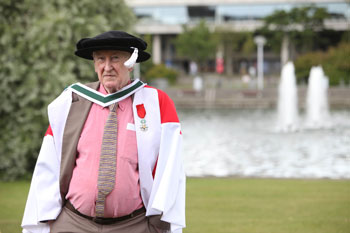 It has been his vocation to give voice to that culture whose long colonial history exploded both literally and metaphorically in 1969. John Montague's gift and mission have been to record memories and to articulate feelings and aspirations of a common humanity, not only in his verse but in his vivid memoirs and stories."
Nuala Ní Dhomhnaill
In her citation for Nuala Ní Dhomhnaill, Professor Maire Ní Annrachain UCD School of Irish, said that, more than any other Irish language poet, her work is read and interpreted internationally and at home. "It is totally modern yet fully recognisable within the Gaelic tradition. Her reputation is universal.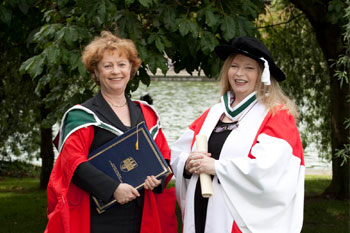 Nuala Ní Dhomhnaill (right) pictured with Prof Marie Ní Annrachain
Ireland is indebted to Nuala Ní Dhomhnaill for revealing the capacity of the Irish language to bring forth such intensity, just as it is indebted for her voice of protest, her standing her ground. What transfigures that ground is her radical renewal of the Irish literary tradition."
Paul Durcan
Paul Durcan is renowned for his outspoken, comic and often deeply moving poems, the fruit of many years' attentive observation of life in Ireland. According to Dr Lucy Collins, UCD School of English, who gave his citation, he is "by turns savage and tender. His poems satirise political duplicity and bourgeois complacency in surreal ways, exemplifying a Yeatsian view of art as 'vision of realist.'" His reading of poetry – his own and of others – is considered to be both sensitive and mesmerising, and demonstrates the importance he placed on his role as mentor and teacher during his tenure as Ireland Professor of Poetry.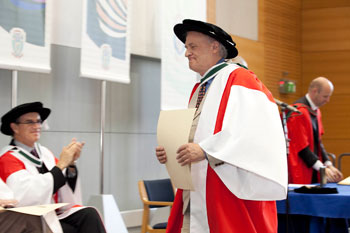 Michael Longley
According to Dr Caitríona Clutterbuck, UCD School of English, who gave his citation, Michael Longley has described his preoccupations as being centred on the relationship between Eros and Thanatos – Love and Death. "As well as being a love poet, he is rightfully renowned as one of the greatest war poets of our time. His authority here is generated through his understanding that the victim's suffering must be the final court of judgement in all sates of conflict." The success of his poetry is to be found in the crucial glimpse of humanity that counters the horror of raw brutality.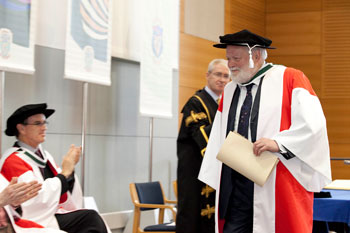 "Through almost five decades of writing, his work has made craftsmanship the basis of an exemplary witness to the astonishment and grace of living in the real world."
Harry Clifton
Currently holding the Ireland Chair of Poetry, Harry Clifton's poetry and fiction reflect an exceptional range of cultural, social and political contexts, drawn from his spending considerable periods of time in Africa, Asia and Europe. Giving his citation, Dr Ron Callan, UCD School of English said that his "journeys affect not only the content but the form of his work. Throughout his poems, his 'relative states' point to states of mind and states as nations. In each there are levels of uncertainty as traveller faces home or tourist faces citizen. For Harry Clifton, nation and home are not easily known or defined, and so his masterful command of form reflects the play of differences as he travels, both literally and imaginatively."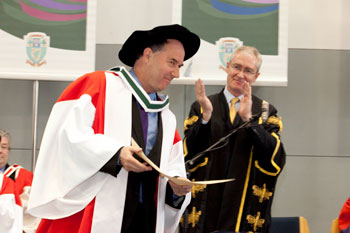 Ciaran Carson
In his citation for Ciaran Carson, playwright and writer-in-residence at UCD, Professor Frank McGuinness described him as "one of the most fertile imaginations and intrepid intellects over the past forty years." Carson has been the recipient of many awards for poetry but his fiction, memoirs and writings on Irish traditional music have also won wide praise. "He is a giant presence in our culture." Said McGuinness. "If James Joyce drew his epiphanies from the streets and sagas of Dublin, then in Belfast Ciaran Carson has received his visitations, confirming the news that something has been seen and heard, something has been felt, that in his telling is something truly, wonderfully magnificent."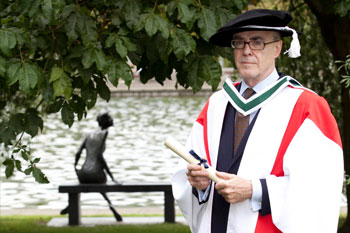 (Produced by UCD University Relations)