Posted 01 July 2011
Final space shuttle mission by NASA - the Irish connection
NASA's final space shuttle mission, a 12-day flight to deliver supplies and equipment to the International Space Station, will lift-off on 08 July 2011.
Mission STS-135 by space shuttle Atlantis marks the end of a 30-year NASA program involving the world's first reusable spacecraft and makes way for NASA's next phase.
On its historic final mission, Atlantis will deliver supplies and equipment to the International Space Station (ISS).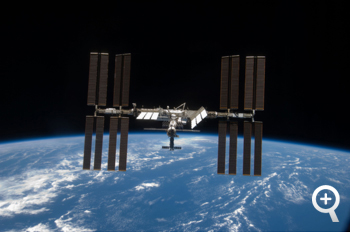 Pictured above: International Space Station
Pictured far right: Space shuttle Atlantis launching on its previous mission STS-132 on 14 May 2010 from the Kennedy Space Centre in Florida
(Photographs copyright NASA)
Its payload includes CETSOL cartridges which will be used for advanced scientific research at the European Space Agency (ESA) Materials Science Lab onboard the Space Station into how gravity (or the lack of it) affects how materials solidify.
Dr David Browne from the UCD School of Electrical, Electronic & Mechanical Engineering, University College Dublin, is a co-investigator on the European Space Agency CETSOL research project which also involves centres in France, Germany and the US.
"Atlantis will carry aluminium alloy samples for processing in the ISS Materials Science Lab (MSL) furnace. These are metallic rods encapsulated in a ceramic crucible and enclosed in a tantalum metal tube. The shuttle crew have been instructed on the delivery – and the ISS crew on how to process the samples," says Dr Browne.
"So there will be an Irish and University College Dublin scientific connection with this historic last space shuttle mission by NASA."
The results from the experiments in space will be compared with experiments on Earth to isolate the effects of gravity on alloy solidification.
"A previous batch of experiments has already been performed on the ISS, returned to earth and analysed. Our in-house computer model has been used to simulate the completed experiments and shows very close agreement to the observed sequence of solidification events," explains Dr Browne.
Much of the recent computer modelling has been conducted by Dr Wajira Mirihanage, a member of Dr Browne's Phase Transformation Research Group (PTRG) at UCD, and the results are currently under peer review for international publication.
UCD will continue its space-based materials research via future experimentation involving real-time in-situ X-ray observation of alloy solidification on board an ESA sounding rocket, work which is being carried out principally by Andrew Murphy, PhD student in the PTRG.
"This work is just part of the R&D in the area of Materials Science and Engineering being carried out at UCD", adds Dr Browne.
"In fact there is so much progress being made throughout Dublin in the area of Materials Science and Metallurgy that we have recently established the Dublin Materials Society to help coordinate and encourage the discipline in the capital and environs, both in industry and academia."
NASA's maiden space shuttle Columbia blasted into space 30 years ago, on 12 April 1981. Mission STS-135 by space shuttle Atlantis will be NASA's 135th and last space shuttle mission.
(Produced by UCD University Relations)