Posted 14 July 2011
RIAI sustainability award for UCD student residences
UCD Roebuck Hall Residence, a highly sustainable, low-carbon building, with very minimal heat loss and low energy demand, has been awarded the Royal Institute of Architects Ireland (RIAI) 2011 Award for the 'Best Sustainable Project'.
The Minister of State with Responsibility for Housing and Planning, Willie Penrose TD who presented the 2011 Irish Architecture Awards said: "Quality architecture enhances all our lives and we should never sacrifice quality for price."
A total of 16 awards were presented across a range of projects and scales at the award ceremony which took place on 11 July 2011.
"This award recognises Roebuck Hall Residence as an exemplary 'green' and beautiful building," says Eamonn Ceannt, UCD Director of Capital Development. "The design of the building supports our policy of providing a range of on campus accommodation types at University College Dublin, within a high quality environment."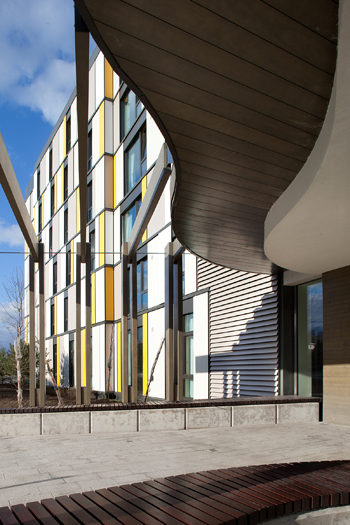 Designed to use 60% less energy than current standards, the building is super-insulated, and tightly sealed to avoid air-leakage and draughts. Fresh air is supplied constantly to all rooms, giving clean fresh air all the time. The extracted warm air is used to heat the incoming fresh air at 85% efficiency.
When windows are opened, the heating on the fresh-air supply to a room will switch off, to avoid energy wastage. Lighting throughout the building is with highly efficient LED and CFL lights. Hot water is heated by solar collectors on the roof, and rainwater is collected and used for flushing toilets.
"Roebuck Hall, our new catered residence, the first in Ireland, provides accommodation for 133 students during the academic year, and for conference delegates over the summer months," says Gary Moss, Head of UCD Commercial, Residential and Hospitality Services.
"Residents can come together as a community twice a day in our purpose built restaurant which provides a cooked breakfast and full three-course evening meal, catering for all dietary requirements."
Designed by Kavanagh Tuite Architects, Roebuck Hall is part of a master planned student village in the south-east of the UCD Belfield campus.
With funding from the SEAI, the UCD Energy Research Group based in the UCD School of Architecture, Landscape & Civil Engineering will undertake performance monitoring of the building for a period of two years.
Royal Institute of Architects in Ireland (RIAI)
The RIAI is the Regulatory and support body for Architects in Ireland. Since 1839 the RIAI has been committed to upholding the highest standards in architecture and providing impartial and authorative advice and information in issues affecting architects, the built environment and society.

(Produced by UCD University Relations)