Posted 26 July 2011
UCD academic shortlisted for leading UK Poetry Prize
Dr Nerys Williams from the UCD School of English, Drama and Film, has been shortlisted for the Felix Dennis Prize for Best First Collection in the (UK) Forward Prizes for Poetry 2011.
Founded by William Sieghart in 1992 to raise the profile of contemporary poetry, the Forward Prizes for Poetry are one of the UK's most valuable poetry prizes.
Sound Archive by Nerys Williams is described as a 'strikingly original first collection of poems'. Using formal strategies similar to modernist painting: abstraction, dislocation, surrealist juxtaposition, the poet conjures a complex music, intriguing narratives, and poems full of atmosphere that query identity, gender, and the dream of art as a vehicle for emotion and meaning.
Watch video of Dr Nerys Williams reading from Sound Archive.

Dr Nerys Williams lectures in American Literature at University College Dublin. She is from Carmarthenshire in West Wales. She is the recipient of a Fulbright Scholar's Award at the University of California, Berkeley, and a recent winner of the Ted McNulty Poetry Prize.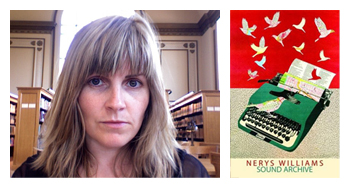 She has published poems and critical essays widely and is the author of A Guide to Contemporary Poetry as well as a study of contemporary American poetry, Reading Error.
Sponsored by the Forward Group, the Forward Prizes are presented in three categories: Best Collection (£10,000), the Felix Dennis Prize for Best First Collection (£5,000), and the Best Single Poem in memory of Michael Donaghy (£1,000).
Over the last two decades poets including Seamus Heaney, Carol Ann Duffy and Ted Hughes have won the Best Collection category. And just one poet, Robin Robertson, has won all three prizes.
The Forward Prize for Best Collection shortlist:
Black Cat Bone (Jonathan Cape) by John Burnside
Night (Faber & Faber) by David Harsent
Clavics (Enitharmon) by Geoffrey Hill
A Hundred Doors (Jonathan Cape) by Michael Longley
Voices Over Water (CB Editions) by D Nurkse
November (Picador Poetry) by Sean O'Brien
The Felix Dennis Prize for Best First Collection shortlist:
Sound Archive (Seren) by Nerys Williams
Sidereal (Picador Poetry) by Rachael Boast
Loudness (Seren) by Judy Brown
Tokaido Road (CB Editions) by Nancy Gaffield
Confer (Bloodaxe) by Ahren Warner
Waterloo Teeth (Northern House) by John Whale
The Forward Prize for Best Single Poem in memory of Michael Donaghy shortlist:
To a Nightingale (London Review of Books) by R. F. Langley
Southern Rail - The Four Students (Poetry Review) by Alan Jenkins
Song the Breasts Sing to the Late-in-Life Boyfriend (Poetry London) by Sharon Olds
Bees (Poetry Review) by Jo Shapcott
Former Poet Laureate Sir Andrew Motion is chair of the judges of the Forward Prizes for Poetry 2011, joined by poet and Editor of Poetry Review Fiona Sampson, poet and teacher Leonie Rushforth, author Lady Antonia Fraser and journalist Sameer Rahim.
"The Forward Prizes, in their twentieth year, have once again been able to provide an account of the last year's poetry publishing, which is both confirming and liberating. We're very proud of the three short lists, which contain some well-known names and also names which will be new to most readers," said Sir Andrew Motion.
"Clever, moving, of the moment, and also taking the long view, they combine all the paradoxes good poetry should contain. Read them all!"
"Twenty years on from the beginnings of the Forward Prizes, we're thrilled to still be showcasing the work of established and new faces in poetry," said William Sieghart, Chairman of the Forward Arts Foundation. "Submissions continue to be high, both in number and in quality, and we're pleased that contemporary poetry is as strong today as when we began."
The winner of the Forward Prizes will be announced on 05 October 2011, the eve of National Poetry Day, at a ceremony in Somerset House, London.
The Forward Arts Foundation is the primary sponsor of the Forward Prizes for Poetry and is behind National Poetry Day (UK) and Big Arts Week (UK).
(Produced by UCD University Relations)