Posted 27 July 2011
Strong Ireland-China relations essential for economic recovery and growth
An Taoiseach Enda Kenny TD addressed several hundred leading academics from around the world at a two-day international conference on "China's Economic Dynamics and Its Impacts on the World Economy" hosted by the UCD Confucius Institute for Ireland and the Irish Institute for Chinese Studies at UCD.
"China is now our largest trading partner in Asia, and our 8th largest partner overall," said An Taoiseach.
"The importance of China was recognised in the Asia Strategy adopted by Government in 1999. That Strategy had two principal objectives; to improve political and business contacts throughout Asia and to raise awareness of Ireland both as an investment location and as a source of high quality goods and services."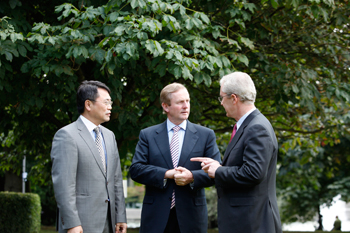 Pictured (l-r): Dr Liming Wang, Director of the Confucius Institute for Ireland (UCD) and Secretary General of the Chinese Economic Association in Europe; An Taoiseach Enda Kenny TD; and President of UCD, Dr Hugh Brady
"The Strategy resulted in a significant development of Ireland's relationship with China in particular over the past decade. A simple illustration of this is the fact that at the turn of the century, bilateral trade with China was worth €715 million annually. Last year, it was €4.2 billion."
An Taoiseach also referred to the importance of high-level diplomatic visits between the two countries which are helping to widen and deepen their relationship.
"In all areas, trade, education, food and agriculture, tourism and human contacts, our relations are widening and deepening. Our cities are developing sister-city relationships: Cork has been twinned with Shanghai for several years, just last month Dublin formally twinned with Beijing and Galway and Qingdao have developed a positive relationship," added An Taoiseach.
"We recognise that we need to grow our way out of our current difficulties. And this is where our trade relationships with external partners are key. Ireland is still a small, open economy with a vibrant export sector. Our recovery will be export-led and our strong trading relationship with China is an essential part of ensuring further growth."
"I do not think that there is complacency on the part of anyone involved in the Ireland-China commercial relationship, however, there is massive potential to enhance this further across a range of sectors."
An Taoiseach highlighted some key areas of real potential for enhancing the relationship between Ireland and China including: energy and green technologies, food and agriculture, financial services and aviation leasing, pharmaceuticals, medical devices and educational services.
"These are some of the sectors where the Government and the State Agencies will be focusing attention in the future," he said.
Dr Liming Wang, Director of the Confucius Institute for Ireland (UCD) and Secretary General of the Chinese Economic Association in Europe said: "China and its economy is of huge interest globally, and this conference provided a great opportunity to get an inside view on what the world's top minds have to say on China's economic miracle, how it happened, what it means for Ireland and Europe now and what will happen in the future."
The conference which took place from 14 – 15 July 2011 at UCD was also attended by the Lord Mayor of Dublin, Councilor Andrew Montague, and the Chinese Ambassador to Ireland, His Excellency Mr. Liu Biwei.
It was co-organised by the Chinese Economic Association (Europe/UK) as the 3rd CEA (Europe) and 22nd CEA (UK) Annual Conference.
(Produced by UCD University Relations)