Posted 22 August 2011
Rwanda does not intend to live on aid forever
According to the President of Rwanda, Paul Kagame, if global trade was free and fair, developing nations such as Rwanda, would realise three times more income than they currently receive in overseas aid. The President was speaking to graduate students from UCD and TCD who are in Rwanda as part of the Global Master's in Development Practice (MDP) program, funded by the MacArthur Foundation and accredited by the World Bank.
Although not faced with the famine problems of Somalia and other countries in the Horn of Africa, Rwanda still struggles for economic independence and is reliant on overseas aid to survive.
The Global MDP Network consists of 22 universities across the world. The UCD/TCD program is the first joint master's degree offered by the Dublin universities and is supported by the Mary Robinson Foundation Climate Justice and Trócaire. Top students are drawn from the health and natural sciences as well as from the humanities, management and social sciences and the program provides them with the substantive knowledge and practical skills required to analyze and diagnose the multi-dimensional challenges of sustainable development such as extreme poverty, climate change and infectious disease.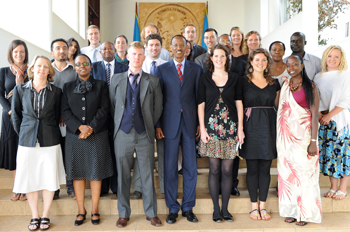 Paul Kagame, President of the Republic of Rwanda meets with students from the UCD/TCD Master's in Development Practice
As part of their program, students undertake fieldwork and as well as undertaking projects, get to meet and discuss policy with national leaders such as President Kagame.
"Development is a notoriously complex issue." Professor Patrick Paul Walsh, co--director of the program. "Those working in the area need to be cognisant of the economic and political pressures on a country as well as the devastating impact of scourges such as HIV/AIDs, rising commodity prices and extreme climatic conditions. The comments of President Kagame are both ambitious and realistic but, through programs such as ours, we are training the next generation of global policy-makers for national governments and international organisations who will be able to make his vision achievable."
President Kagame told the students that Rwanda does not intend to live on aid forever and is working towards weaning herself off aid: "As global trade and investments decline, we expect everything else to decline, including aid. Even if the current global financial problems were not there, it is morally wrong to think you can live on aid forever. In Rwanda, we will not say that we don't need aid, we do, but we want to use the aid we get to build our capacities so that we can ultimately be able to stand on our own." President Kagame observed.
The first 20 students on the UCD/TCD Master's in Development Practice have spent the past three months in Rwanda, hosted by the National University of Rwanda. Their fieldwork includes designing and implementing real-world operational "sustainability" interventions that address critical environmental-climate change and livelihood threats. These are in the high-profile global "Earth Park" the Biosphere Reserves and biodiversity "hot-spot" in western Rwanda, southwestern Uganda, and eastern Congo-in and around the Virunga National Park (Congo), Bwindi Impenetrable Forest (Uganda), Volcanoes National Park (Rwanda), and the Gishwati Forest (Rwanda).
They will return to Dublin for the academic year and then spend next summer on internships with major international development and development-related organizations in Geneva.
While half the students are Irish the other students originate from Canada, USA, France, Brazil, Afghanistan, Tanzania and Uganda.
(Produced by UCD University Relations)