Posted 23 September 2011
Beijing Mayor visits UCD
Mayor of Beijing, the world's most populated city with over 19.6 million residents, visited UCD during a celebratory event to mark the fifth anniversary of the UCD Confucius Institute for Ireland.
Since it was established five years ago, the UCD Confucius Institute for Ireland has provided courses in Chinese language and culture for both undergraduates at UCD and the general public. Over 4,000 students have completed these courses.
Following a pilot course delivered by the UCD Confucius Institute for Ireland to approximately 50 schools across the country, a Chinese language and culture course is expected to be introduced across Irish post-primary schools by 2012.
Initially it will be introduced as a transition year unit extending to a full curricular subject.
During his visit to UCD, the Mayor of Beijing, Guo Jinlong was presented with the UCD Confucius Medal by the Minister for Education, Ruiari Quinn TD.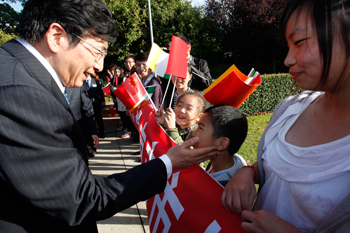 "This honour will encourage me to do more work for the friendly relations development between China and Ireland and the UCD Confucius Institute," said Mayor Jinlong.
"As the capital cities of China and Ireland, Beijing and Dublin both boast rich culture and long history. In recent years, as the friendly relations of China and Ireland have grown, the two capital cities have enjoyed closer ties, and Beijing and Dublin have been twinned as sister cities."
"We sincerely hope that Beijing and Dublin build upon the existing partnership to further intensify exchanges and cooperation in the fields of economy, trade, culture, education, science and technology to contribute more to our friendship and all round development of the relations between the two countries," he said.
"For its part, Beijing Municipal Government will attach great importance to the cooperation and joint ventures between UCD and Beijing University of Technology to make further contributions to the educational and cultural exchanges between the two capital cities."
At the event, the President of UCD, Dr Hugh Brady highlighted the educational and research links between University College Dublin and leading Chinese universities.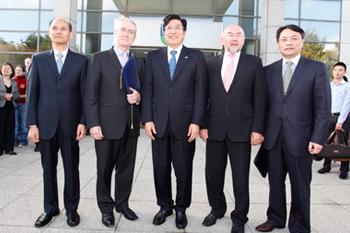 Pictured at University College Dublin (l-r): Chinese Ambassador, HE Mr Luo Linquan; President of UCD, Dr Hugh Brady; Mayor of Beijing, HE Mr Guo Jinlong; Minister for Education and Skills, Mr Ruairi Quinn TD; and Dr Liming Wang, Director of the UCD Confucius Institute for Ireland
"In our strategic plan for the period to 2014, entitled Forming Global Minds, we stated that 'The UCD Confucius Institute for Ireland, the first of its kind in this country, will serve as a ready-made channel to develop relationships with China'," he said.
"With this ready-made channel, we will do our part to foster and build on the sister city agreement between Beijing and Dublin."
Dublin and Beijing were twinned as cities on 02 June this year.
During his visit to Ireland, the Beijing Mayor also met with Taoiseach, Enda Kenny TD, and Tanaiste, Eamon Gilmore TD, reflecting the growing economic links between Ireland and China. He also visited Wicklow, Newgrange and the Guinness Storehouse.
(Produced by UCD University Relations)