Posted 10 October 2011
Wood shares rugby insights with students of the game
Former Ireland and Lions hooker, Keith Wood visited the UCD campus to take part in a Q&A session with students studying the MSc Sport & Exercise Management (Rugby Management Stream).
His visit marked the introduction of the first Rugby Management Stream module which is focussed on strategic and operational management in both the amateur and professional game.
During the Q&A session with students, Wood, a native of County Clare, shared his insights into the professional game.
Now retired, Wood was rated among the finest hookers in rugby, and is revered among the legends of the game for his talismanic leadership of his country.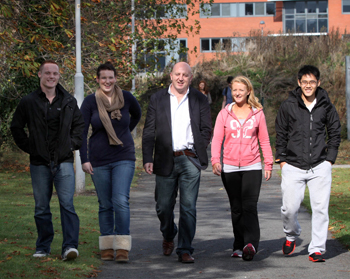 Pictured with Keith Wood (centre) are UCD MSc Sport & Exercise Management students Pól Joyce from Mayo (left), Elma Beirne from Kildare (centre-left), Emer O'Connell from Cork (centre-right), and Zhuo Chen from Tianjin, China (right).

"This unique programme is for professional players seeking to upgrade existing qualifications, players planning retirement at the end of this season who wish to remain in rugby in a management capacity, and those rugby club management personnel wishing to enhance their management skill-set," says Dr John Shuttleworth, Director of the UCD Centre for Sport Studies.
"The programme also supports community rugby club management which relies on a range of personnel, both volunteers and professionals, who may wish to take advantage of one or more modules focussed on their specific role within the club," he adds.
The programme is supported by the IRFU, IRB, Leinster Rugby, IRUPA, SRU and UK professional clubs including Harlequins and the Ospreys.
It has been developed to complement the rugby engagement strategy of UCD in that it supports Irish, UK and overseas players who wish to further their studies either pre or post retirement to support their future careers.
The MSc Sport & Exercise Management at University College Dublin may be taken either fulltime (11 months), part-time (22 months) or on an occasional basis (continual professional development CPD).
(Produced by UCD University Relations)