Posted 04 November 2011
Actress, Sinead Cusack in conversation with playwright, Frank McGuinness
Stage and screen actress, Sinead Cusack played her first professional acting role at the age of eleven when her father, the actor Cyril Cusack, cast her in an adaptation of Kafka's The Trial at the Olympia Theatre in Dublin.
By 1975, the young actress had left Ireland for London where she joined the Royal Shakespeare Company. In 1984, she made her debut on Broadway.
In 1998, she won the Evening Standard Award for Best Actress and the Critics Drama Award for Best Actress for one of her best known stage roles as Mai O Hara in Our Lady of Sligo.
In discussion with Professor Frank McGuinness from the UCD School of English, Drama and Film, Sinead Cusack outlines her stage and screen career from its earliest beginnings to membership of the Royal Shakespeare Company, to acting on Broadway and the silver screen.
Listen to Sinead Cusack in conversation with Prof Frank McGuinness at University College Dublin
-- The media which displays here may not be supported by your browser --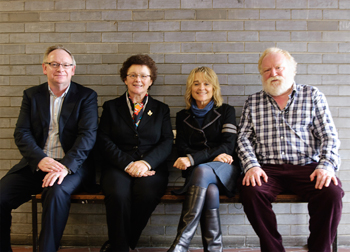 Pictured at UCD (l-R): Dr Eamonn Jordan, UCD School of English, Drama and Film; Prof Maeve Conrick, Principal, UCD College of Arts and Celtic Studies; Sinead Cusack, Actress; and Professor Frank McGuinness, UCD School of English Drama and Film.

(Produced by UCD University Relations)