Posted 07 November 2011
UCD Foundation Day Medal for Grammy Award winner, Bill Whelan
Bill Whelan, best known for composing the original seven minute orchestral piece for Riverdance was awarded the UCD Foundation Day Medal in recognition of his outstanding achievements and his contribution to Irish music worldwide.
Each year the UCD Foundation Day Medal is awarded to a UCD graduate who demonstrates great achievement.
-- The video which displays here may not be supported by your browser --
Bill Whelan has been at the centre of Irish musical life for over thirty years. As a vastly experienced performer, arranger, producer and writer of music, he has created a soundworld in which a deliberated sense of Ireland has gradually but unmistakably emerged.

His work represents at once a characteristically thoughtful meditation on the representation of Ireland through sound, and also a dynamic engagement with the very idea of Irish music itself, an idea which has been transformed through the agency of his own creative imagination.
"It is, first and foremost, Bill Whelan's musical imagination that we honour with this award," says Noel Pearson who delivered the official citation at the ceremony.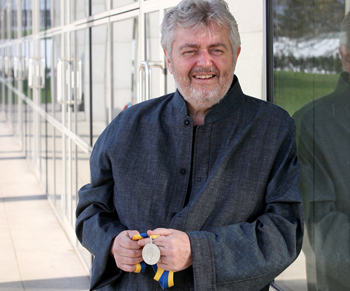 Bill Whelan pictured with the UCD Foundation Day Medal
In his magnum opus, Riverdance, the very idea of Irish music is newly conceived and brilliantly re-imagined.
According to Professor Harry White, UCD School of Music, it is at the confluence between tradition and innovation that Whelan's originality truly shines through. Riverdance's claim to greatness lies in the Irish, European, North American and Asian traditions which he so skilfully engages.
"It is a claim which has been so widely endorsed (and absorbed) that we might be in danger of forgetting just how original Riverdance really is," says Professor White.
Riverdance carries forward an expression of the Irish musical imagination that reconfigures our narrative understanding of how music in Ireland can speak to the world.
Bill Whelan has worked extensively in theatre, film and television. His album of music for 'Riverdance The Show' earned him a much coveted Grammy Award, and went Platinum in the US, Australia, and Ireland. His production and arranging credits include U2, Van Morrison, Kate Bush, Planxty and The Dubliners.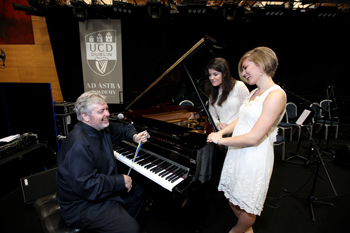 Bill whelan, who was awarded the UCD Foundation Day Medal pictured with UCD Choral Scholars Susan Gibbons and Megan O'Neill
"Whelan's art has been forged in the science and market of neighbouring media, and is all the more exact and purposeful on that account. The clarity of his musical diction is envied around the world, but it is not often emulated," says the Minister for Education, Mr Ruairi Quinn TD who gave the keynote speech at the UCD Foundation Day Event.
"He does not compose at a distance, but rather in the fulcrum and sometimes the furnace of practical engagement. This, too, gives his music extraordinary expressive power."
Bill Whelan was presented with the UCD Foundation Day Medal by UCD President, Dr Hugh Brady.
Earlier in the evening, the UCD Ad Astra Scholars and UCD Choral Scholars under the direction of Desmond Earley, performed three Bill Whelan compositions, The Heart's Cry, Shivna and Cloudsong.
After accepting the award, Bill Whelan gave a special performance alongside the UCD Ad Astra Scholars, UCD Choral Scholars, UCD Orchestral Scholars, and Ciarán Crilly (conductor) to guests and friends of UCD who attended the UCD Foundation Day Event.
The UCD Foundation Day Medal was inaugurated in 2004 to coincide with the 150th anniversary of the opening of UCD's antecedent institution, the Catholic University of Ireland.
Previous recipients of the award include Peter Sutherland, Maeve Binchy, and Brian O'Driscoll.
UCD Ad Astra Academy
The UCD Ad Astra Academy was set up this year to support and nurture the most talented UCD students. Through membership of the Academy, students displaying potential to international standards in academic pursuits, performing arts or sport are encouraged and mentored to develop their talent further while undertaking their degree studies.
The UCD Ad Astra Academy currently has 39 academic scholars, 28 elite athlete scholars and 9 performing arts scholars. It is the Academy's mission to expand these numbers and attract many more exceptional students to UCD.
The performing arts scholars fall into three categories: vocal, instrumental and drama. Each student receives expert training; the benefit of working with experienced performers; the opportunity to participate on exchange schemes at major European centres of excellence; a bursary to support their activities and the guidance of three dedicated directors-in-residence.
Ad Astra performing arts scholars benefit from additional academic support in order to facilitate the pursuit of their artistic performance. This is provided by appointing an individual academic mentor who takes a personal interest in the scholar's academic degree progress.
The Academy is supported by UCD alumni through donations to UCD Foundation. UCD graduates fund the bursaries for existing scholars and additional funds, year on year, to expand the work of the UCD Ad Astra Academy and to support more outstanding UCD students.
(Produced by UCD University Relations)