Posted 16 January 2012
UK Deputy Prime Minister, Nick Clegg visits University College Dublin
On his first official visit to Dublin, the UK Deputy Prime Minister, Nick Clegg came to University College Dublin to meet with academics, researchers, community groups and individuals taking part in studies led by the university.
The leader of the Liberal Democrats was accompanied by the Minister for Enterprise, Jobs and Innovation, Richard Bruton, TD, and the President of UCD, Dr Hugh Brady, as he met with parents and children taking part in the 'Preparing for Life' early childhood intervention programme.
After speaking with participants and researchers, Mr Clegg declared a 'personal interest' in this type of programme which helps to overcome educational disadvantage.
UK Deputy Prime Minister, Nick Clegg speaks about his visit to University College Dublin
-- The media which displays here may not be supported by your browser --
"If you want to have a socially mobile kind of society where everyone can get on irrespective of the circumstances of their birth, you need to start young, and I don't say this just as a father of young children," he said.
"All the evidence shows if you start young – get them ready for school right at the beginning – that then helps them dream big dreams and come to universities like this," he said.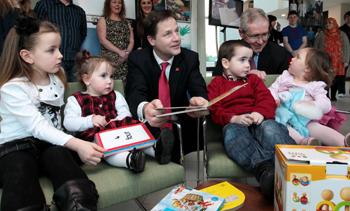 While at UCD, Nick Clegg, the UK Deputy Prime Minister, accompanied by Dr Hugh Brady, President of UCD, met with parents and children who are taking part in the 'Preparing for Life' early childhood intervention programme
According to Mr Clegg, early intervention schemes are not enough 'on their own' to help people overcome economic disadvantage, but they are 'part of a whole patchwork of things that you can do to try and make sure that as we come out of these difficult economic times, we come out of it as a fairer community'.
'Preparing for Life' is a five-year programme involving researchers from the UCD Geary Institute, University College Dublin, over 200 families from North Dublin, and community groups and charities, which aims to improve the health and education outcomes of children from economically disadvantaged areas.
The programme is jointly funded by Atlantic Philanthropies and Office of the Minister for Children and Youth Affairs, and managed by Northside Partnership.
While on campus, the Deputy Prime Minister also visited the UCD Conway Institute of Biomolecular and Biomedical Science where he met with representatives of GlaxoSmithKline, and the all Ireland Co-operative Oncology Research Group, which works to give Irish patients early access to new cancer treatments.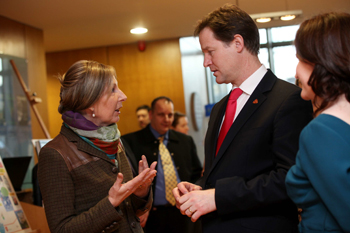 Pictured at the UCD Conway Institute: Journalist Áine Lawlor, who is on leave from RTÉ's Morning Ireland, told Mr Clegg about her participation in an Icorg drug trial as part of her treatment for cancer
This meeting gave the Deputy Prime Minister a glimpse of the ground-breaking research taking place at University College Dublin which links into the pharmaceutical industry, an industry which plays a critical role in the economic well-being of Ireland.
The sector employs over 47,000 staff between indigenous and multinational companies in the areas of Pharmaceutical, Biotechnology, Medical Devices and Diagnostics.
The UK Deputy Prime Minister, Nick Clegg was in Dublin to attend the British-Irish Council at Dublin Castle. The Council was established under the Good Friday Agreement to promote the special relationships between the eight member administrations.
During his visit to Dublin he made a courtesy call on the Taoiseach, Enda Kenny at Government Buildings, and a courtesy call on the President of Ireland, Michael D. Higgins in Áras an Uachtaráin.
He also held bilateral discussions with the Tánaiste and Minister for Foreign Affairs and Trade, Mr Eamon Gilmore TD, at Iveagh House, and attended a reception for Business Leaders in association with UK Trade & Investment and the British Irish Chamber of Commerce.
(Produced by UCD University Relations)