Posted 20 January 2012
UCD Ad Astra Academy awards 65 scholarships
Sam McGovern, the son of actor Barry McGovern, was one of 65 students presented with scholarships from the UCD Ad Astra Academy, University College Dublin.
The scholarships are awarded in recognition of exceptional achievements and talents in scholarship, sport, and the performing arts.
UCD Ad Astra Academy scholars receive specialised supports to develop their talents, individual academic mentoring, a programme of specific Academy activities, and a bursary covering fee remission, reduction of on-campus accommodation costs, and a stipend.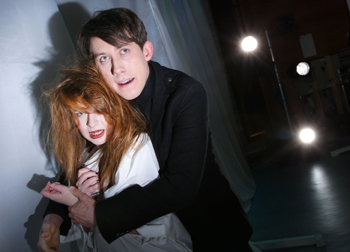 UCD Ad Astra Academy, Performing Arts Scholars, Caitriona Ennis and Sam McGovern
The awards were presented by the President of UCD, Dr Hugh Brady, at an inaugural ceremony in O'Reilly Hall, UCD. The presentation ceremony was attended by the parents of the scholars, and secondary school principals from across Ireland.
"The UCD Ad Astra Academy offers unique opportunities and supports to a diverse group of high-achieving and highly talented students," says Professor Mark Rogers, Registrar and Deputy President of UCD, and Director of the UCD Ad Astra Academy.
"Excellence underpins everything we do at UCD, and the university recognises exceptional students when they join, as well as those who develop their talents while studying at UCD."
"Through membership of the Academy, students displaying elite potential to international standards in academic pursuits, sports or performing arts are encouraged and supported to develop their talent further," he says.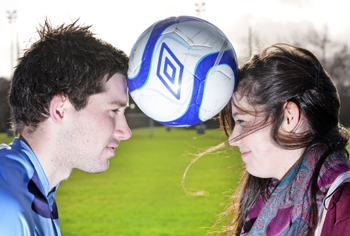 UCD Ad Astra Academy, Elite Athlete Scholar, Tomás Boyle, pictured with his sister, UCD Ad Astra Academy, Academic Scholar, Niamh Boyle. Tomás plays soccer for UCD and is studying Physiotherapy and Performance Science, and Niamh, who achieved 790 points in the Leaving Certificate, is studying Medicine.
UCD Ad Astra Academy scholarships are awarded to students when they accept a place on an undergraduate programme or as they progress through their studies at the university based on their subsequent performance.
The UCD Ad Astra Academy was established in 2011.
The Strand Director, Performing Arts Scholars is Mr Tony Carey; the Strand Director, Elite Athlete Scholars, is Professor Colin Boreham; and the Strand Director, Academic Scholars, is Professor Liam Kennedy.
Photo gallery of UCD Ad Astra Academy Scholarship recipients:
(Produced by UCD University Relations)