Posted 20 March 2012
UCD Men's 8 take rowing colours and the Gannon for the fifth year running. UCD Women's 8 retain Corcoran Cup to take the colours
UCD had comfortable victories over Trinity College in both the men's and women's 2012 rowing colours on the Liffey.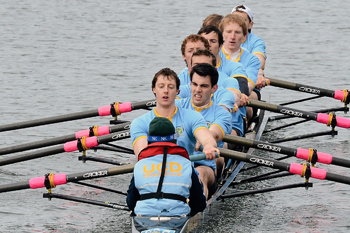 The University College Dublin Senior Men's boat, from stroke to bow oar, Vincent Manning, Gearoid Duane, Turlough Hughes, Finbarr Manning, Dave Neale, Conor Walsh, Coilin Barrett, and Simon Craven under cox Hannah Fenlon, on their way to beating Trinity Collage Dublin, to win the Gannon Cup
The women had an easy victory for their 20th colours since the Corcoran Cup was introduced in 1980. First time senior colours, Aoife Ledwidge O'Brien, Frances Judge, Niamh Kelly, Grace Collins and Aoife Feeley, showed no signs of nerves alongside veteran captain Naomi Fearon, Claire Ní Reachtagáin, Siofra Bennet and Clodagh Tanner. The women's coaches were Martin Feeley and Tom Sullivan.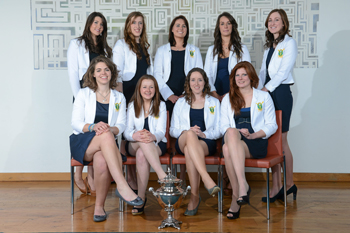 The University College Dublin Senior Women's Rowing team
The men's senior faced a strong start from their Trinity rivals and it took until O'Donovan Rossa Bridge at the Four Courts for David Neale's crew to pull ahead. After that it was UCD all the way and the victory brings the win tally up to 28.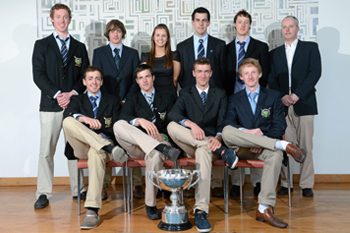 The University College Dublin Senior Men's Rowing team

Alongside five-time Gannon winner, David Neale, the UCD boat was crewed by brothers Finbarr and Vincent Manning, Gearoid Duane, Conor Walsh, Emmett Feeley, Simon Craven, Hannah Fenlon (cox) and Turlough Hughes – whose brother Patrick was in the TCD boat. Coaches for the men's crew were Alan Thomas and Pat McDonagh.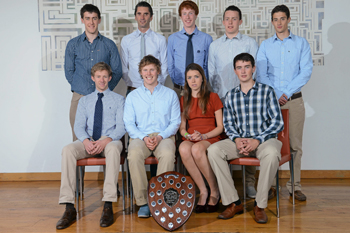 The University College Dublin Men's Novice Rowing team
The UCD men's novice crew pulled ahead in their race from the start and their victory for the Dan Quinn Shield was never in doubt. The crew were: Lee Mulvihill, Conor Reid, Darren O'Neill, Johnny Barnewell, Brendan Crosse, Christopher Newman, John Crowe, Nick Di Mascio and Patrick Cole. Coaches for the novices were Pat Gannon and Eamonn Lannoye.
The tightest contest of the day was for the Moorhead Trophy and the women's novice race. The UCD novices led for a considerably distance but were caught at the iron bridge to lose by 1 ¼ length. The crew were: Niamh Keegan, Iseult Mossop, Orla Finnegan, Isobel de Stanlaigh, Ciara O'Donovan, Aoibhinn Kenny, Kate MacDonald and Jenny Newman. Novice coaches were: Michelle Claffey, Brona McEntee and Emma Doyle.
(Produced by UCD University Relations)